It's week 2 of the One Room Challenge, and we've entered the it gets worse before it gets better phase! But before we get to that, let me remind you what we're up to. After talking about it for years, we're finally giving our home office a major makeover with a dual emphasis on both style and function.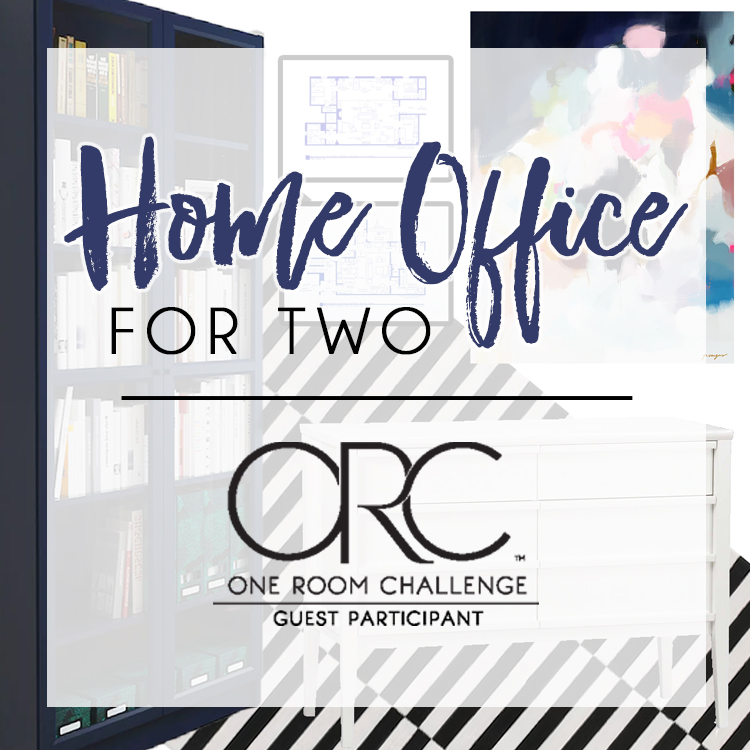 The To Do List
In last week's post, I shared the before photos and design inspiration. Today I'm outlining our to-do list for the home office and talking about how to get started when it feels overwhelming.
Completely clear the space
Replace carpet with solid surface flooring
Install new pull-open closet doors (previously removed the bi-pass closet doors)
Paint walls and closet doors
Install new light fixture
Install new window blind
Select / assemble new furniture
Select rug
Create double sided desk
Set up computers / technology
Organize new storage spaces
Hang gallery wall
Hang other art
Style the space
Clearing the Space: How to Start a Full Room Reorganization Project
Last week I talked about how our home office became a storage space and how it spiraled out of control. After coming up with the new design plans for this room (the fun part) I had no choice but to finally tackle the mess. I've said it before, and I'll say it again, with projects like this it always gets worse before it gets better. But I've learned a few tricks along the way to minimize the pain as much as possible. Let me remind you what we were dealing with…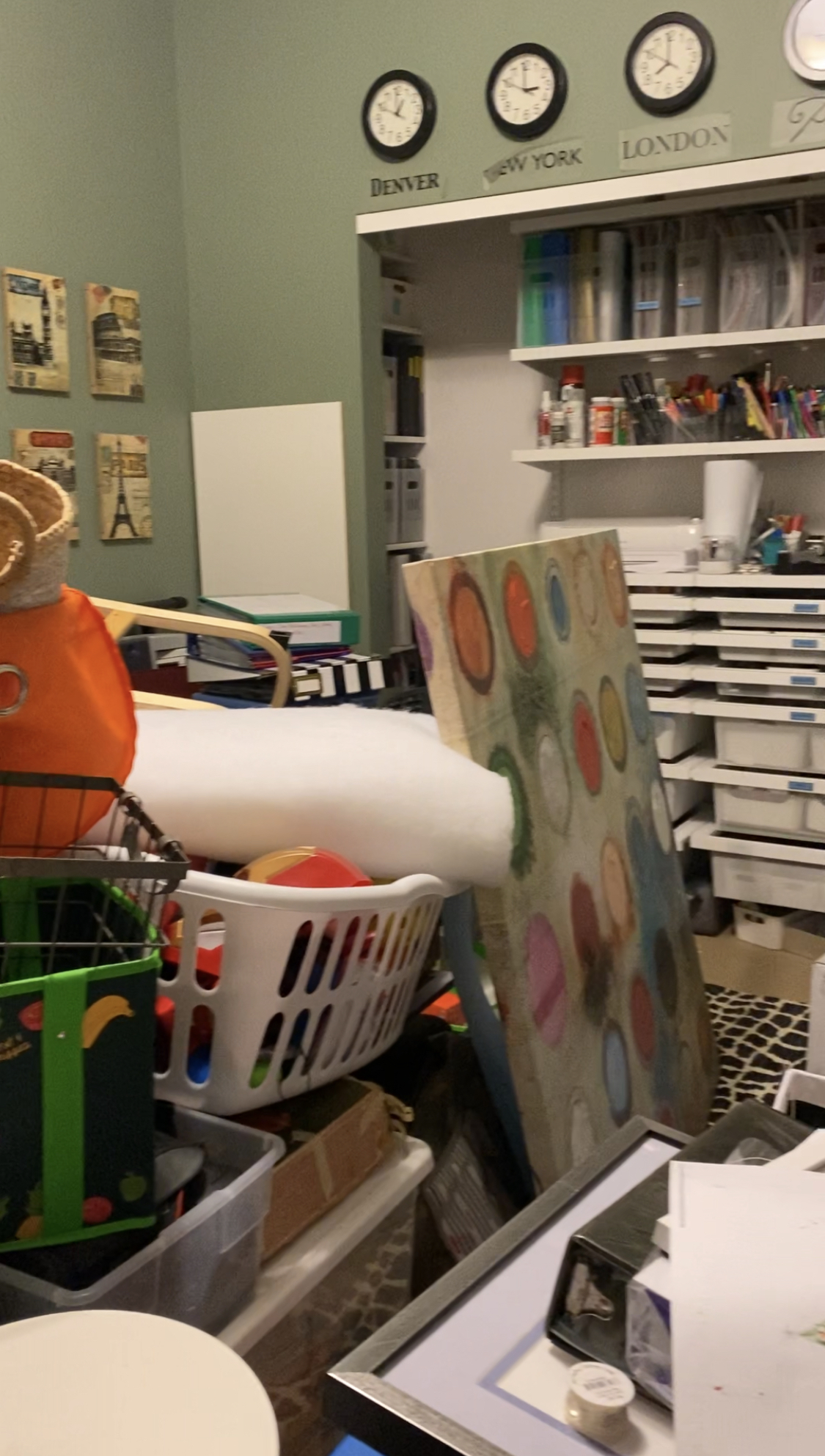 Clearing out the space felt overwhelming on its own, but I was much more overwhelmed by the idea that it would be a long time before we could move anything back into the space. Of course, a lot of the stuff in the room is ultimately getting donated, sold, or recycled, but there's just as much that we're keeping Since there are many steps to tackle before we get to the point of bringing anything back into the room, I needed a plan of how to deal with it all in the meantime.
I began by designating various spaces in our basement family room – a space for donations, a space for items to be recycled, and another space for things that needed to be relocated and put away in another part of the house. Then, I lined our game room with clear bins to sort all of the items that will ultimately go back into the office – mostly books, office supplies, and craft supplies.
Sorting everything as I went helped me make smarter decisions about what to keep and what to get rid of. Additionally, these bins are how I'll store everything until I'm ready to put things away in the new office. In the meantime, I can stack the bins in the corner of the family room, keeping it all contained and streamlined as much as possible so we don't feel like we're constantly living in a disaster zone. And if I need any of these items in the meantime, it will much easier to find things.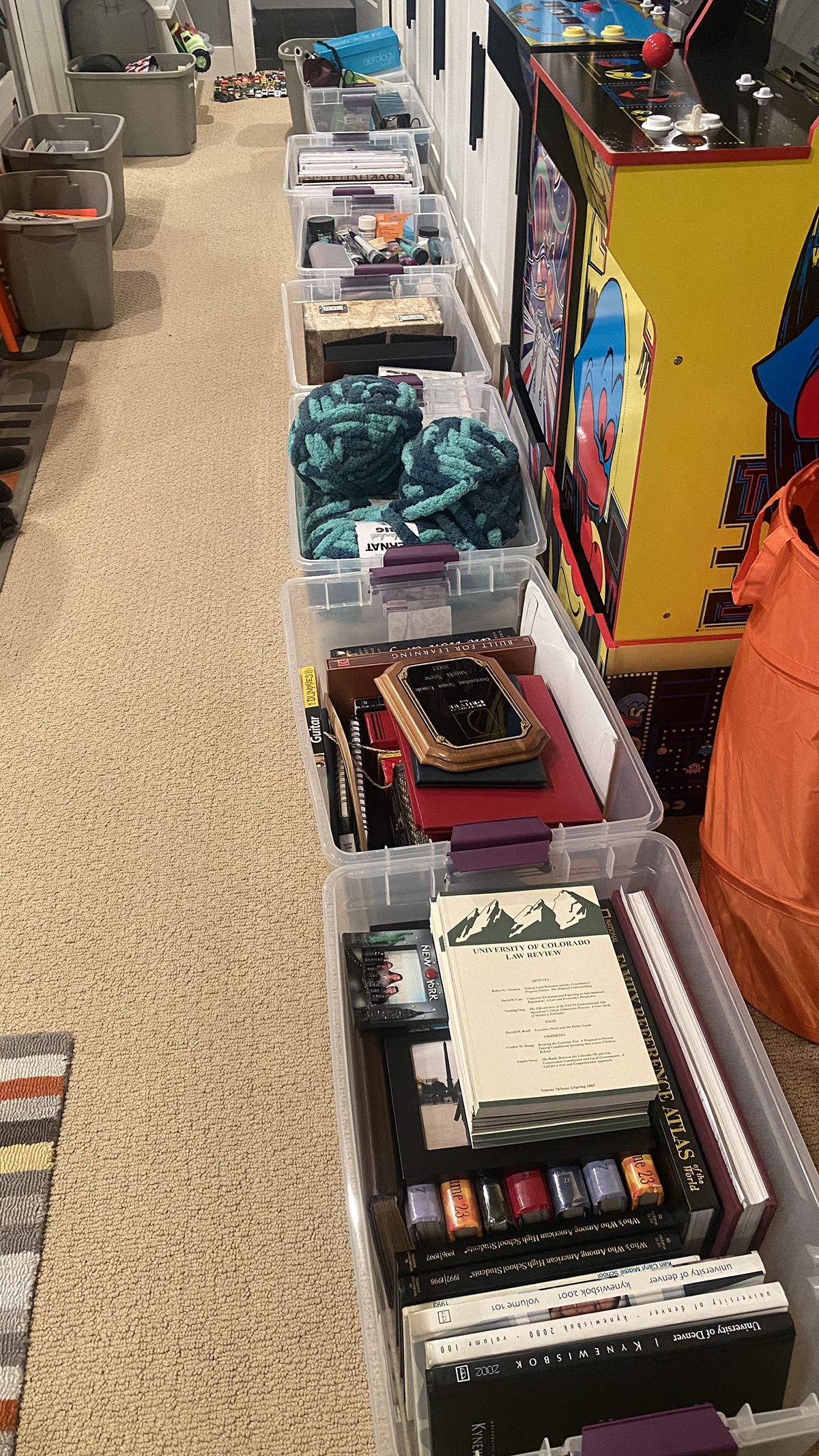 After two days of work, I was left with a blank slate! This space is already much better…. the rest of the basement, however… it's definitely in the it gets worse before it gets better phase, but at least it's a semi-organized mess for now.
Next Up – New Floors
I was eager to remove the beige commercial-grade carpet from the home office, so I started researching various solid flooring options. Check back next week to see the floor product we selected!
A LOOK BACK AT ALL MY PAST ONE ROOM CHALLENGE PROJECTS
It can be interesting to see the week-by-week progress of a big project, but if you prefer the satisfaction of the final reveal, check out the eleven One Room Challenge spaces that we've completed over the past decade: