Well, hello! It's been a minute since I've posted anything here on the blog! The last project I posted was our basement bathroom makeover at the end of 2021, and, well… that was the last project we finished around the house. But that's about to change! You might remember that I've been talking for years about redoing our home office to make it a functional space for Scott and me to share. And it's FINALLY happening!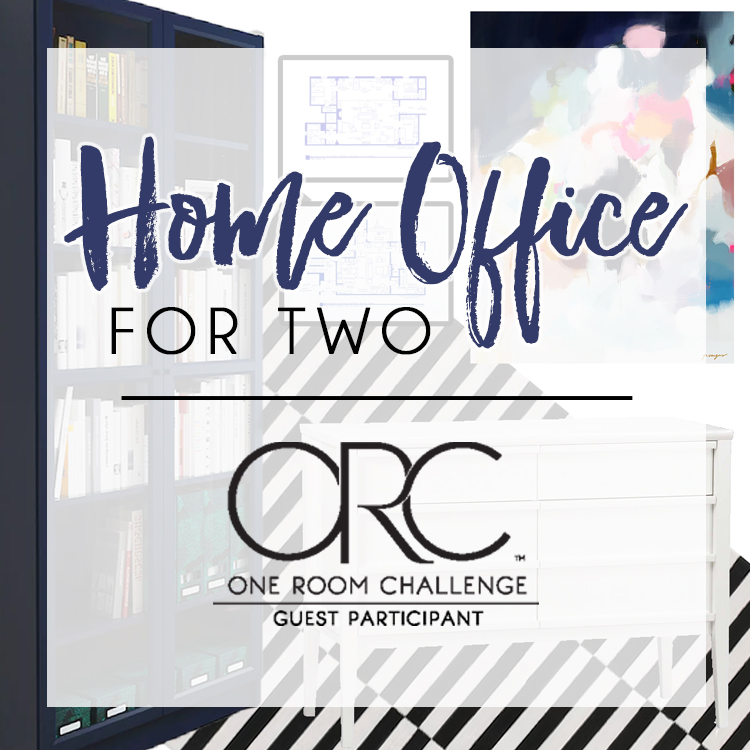 Where have we been?
After about a decade of non-stop home projects, all of that came to a halt around here in 2021 – partly because we'd finished many of the projects on our list (but definitely not all of them). The truth is that we just got too busy with other things.
In 2020, I started a new website with my best friend (Melissa from Polished Habitat). It's a book recommendations website called The Book Girls' Guide, and after starting as a fun side project, it quickly became a full-time gig for both of us. In addition to creating curated booklists each week, we also host five different annual reading challenges, moderate a private Facebook group for 13,000+ of our fellow book-lovers, and most recently, we added a discussion forum where our members can participate in book club-style book discussion each month. It's been a blast, but it also takes up nearly all of our time. Oh yeah… and for two years in there, I was also the PTA President for my boys' school (during a pandemic, no less), and if you know, you know… that's a massive time commitment.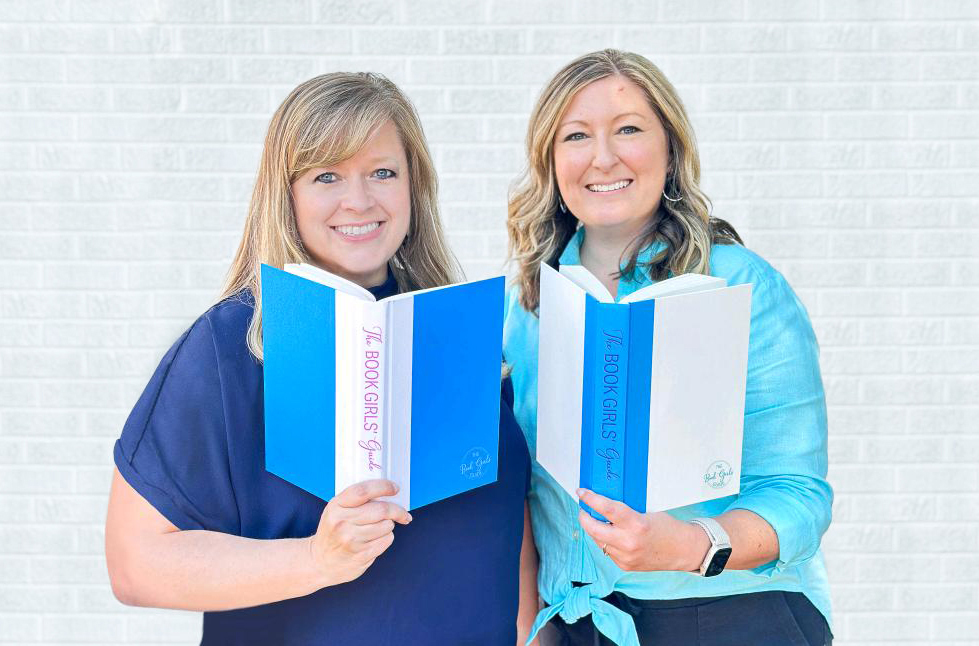 Things have been equally busy for Scott. He's been working at the same commercial real estate consulting firm since just after Cooper was born, and in the summer of 2021, he purchased the company and took over operations. He continues to do the same day-to-day work that he's always done but now also has the second full-time job of running the company. Not to mention that he continues to do musical theater when time allows, which is, unfortunately, much less than it used to be. However, he did make his Broadway debut last summer when a new musical he's been part of for the last few years was invited for a one-night engagement at 54 Below.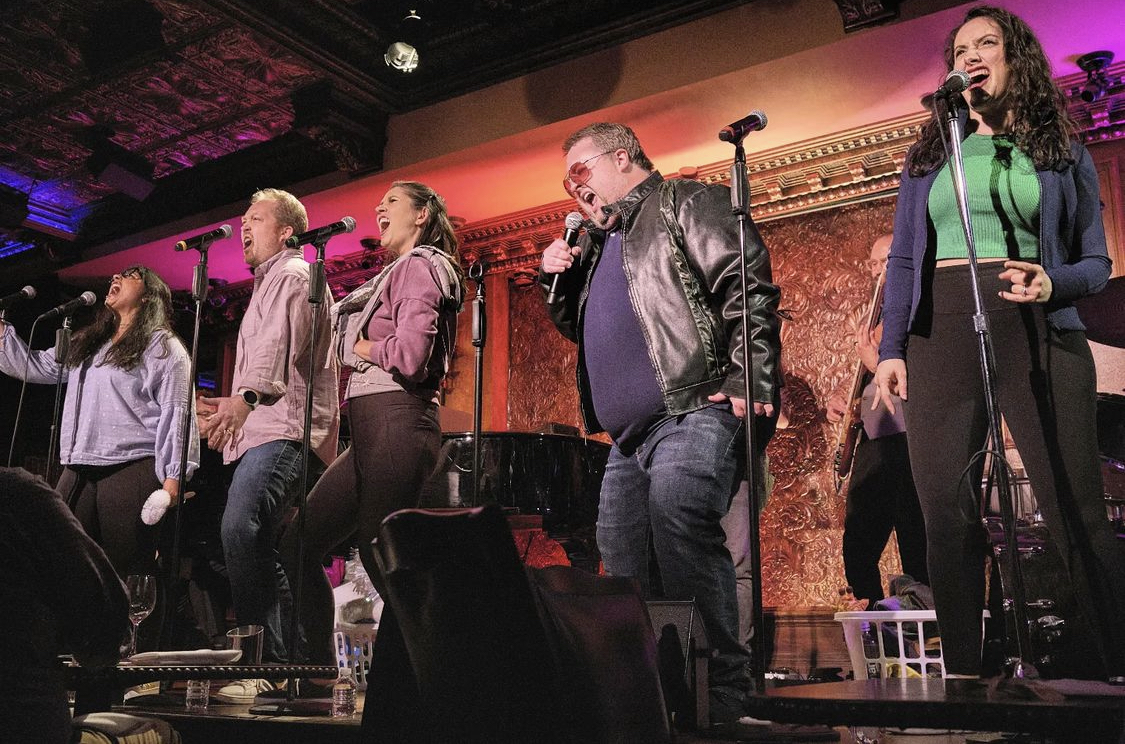 Desperate Need For a Dual Home Office
Suffice it to say, we've been a bit busy around here – it just hasn't been with DIY or decor projects. The irony of all of this is that the past few years is when we've needed a functional home office the most. Scott started working from home in 2020, and while he now goes into the office sometimes, he still works from home more often than not. Throughout that time, working from home has, embarrassingly, meant working at a table that we sat up on one side of our master bedroom.
Unlike before, when my days were filled with lots of DIY projects, my work on The Book Girls Guide has meant that I now spend most of my time behind my computer. I've been alternating between the kitchen table and the small desk in our home office that I turned into my mini, "temporary" office a few years back.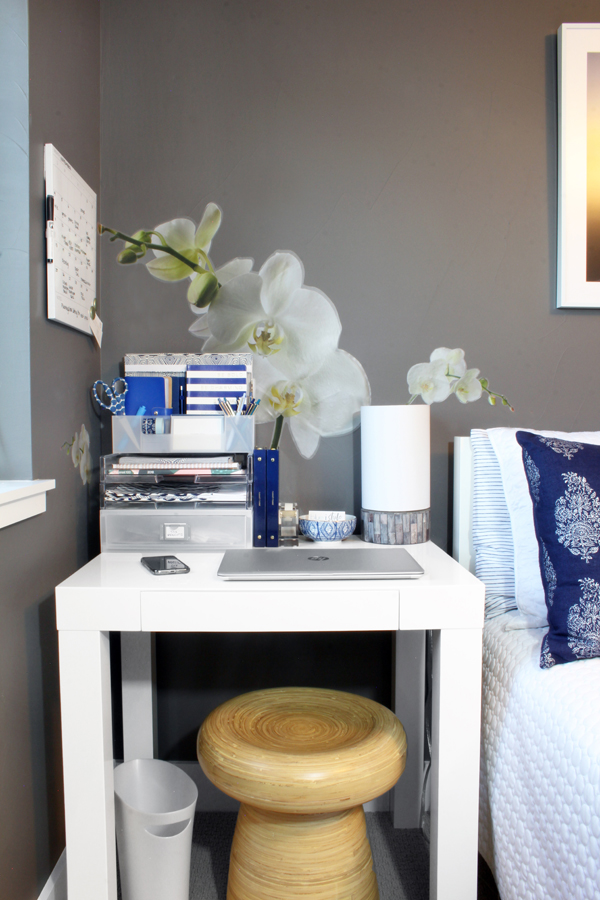 Our Old Home Office – What Didn't Work
In the meantime, the basement bedroom we set up as a home office when we first moved in (back in 2008) had become a totally non-functional space. When we first moved in, we used the same furniture that we had in our small downtown condo. The small desk definitely didn't make good use of the space, but back then, neither of us worked from home, so it wasn't a priority.
I was still working as an attorney back then, and the small desk was all I needed when I brought work home on nights and weekends. But once I quit practicing law, the small desk saw very little use because it wasn't big enough for any of my craft of DIY projects. Most of my work ended up happening on the kitchen table instead.
In addition to the fact that the room had too much wasted space, it was also in desperate need of a style makeover. Not only were we using the same furniture from our first condo, we'd also used the exact same wall color and decor from the condo office as well. Everything in this room was circa 2005, and none of it reflected our current style.
From Home Office to Storage Room
Since the old home office saw very little use for many years, over time, it became a catch-all space, and then it turned into more of a storage room. Things really fell apart late in 2020 when Scott's dad and step-mom were killed in a car accident. After spending months cleaning out their house to prepare it for sale, there were still lots of things that Scott and his brothers just weren't quite ready to get rid of or make decisions about. And all that stuff ended up either in our formerly beautifully organized garage or in the home office. That's when it went from storage room to pure chaos. This photo barely does justice to the situation we were dealing with: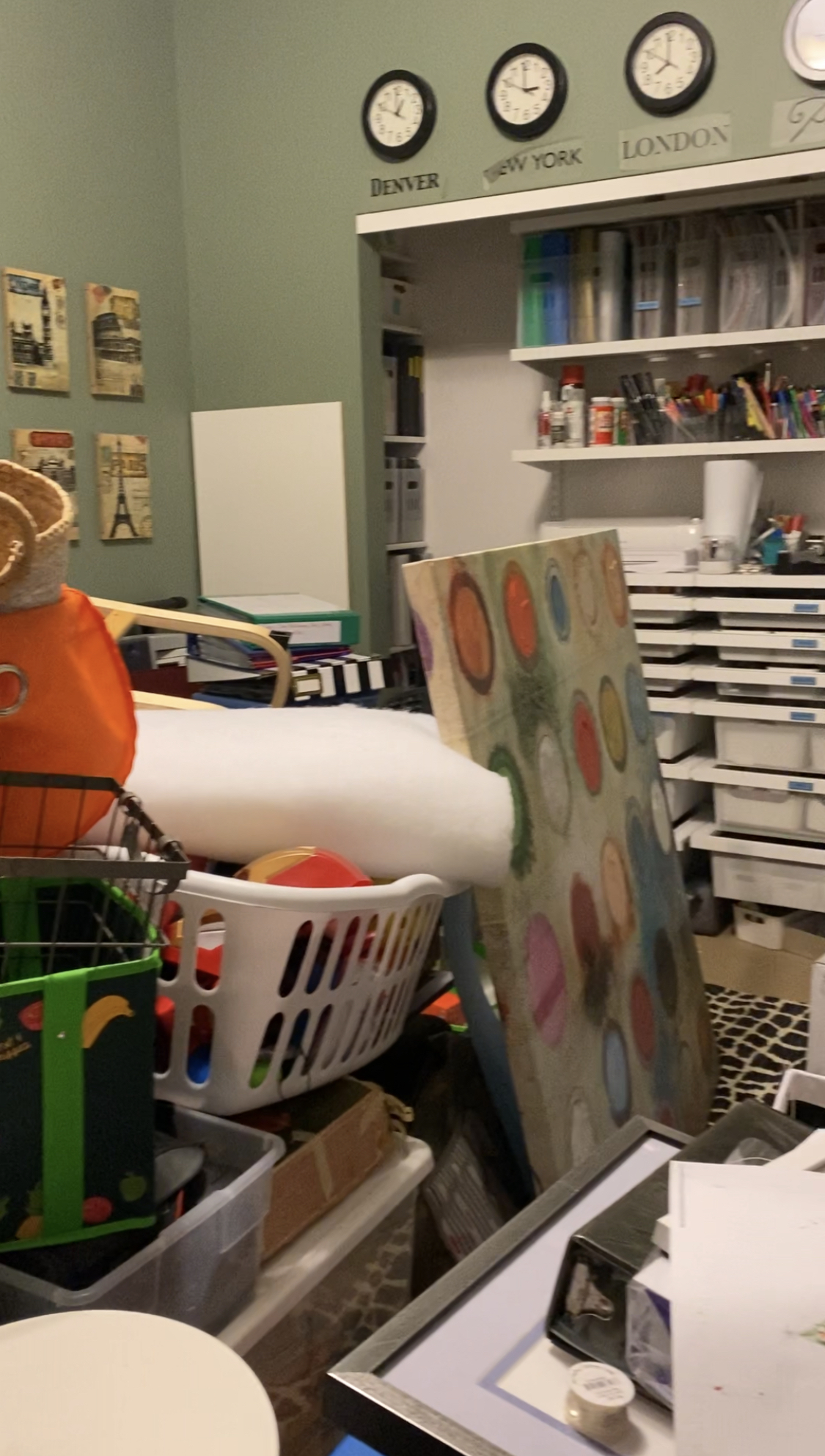 Design Direction Influenced By the Adjacent Rooms
Long before the office got so out of control, I'd been playing around with design ideas for this space. Since it's in the basement adjacent to our family room / game room and right next to the bathroom, I wanted to take the style of those spaces into account.

The basement family room got a major refresh back in 2020/2021. You can see lots of photos of the finished space in this post, but I'll share a few here so that you can get a sense of the colors and style.
The family room is long and thin, with the couch and TV on one end, and our new game table on the other end. Just past the game table is the bedroom that we use as a home office. And behind the door (in the photo below) is the bathroom.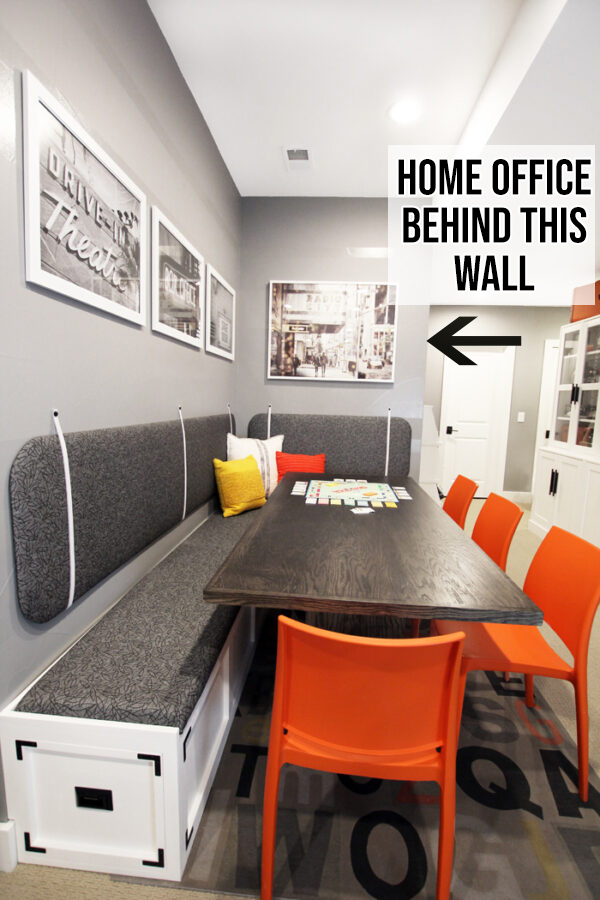 Then in the fall of 2021, we gave the basement bathroom a major makeover. As much as I love the of throughout the basement family room, it was a terrible idea to paint the bathroom orange back in 2008. We rectified that with lots of white paint, and then we added the navy blue vanity of my dreams. We brought color back into the space through lots of fun framed art.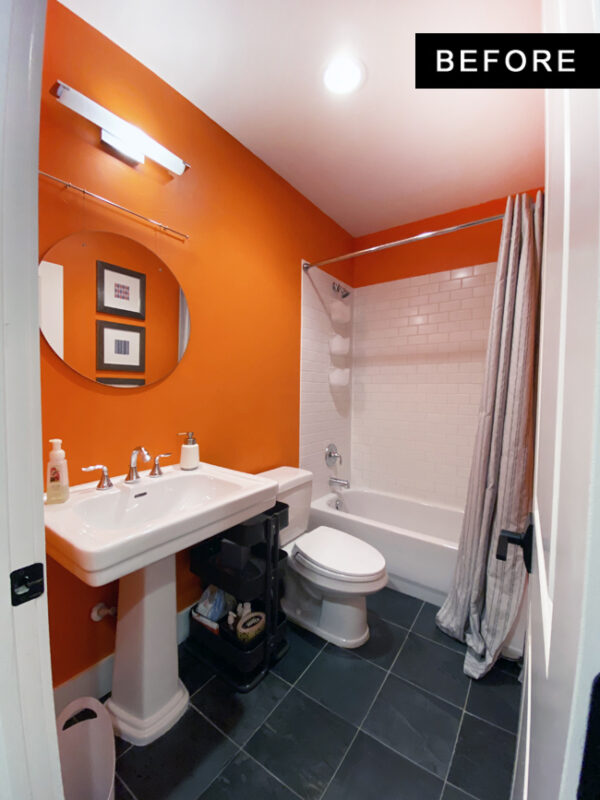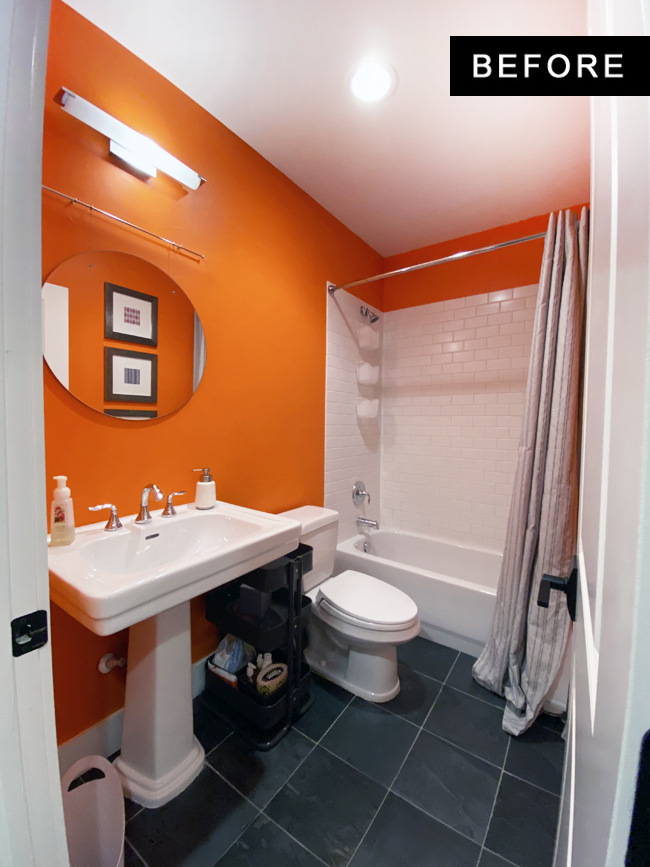 Home Office Design Inspiration
I love the gray walls in the family room because they make it feel nice and cozy for game nights and movie-watching. The office, on the other hand, will be a space where we spend a lot of our daytime hours. I want it to feel nice and bright despite being in the basement, so white walls (like the bathroom) are a must.
Every version of the office design plans I've drawn up over the years has included lots of blue, which will tie in perfectly with the blue cabinet in the adjacent bathroom. And like the bathroom, my final plans call for lots of colorful artwork, with just enough touches of orange and yellow to tie in with the family room.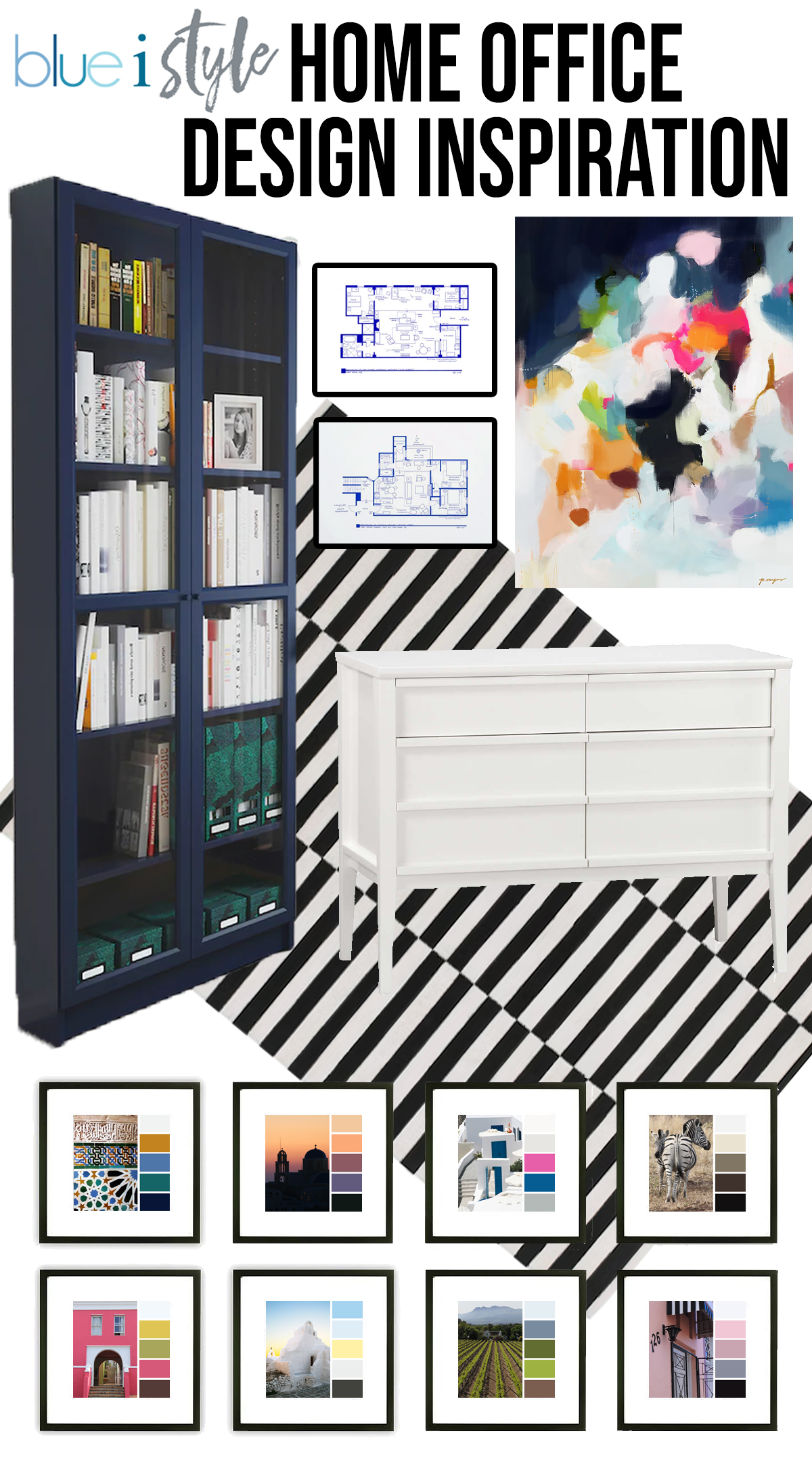 The only thing I still liked about our old office design was the wall of photos and maps above the desk that featured our travels. The new version of the home office will also highlight our favorite trips around the globe, but in a way that reflects my love of interior design. I plan to create a gallery wall of travel photos, and next to each photo will be a color palette inspired by that picture.
Also, tieing into my love of design and connecting with Scott's work in apartment development, we'll be framing apartment floorplans from some of our favorite TV shows (purchased from this Etsy store*). *affiliate link
A Functional Home Office for Two Floorplan
While the mood board above shows the pretty part of the plans, even more important is the function of the space. The old home office was barely functional for one person, let alone two. But it's imperative that the new space allow both Scott and me to work at the same time. We also need tons more storage, which will come in the form of file cabinets, bookshelves, and closed cabinetry. After many iterations, here's the floor plan we came up with.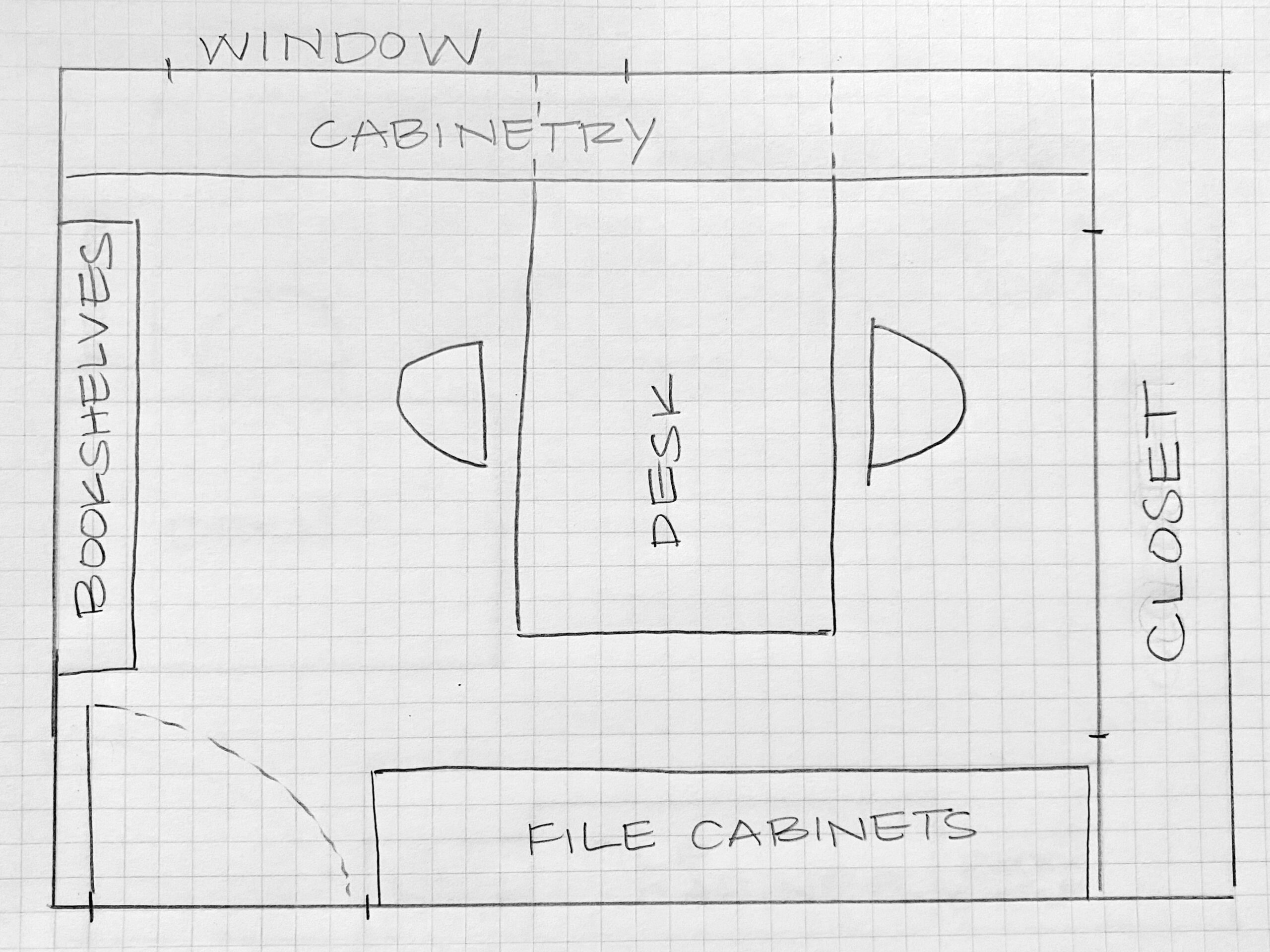 One Room Challenge
If the One Room Challenge sounds familiar to you, that's because this is my 12th time participating! But I'll give you a start with a quick explanation in case you're new around here. The ORC was started by Linda Weinstein of Calling It Home, and this year Apartment Therapy is the official media sponsor. The challenge was historically six weeks long, but it's since been extended to eight weeks.
For the next seven weeks, I'll be posting weekly updates to show you the progress as we take this home office from dull and dysfunctional to bright and efficient, leading up to the final reveal on November 15th! The best part of the One Room Challenge is that I'm not going it alone! Participation in the ORC is open to other design bloggers and Instagrammers referred to as Guest Participants. We post our progress updates each Wednesday night. The ORC gets bigger and more exciting every round, often with more than 200 participants!
For me, that means sharing encouragement with lots of fellow designers… for you, that means endless inspiration for every room of the house in every style! All of the participants share the links to their weekly progress posts on the One Room Challenge website, so you can find all of the ORC progress posts and final reveals in one convenient place!
Check Back Each Week
Making over the office means that the chaos of construction spills out into every inch of the basement, taking over our otherwise relaxing family space. I'm determined to have the office fully functional before the holidays, which is why the One Room Challenge is such perfect motivation. Check back each week to see more details on the design plans and to follow each step of the transformation.
A Look Back At All My Past One Room Challenge Projects
Since 2014, I've participated in the One Room Challenge a total of 11 times, transforming our house from top to bottom. Here's a look back at each of the ORC projects we've completed over the years.