Last week I showed your our organized "baby elevator closet" (if you want to know why we call it that, you'll have to check out that post), and you may have noticed the colorful stripes on the front of each of the shelves. Washi tape! It's hard to believe that just a few months ago I had never used washi tape for anything, and now it makes its way in to nearly every project I do.
I love my label maker, and it's always been my go to when I've needed to label closet shelves. But this time I wanted to add a bit more style! So I looked through my collection of washi tape, and lo and behold…my blue, green and yellow striped tape is almost exactly the same width as the front edge of my closet shelves.
Five minutes later, my shelves were so much prettier! But pretty shelves without labels wouldn't do, so I pulled out my handy-dandy label maker and used my clear label tape to print labels to stick on top of the washi tape.
Ta Da! So much prettier than plain shelves!
I was so excited about my washi tape shelves…until the next day when I opened the closet door and half of the washi tape was peeling up. Some of it was just peeling at the edges, others had peeled all the way off. I pressed all the washi tape back in to place and applied as much pressure as I could, but it started to peel back up right away.
Now I don't know if it's just the washi tape I bought – maybe other washi tape has better stick-em. But nonetheless I needed to find a way to make it stay. After giving it some thought, I decided that maybe applying some heat would help the adhesive stick better. So I set my iron to a low setting and ironed the tape onto the fronts of the shelves.
Two months later and the tape is still in place, so I'd call the iron technique a success. This method might not be advisable depending the type of shelves you have, but I knew I would not be damaging my shelves because the white melamine shelf edging required an iron to adhere it to the fronts of the shelves in the first place.
Now that I see how pretty my washi-taped shelves are, I think all of my closets will be getting some washi tape love.
Click on the images below to see two other ways in which I have used washi tape to create labels.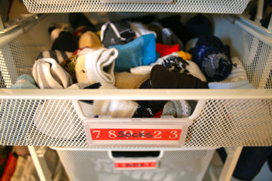 Washi Tape Drawer Labels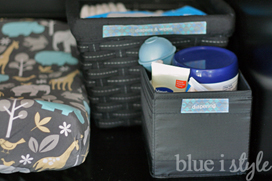 Washi Tape Basket Labels
How are you using washi tape to create labels? Has anyone else had trouble with washi tape peeling up, and if so, how did you solve the problem?