I'm sure you're wondering, "What in the heck is a baby elevator closet?" Let me explain…
Our house is built on three levels plus the basement, and when the builder designed it they anticipated that someone might want to add an elevator someday. Stacked directly on top of one another, all four levels of our house have a nice size closet. If someone ever wanted to add an elevator to the house ( I can't even begin to imagine what that would cost), these four closets would become an elevator shaft. Since an elevator is not in our future plans, these four closets provide lots of extra storage, and while they are essentially just extra linen closets, we affectionately refer to them as our "elevator closets."
The elevator closet on the second floor is located directly next to the nursery. Before we had kids, this closet was a dumping ground for anything and everything that didn't have a place elsewhere in our house. When I was pregnant with Beckett, I cleared out the closet and Scott helped me install shelves so that we could store baby items that we didn't have room for in the small nursery closet, such as extra boxes of diapers. I had very good intentions of organizing this closet, but Beckett arrived a couple of weeks early and closet organizing fell down the priority list behind feeding, changing diapers, and staring at his cuteness. In the meantime, the closet got filled up but was a bit of a disaster. So, I promised myself that I would get it organized and in tip top shape before Cooper arrived – and this time I managed to get it done!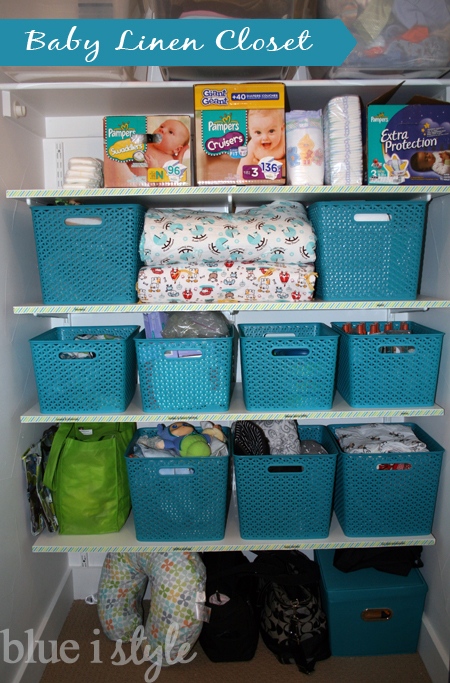 As is true of most good organizing projects, I created a bigger mess before I got it cleaned up. I started by sorting through all of the various baby items that had been piled up in this closet to identify what we had and how it could best be organized. Then I bought some pretty teal bins at my favorite store – Target – and started filling them up.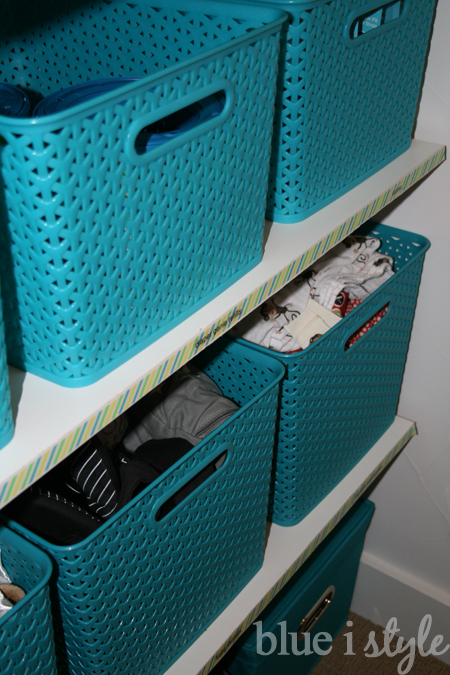 Breast-feeding these days sure involves a lot of supplies… Bobby nursing pillows, pumps and pumping supplies, creams and pads (TMI?). And of course, even when breastfeeding, you need bottles and all the parts and pieces that come with those. We have several Boppys about house, as well as several extra Boppy covers for when one is in the laundry, and I also have a couple of nursing covers for when I'm breastfeeding in public or pumping at work, So I ended up with one bin for covers and coverups, and a second bin for bottles and other breastfeeding supplies.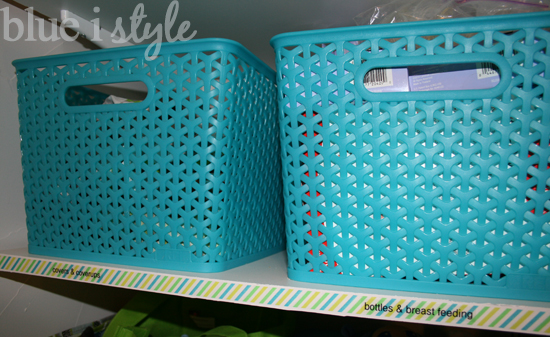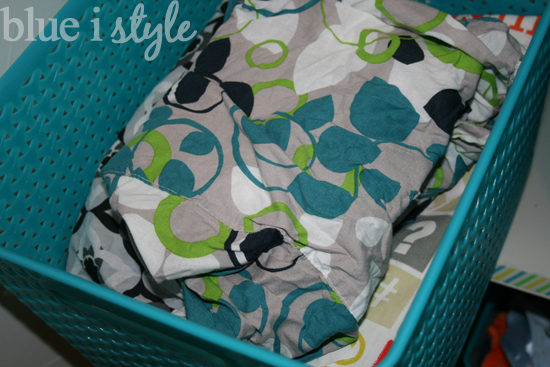 With two kiddos in diapers, two things we never want to run out of our diapers and wipes! One shelf of the closet is dedicated to boxes of extra diapers, And we have bins for extra wipes and Diaper Genie refills.
It's so nice having space to store extras like this, especially because Target often runs deals where you get a free gift card when you purchase multiple boxes of diapers or containers of wipes at the same time.
We have two different baby carriers and each has a removable infant insert, so one bin is dedicated to corralling these items and making sure we can always find them when we are ready to go.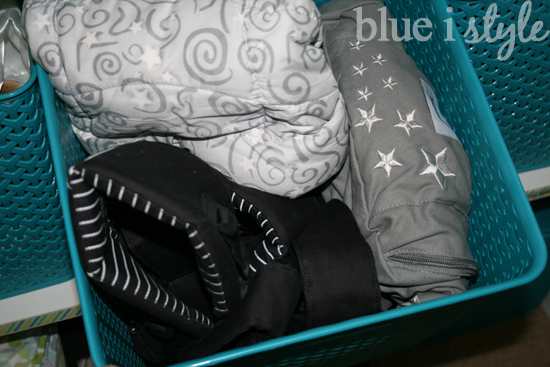 Likewise, we have various car seat related items that we keep contained in another bin. We have a couple of car seat covers – a heavier one for winter, and a lighter one for warmer weather – and when it's time to remove the infant insert from our car seat as Cooper gets bigger, this bin will provide a place to store that as well.
As is usually the case in most of my organizing projects, I also ended up with a bin that is a catchall for "everything else." I labeled this the "extras" bin, and it holds items such as extra sunscreen and baby shampoo, humidifier filters, and baby proofing cabinet locks that have not yet been installed.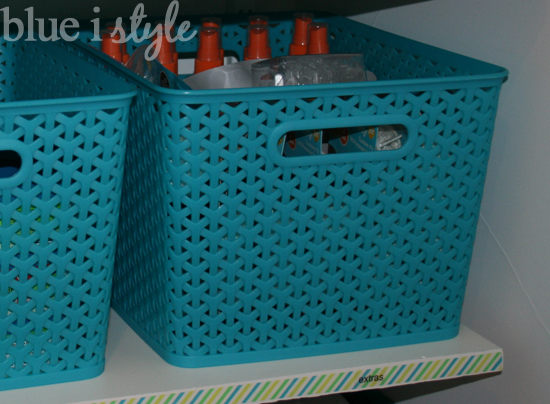 While we keep a lot of blankets in the nursery, it's nice to have extra blankets stored in this closet to quickly grab and add to a diaper bag when were on our way out the door.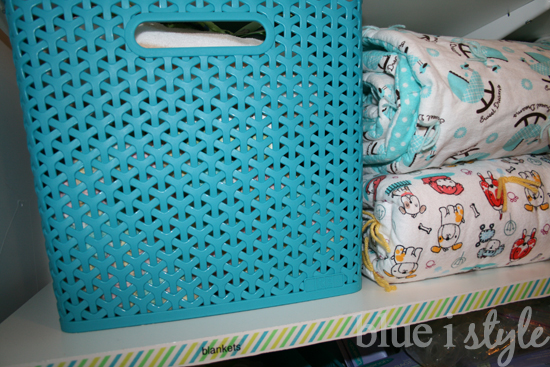 Below the bottom shelf, there is plenty of space to stash items when they're not in use, such as my Boppy, my diaper bag, and my breast pump.
On the top shelf, large plastic bins hold all of my maternity clothes, as well as outgrown baby clothes that need to be returned to family and friends.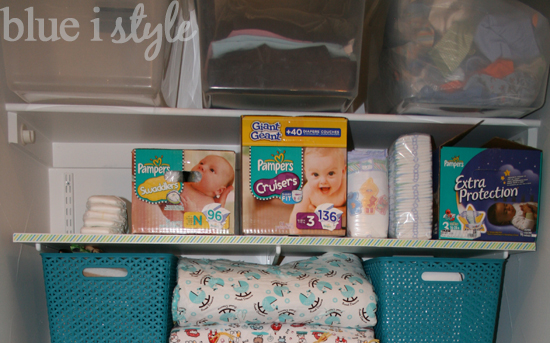 It's amazing how much an organized closet can simplify your life! I am no longer frantically searching for my baby carrier or my nursing cover when I'm trying to get out of the house on time. And I am no longer buying more diapers or wipes at Target when we already have some at home, because I actually know what we have at all times. An organizing project that saves time and money in my daily life, I love it!
Update: You may have noticed the stripes on the front of the shelves. You guessed it – washi tape! Click here for the details on that.
Are you looking for more tips for organizing your life with kids? Here are some great posts that you might be interested in: