It's Week 3 of the New Year New Room Refresh Challenge, which means just one more week until I get to share the final photos of the boys' new playroom.
As I mentioned at the outset of the challenge, we actually completed this playroom refresh early because it was a Christmas gift to our boys, but I always like to walk you through each step in the process.
During week 1, I showed you the before photos of the room, which was originally Beckett's bedroom before he and Cooper began sharing the room down the hall. I talked about what was working and what needed to change in order to turn this bedroom into a playroom / hangout space for our growing boys. Then last week, I shared my tips for choosing playroom furniture that balance style and function.
This week, I'm talking about the actual process of transforming the space. The first thing we did was to haul out the toddler bed, the kid-sized leather chairs, and the dresser. The toddler bed got passed along to a family member, and the dresser is going to my parents' cabin.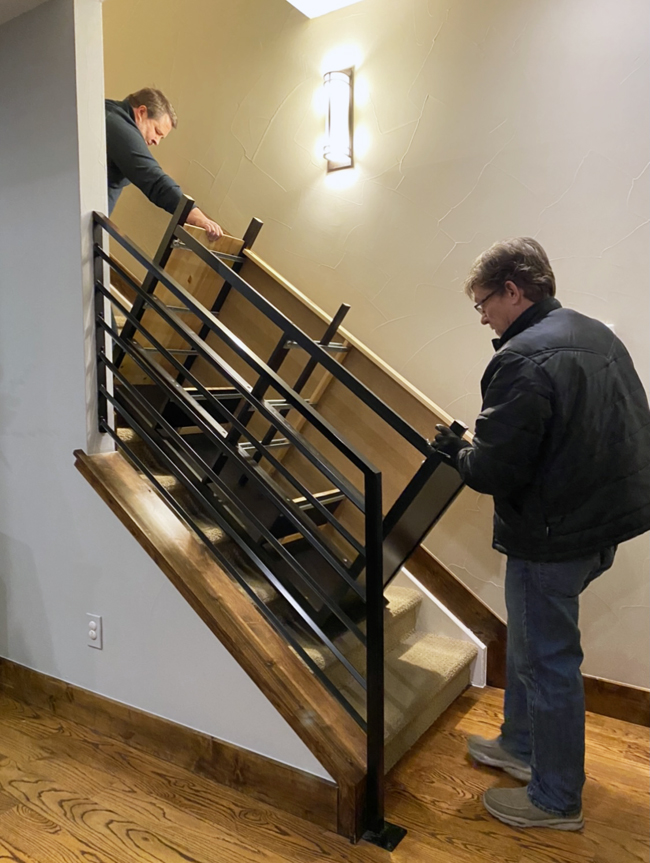 Next, we brought in the new couch that we purchased for the space. At just 52″ long, this loveseat (affiliate link) is the perfect size to fit the space vacated by the toddler bed. We purchased it during a holiday sale, and paid less than $250. Our boys are generally pretty responsible and take good care of things, but at this price point, we won't have to stress about how this couch holds up over time. Nonetheless, I'm really impressed about how comfortable it is!
After assembling the new couch, we carried a storage cabinet from the basement up to the new playroom, and then started moving some of the boys' toys upstairs.
The three picture frames along the argyle painted feature wall held photos of a little Beckett that I hung when we first decorated his toddler room.
Since this space will now be used by both boys, I wanted to update the frames with more recent photos of both of them. In keeping with the menswear theme of the room, I decided to use photos of each boy dressed as a dapper 100-year-old man taken a year apart on their respective 100th days of 1st grade.
With the new furniture in place, the new photos hung, and toys filling the room, it was time for me to organize and style the room to get it ready for the big reveal. I can't wait to show you the finished space next week!
The other seven talented bloggers participating in the New Year New Room Refresh Challenge are nearing completion of their rooms. See how their rooms are coming together at the links below…
Casa Watkins Living // Up To Date Interiors // House by Hoff // Our Fifth House // Jeweled Interiors // Blue i Style // Domicile 37 // Delineate Your Dwelling