I love to set a pretty and festive table, but it's got to be easy and inexpensive! Oh, and modern. And colorful. I bet none of that surprises you at all!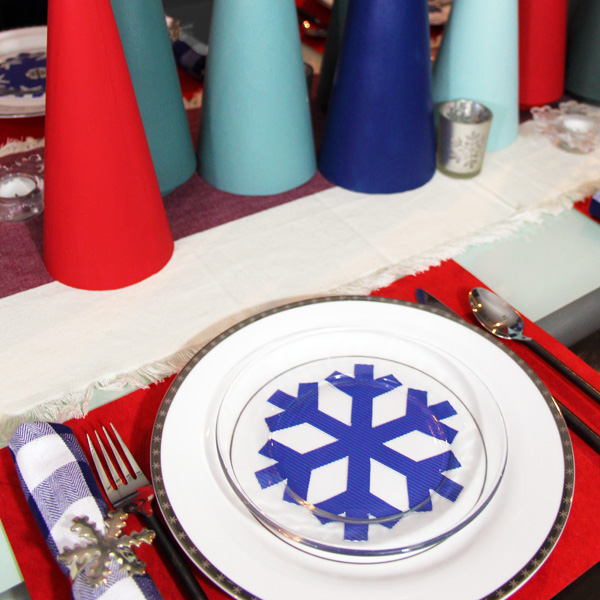 Today I'm joining with a crazy talented group of bloggers to bring you a dozen holiday table setting ideas. You'll find inspiration for every style, and lots of tips for creative ways to repurpose the decor you already have to set a table that will wow you guests!
This post contains some affiliate links for your convenience. If you buy something I recommend, you'll pay the same price, but I may make a small commission.
A few years ago, I was in New York before Christmas, and I saw a gorgeous set of modern wood tabletop Christmas trees stained in bright shades of blue, green, and red. I wanted them for my kitchen table because I knew they'd add just the perfect combination of height and color, but I just couldn't justify the cost of one, let alone the whole group I envisioned.
Instead, I came home and came up with my own, super simple, DIY version. I bought a bunch of
paper mache cones
and painted them red, blue, and several shades of teal. It took me very little time, but these bright trees make quite the statement.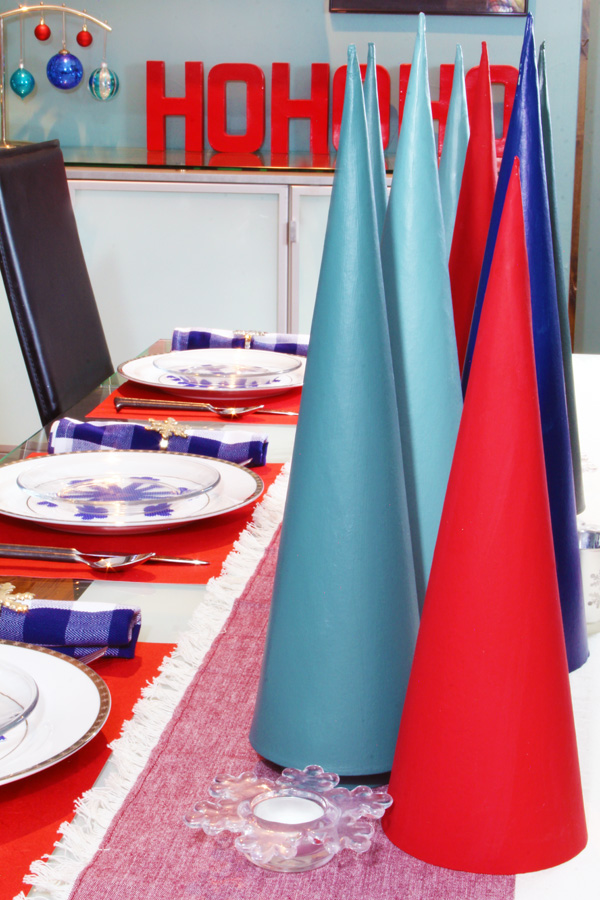 Those HO HO HO letters on the sideboard in the background were another simple DIY inspired by a similar version that was also out of my Christmas decor budget. Grab that tutorial
here
.
This year, I really wanted red placements, but rather than running out to spend money on a color I would only use once a year, I improvised with scrapbook paper. Using paper in my seasonal table settings is one of my favorite tricks because it allows me to customize the look without splurging on new table linens for every holiday. It also makes clean up quick and easy – just toss the paper in the recycling bin!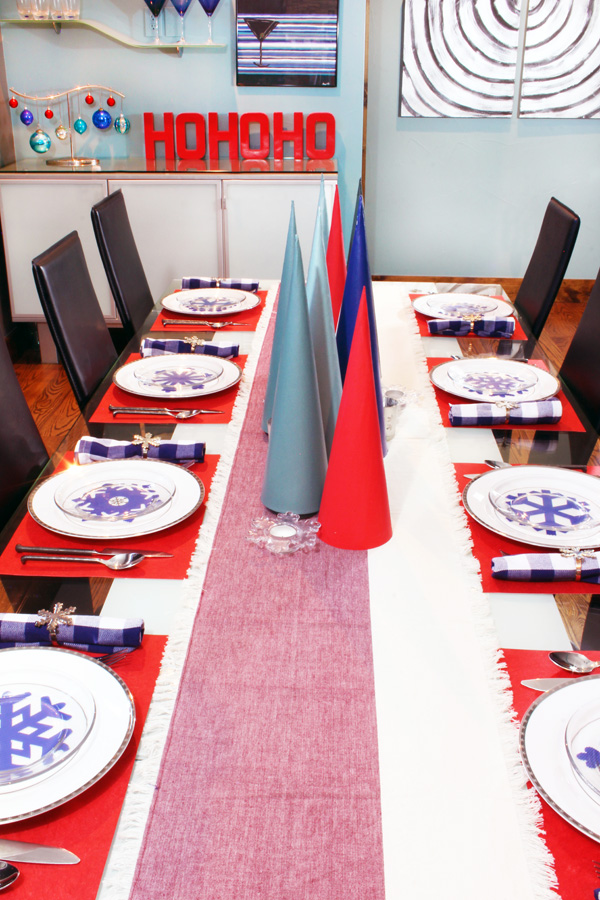 We own one set of dishes that we use year round, but a few years ago Scott bought me this pretty set of silver and white snowflake dishes for holiday entertaining. I have matching bowls, but this year, I decided to mix things up a bit by layering in my set of
clear glass salad plates
. For
spring
and
fall
, I've cut circles of patterned scrapbook paper to place below the glass plates, but for Christmas, I decided to go with big, blue snowflakes.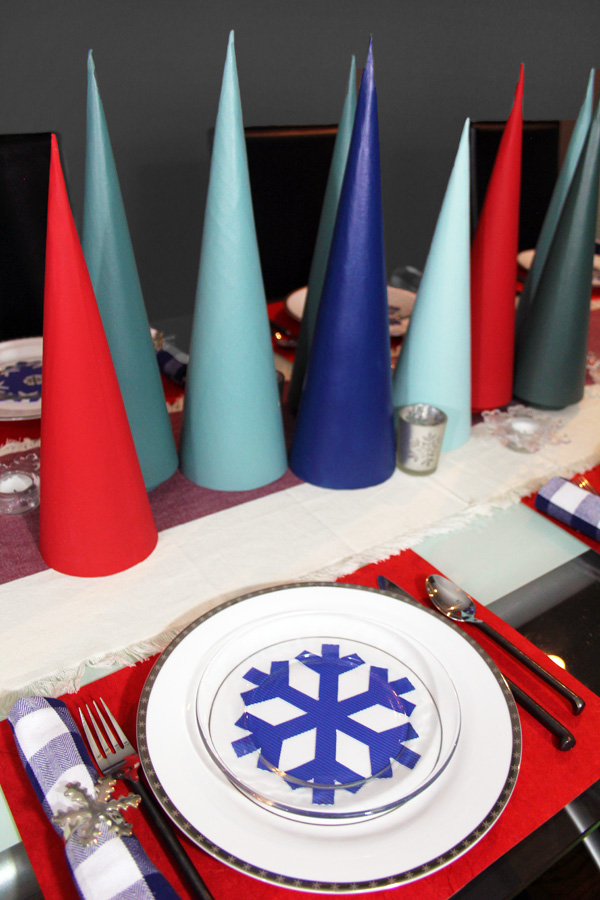 I'm really happy with the way my merry and bright Christmas table came together, and I'm proud that I was able to pull it together without buying anything new this year. It's amazing what you can do just by digging into your stash of scrapbook paper!
If colorful and modern speaks to you, be sure to pin this Christmas tablescape for later, using the image below. No matter what your style, I have a good feeling you're going to find something inspires in the gorgeous collection of holiday tables from my blogging friends at the links below.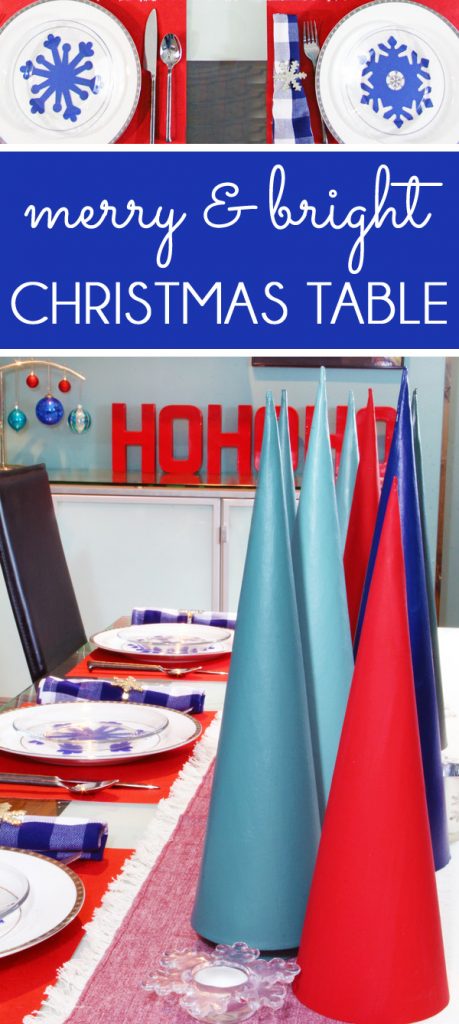 12 CHRISTMAS TABLE SETTINGS FOR EVERY STYLE
Which style is your favorite? Leave me a comment and tell me which table you'd most like to sit at for your Christmas dinner!