If your family has a lot of puzzles, then you know how much space they take up on a shelf. For the past few years, I've been organizing our puzzles using an easy, space-saving method, and I decided it was time that I share my tip for how to store jigsaw puzzles.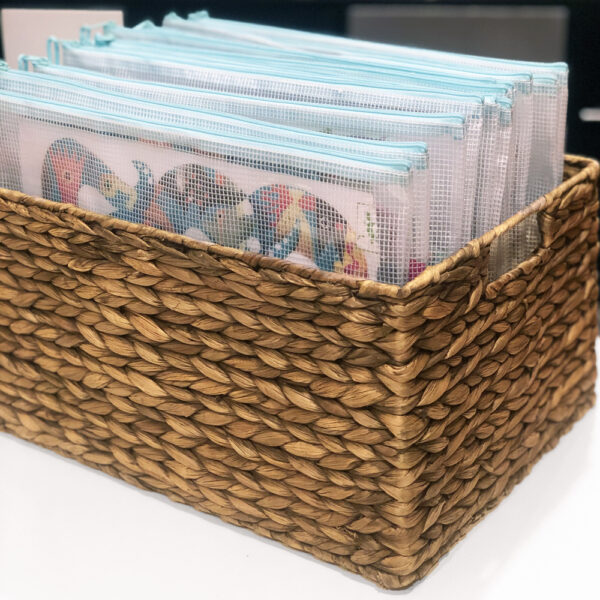 My kids have aged into more challenging puzzles, so we donated most of their "little kid" puzzles. They recently got quite a few new puzzles for Christmas and birthdays, so I decided it was the perfect time for me to show you my favorite storage solution for kids' puzzles.
This is the stack of puzzles that I started with. That black box actually had five separate puzzles in it, and I knew it was going to be a mess with the pieces all mixed up if I didn't do something about it soon!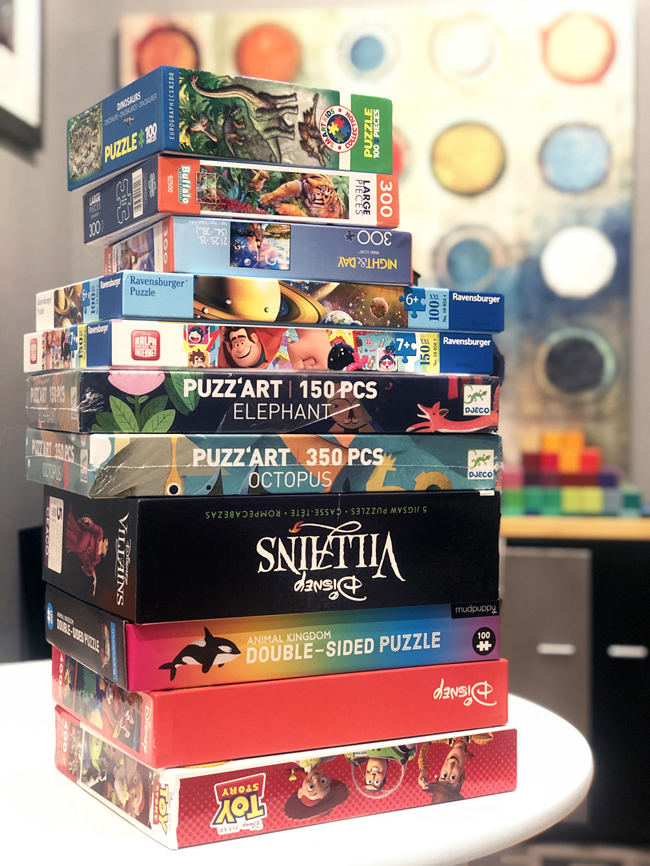 This post contains some affiliate links. If you purchase something I recommend, you'll pay the same price, but I may receive a small commission.
Years ago, I saw someone suggest storing puzzles in gallon-sized Ziploc bags and it sounded like a great idea, until I tried it. I liked that I could see easily see the puzzle pieces inside, but the bags were floppy and slippery, making it really hard to efficiently store them in a basket or bin without them just ending up in a pile.
Additionally my kids had a hard time securely closing the bags, so puzzle pieces would end up spilling out and I'd find myself reorganizing them over and over again.
After this experience, I went on the hunt for a similar – but better – way to organize my kids' puzzles. I purchased and returned a few different options before I finally found these pouches that work perfectly because you can still see through them, but they are stiff enough to hold their shape, making them much easier to store and organize!
Purchased individually, the best deal I've found on these pouches is at The Container Store, but if you want to buy them in a larger quantity, you can get a great deal on sets of 16 or sets of 24 with a variety of rainbow colored zippers Amazon.
I've found that the Letter Size pouches are perfect for storing all of our jigsaw puzzles. The ones I've shown here are between 100 and 500 piece puzzles, but 1000 piece puzzles fit in these puzzles just as well because the pieces are smaller.
The larger legal size pouches work great for storing wooden kids' puzzles and some larger preschool puzzles.
This is a quick and easy organizing project. Start by cutting the picture off of the front of the boxes.
Place the puzzle photo in the front of the pouch so that you can see which puzzle is inside at a glance, and then store the puzzle pieces behind the photo.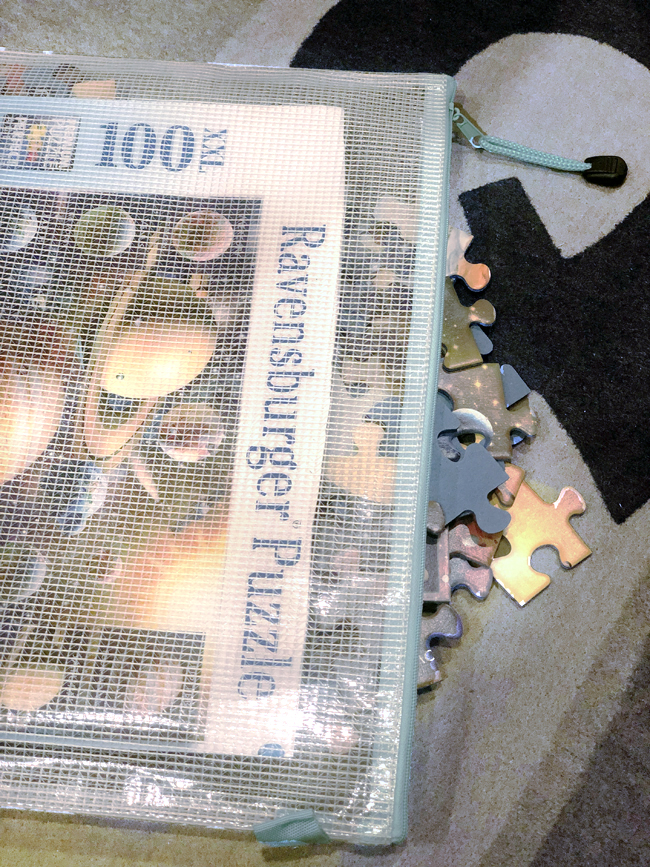 It's easy to see how much space it saves to store jigsaw puzzles in these pouches. So much thinner than in the box!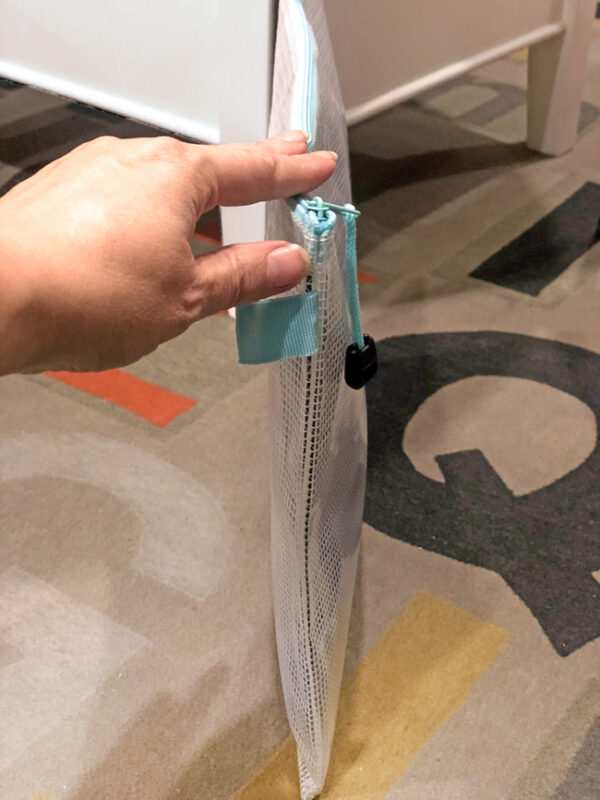 Once you've transferred all of your puzzles from their boxes to the zippered pouches, you can file them into a basket or bin.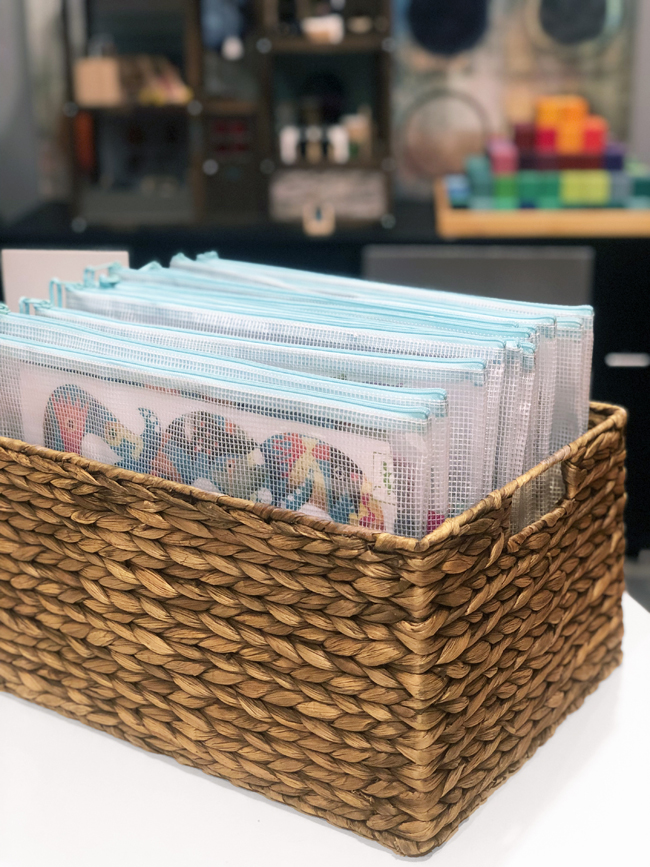 I love a good before and after, so here's a side by side comparison to prove why this is the best way to store kids' puzzles!
The puzzles fit perfectly in a basket, but let me show you where we are actually storing ours. The kids have a play table in the basement with a storage space built in under the table that's the perfect size for our bags of puzzles. We've had this table for ages, and it's no longer available where we bought it, but here's a similar table.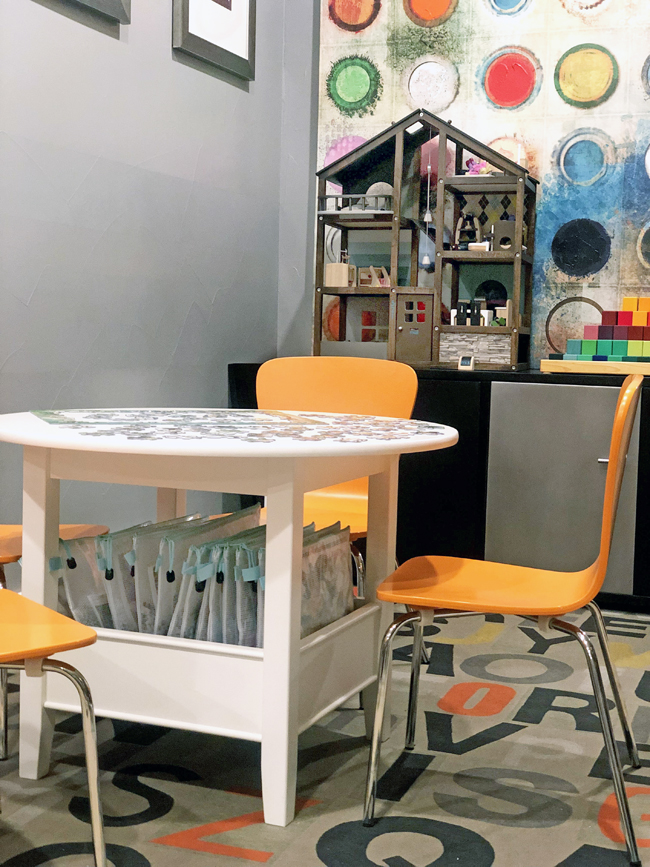 Even though the sides of the storage bin under the table aren't very high, you can see that the bags stay upright on their own – no flopping over like you'd have with Ziploc storage bags. This makes it so easy for my kids to flip through the puzzles to find the one they want to work on. And the zippers make it easy for them to put the puzzle away when they are done.
Here's another fun side by side, space saving comparison…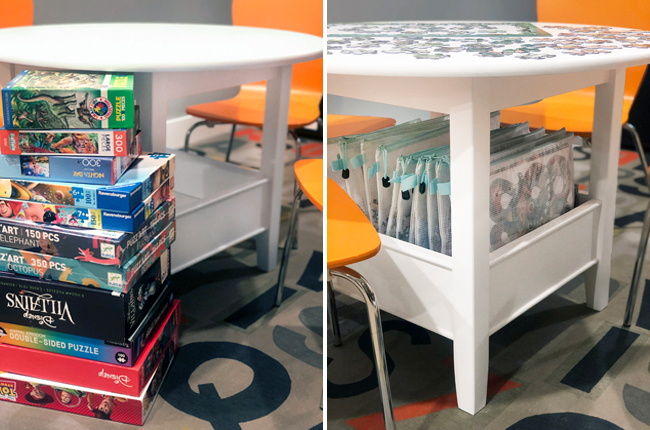 This is a really quick and easy organizing project. It only takes about five minutes to transfer a stack of puzzles into the zippered pouches.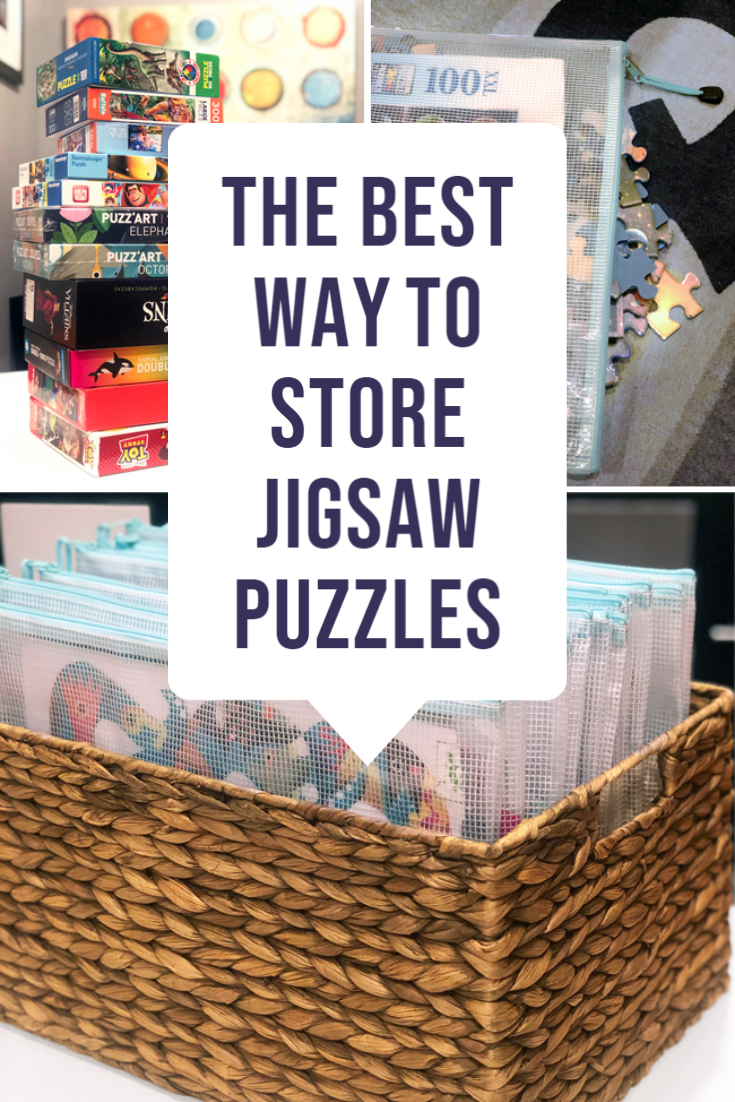 Looking for more tips to organize kids' stuff? Check out these posts!