This is a sponsored post written by me on behalf of
Cricut
. All opinions are 100% mine.
With everything going on in the world lately, I am more grateful than ever for our home where my family feels comfortable, safe, and secure.
But imagine what it's like for a child where home doesn't provide that same sense of security. There are approximately 40,000 children in Foster Care nationwide, and for most children, their entry into the Foster Care system is an emergency situation resulting from abuse or neglect.
Children are often taken from their homes with no more than the clothes on their back, and if they are able to bring a few belongings with them, these kids are given trash bags to carry them in.
I've seen this first hand. When I was in sixth grade, my family became a foster family to a kindergarten-aged boy. On the day that my parents picked him up from the crisis center to bring him to our home, he was wearing ill-fitting clothes and had nothing more than a plastic grocery bag containing a toothbrush with someone else's name on it, and a single pair of underwear, also labeled with someone else's name.
I recall my parents picked me up from school that afternoon, and then we spent the remainder of the day shopping to get him all the basics he needed just to get through the coming days and weeks – pajamas, underwear, clothes, socks, a toothbrush and comb, and the list goes on.
As a preteen who had always lived in a loving and comfortable home with all of my needs met, it was very sobering and eye-opening to realize that not every kid has the same experience!
That's why I'm so incredibly proud to be partnering with Cricut to create some very special, personalized backpacks to donate to The Blue Ribbon Project. These backpacks will give foster children a way to carry their precious belongings, and will hopefully also provide a bit of comfort to them during what is undoubtedly a scary and difficult transition!
I'm excited to show you the backpacks I designed, and to share how you, too, can support the efforts of the Blue Ribbon Project!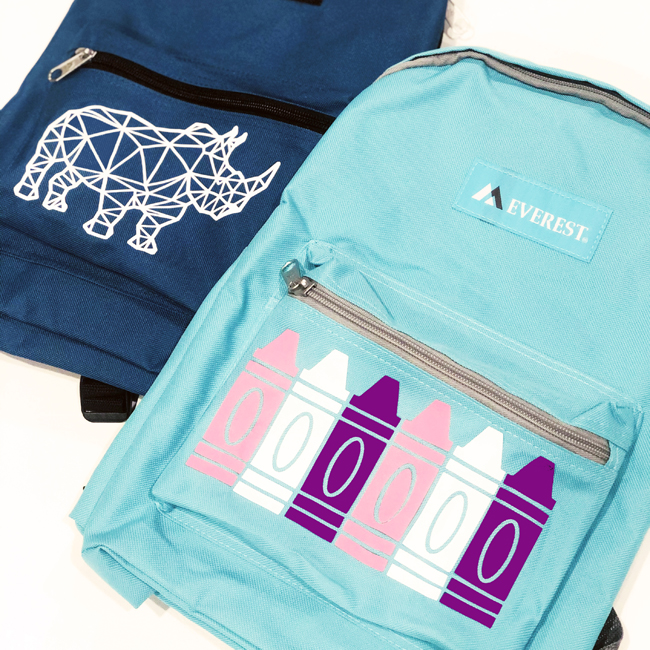 This post contains some affiliate links. If you purchase something I recommend, you'll pay the same price, but I may receive a small commission.
Backpacks of Love
The Blue Ribbon Project, which currently operates in twelve counties in the state of Maryland, collects donations of backpacks filled with the basic essentials that children need when they enter Foster Care.
When a child is removed from their home, the Blue Ribbon Project is notified by Social Services or the police, and they ensure that a backpack containing all the essentials is delivered directly to the child to help them through the first few days of Foster Care. These backpacks, and all of their contents, are all donated by generous individuals who support the efforts of the organization.
When Cricut asked me if I'd be willing to partner with them to customize some very special backpacks for The Blue Ribbon Project, I was excited to get started right away! I was asked to create one backpack for a 3-4 year old girl, and another for a 13-14 year old boy.
I started by ordering two Everest backpacks, which come in more than 25 different colors. It's probably no surprise that I chose two shades of my favorite color – a light aqua for the little girl, and a darker teal for the teen boy.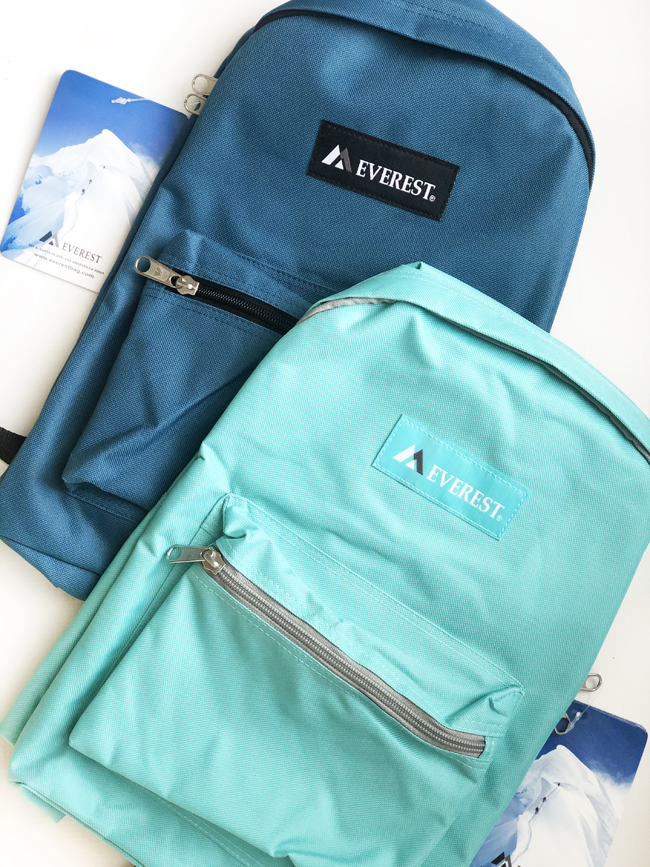 Customizing Backpacks with Cricut
Next, I started browsing in Cricut Design Space to find the perfect designs to add to the backpacks. I immediately found tons of great options for the girl's backpack and it was hard to narrow it down to just one. Picking a design for the teen boy was more challenging for me because I kept second guessing what a teen boy would consider "cool."
In the end, I decided to add a row of crayons to the pocket of the girl's backpack, because every preschooler I know loves to draw, and drawing can be a wonderful way for kids to express the emotions that may be hard for them to articulate.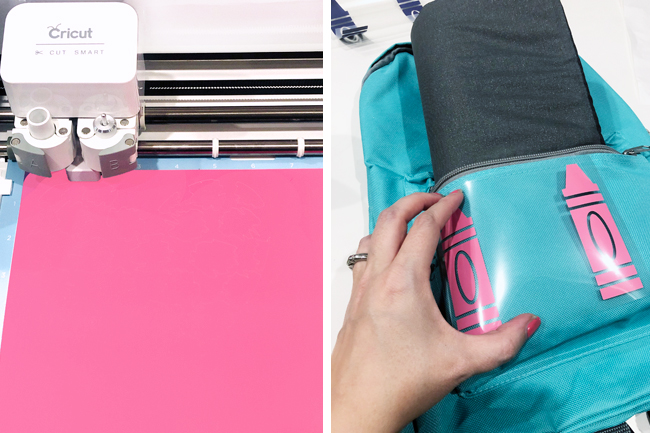 For the boy's backpack, I chose a rhinoceros. Every boy in my life – from my husband to my six and eight year old sons – love rhinos, so I figured it would be a safe pick for a teen boy, as well. And the graphic, geometric design makes it extra modern and cool.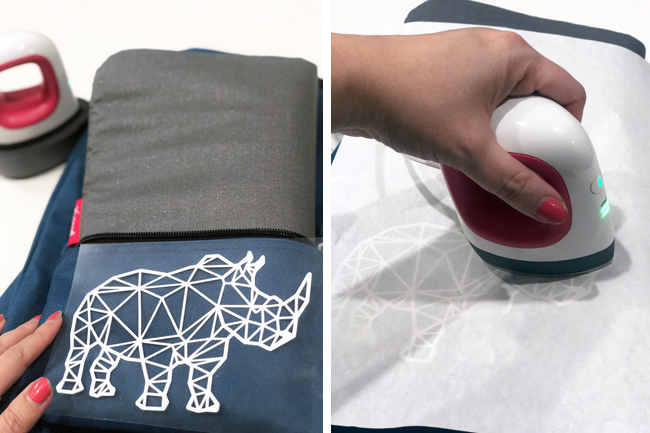 After cutting both of the designs from heat transfer vinyl using my Cricut Explore Air, I folded my EasyPress Mat in half to fit it into the pockets, and used my EasyPress Mini to apply the vinyl to the pocket of each backpack.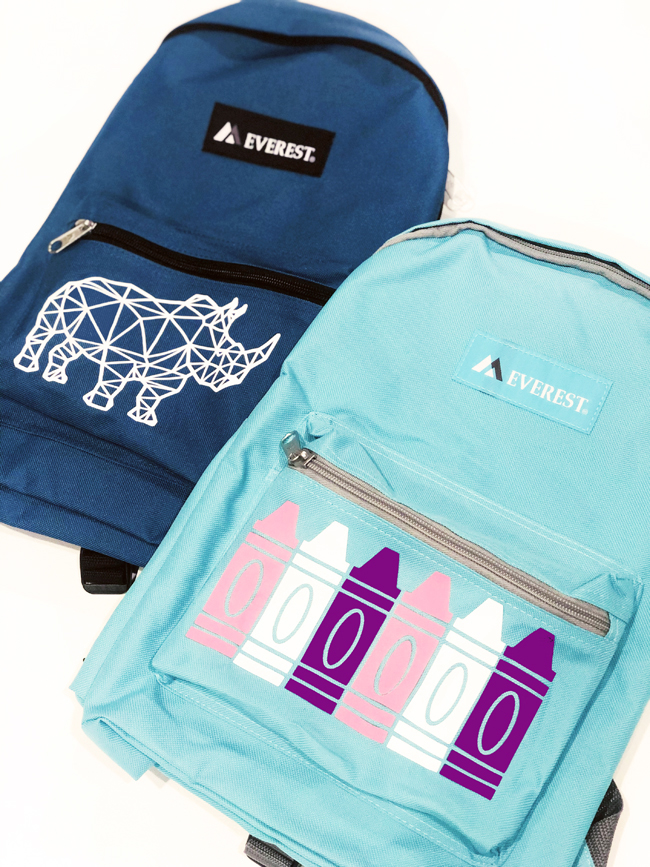 Filling the Backpacks
When the Blue Ribbon Project provides backpacks to kids entering Foster Care, the bags are filled with age and gender specific essential items, including toothbrush, toothpaste, hairbrush, soap/body wash, shampoo, change of clothing, underwear, socks, pajamas, books, and toys.
I wanted to include a special shirt with each backpack for the future recipient. Using Cricut Infusible Ink and Cricut tshirt blanks, I added a cute paint splotch heart from the Cricut image library to a small shirt for the young girl's backpack.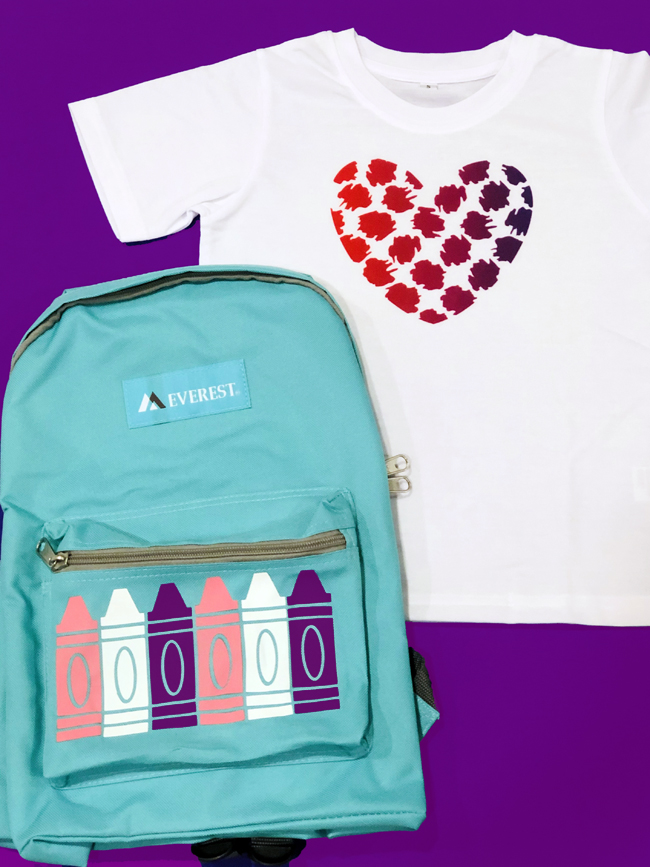 For the teen boy, I found a bar code-like guitar design that I applied to a gray t-shirt with black Infusible Ink.
Once I had the t-shirts made, I downloaded the list of recommended contents for each backpack so I could start collecting some of the other items.
For the 3-4 year old girl, the list suggests an age appropriate toy. In keeping with the crayon theme from the front of the backpack, I decided to add a box of crayons and cute coloring book.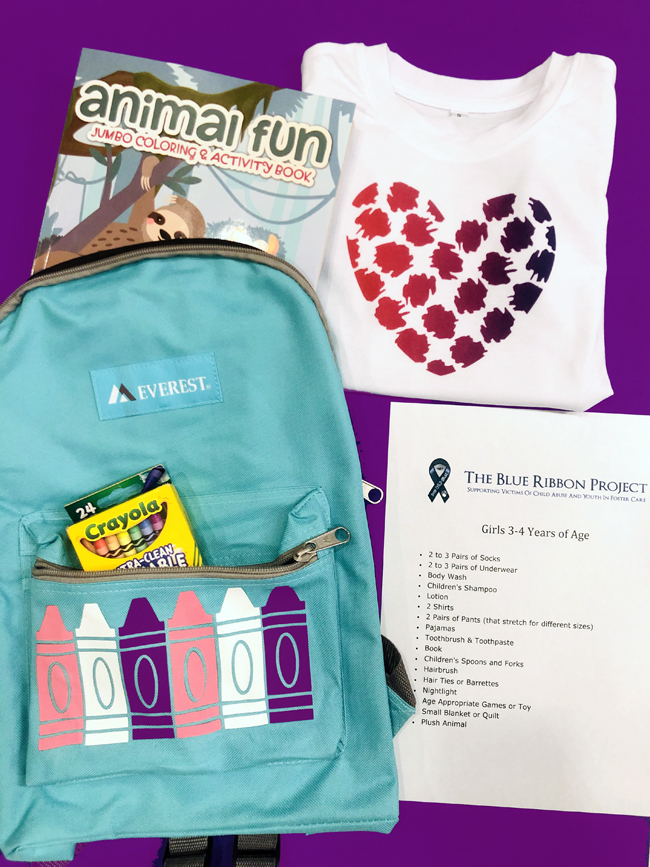 For the 13-14 year old boy, in addition to the essentials, the list also recommends an age appropriate game or toy. I added a Kanoodle game that can be played solo with more than 300 logic puzzles.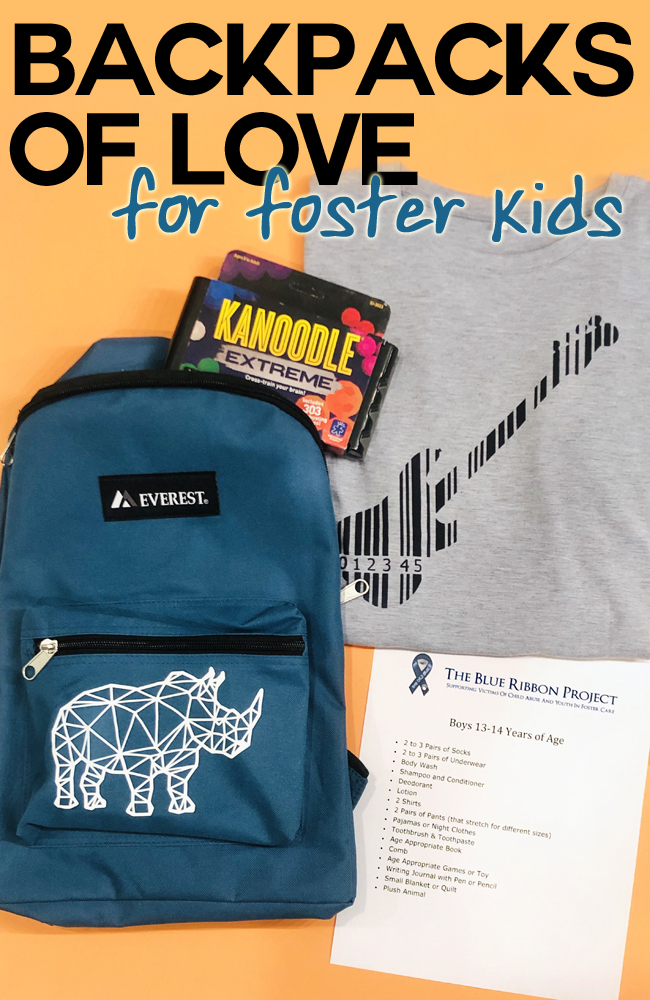 Help By Donating a Backpack and Filling It With Love
If you'd like to get involved with the Blue Ribbon Project, you can purchase a backpack and fill it with some love. You'll find the list of requested items for the backpacks here, broken down by age group.
Cricut makes it very easy to customize a backpack with heat transfer vinyl, but this is certainly not necessary or required.
In light of current world events, the Blue Ribbon Project has asked that no backpack donations be mailed to the organization until at least April 10th.