Over the past two weeks I've shared the before photos of our basement bathroom (whoa orange!) and a few inspiration photos. This week, I'm excited to show you what we have planned for this space!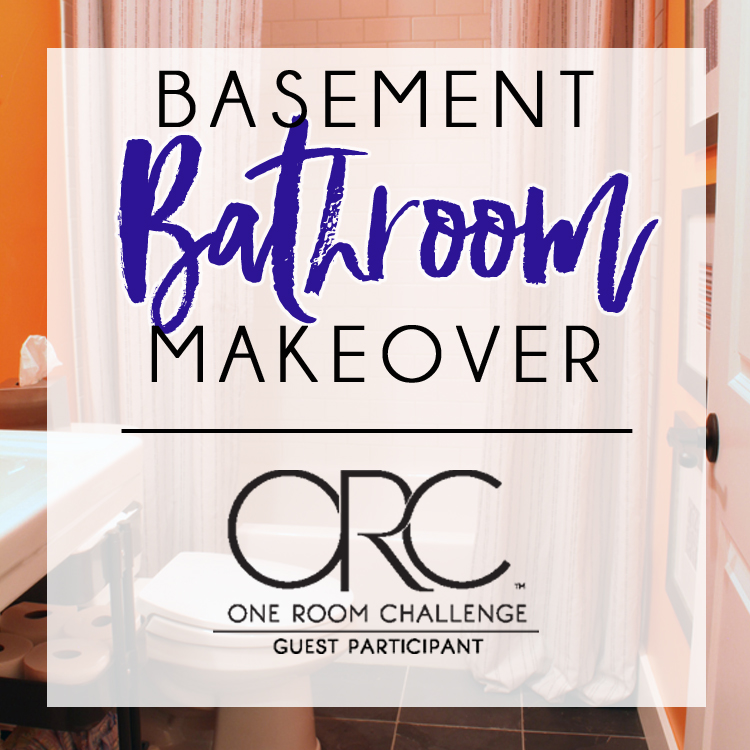 One Room Challenge
As a quick reminder, between now and November 18th, we'll be transforming our basement bathroom from bold but boring into a lighter and brighter space with a lot more style, and I'm doing alongside more than 200 other talented designers as guest participants in the One Room Challenge. The ORC was started by Linda Weinstein of Calling It Home, and Better Homes & Gardens is the official media sponsor. If that sounds familiar, it's because this is my ELEVENTH time participating in the ORC, and you'll find a round up of all of my prior One Room Challenge makeovers at the end of the week 1 post.
The Basement Bathroom Design Plans…
In case you're just tuning in, here's another quick reminder of the current state of the bathroom: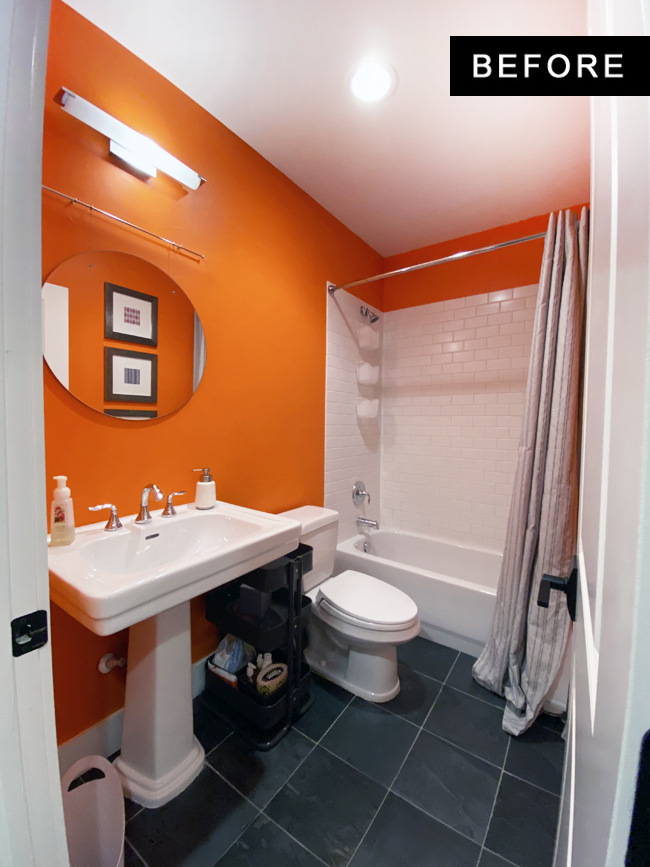 Obviously it wouldn't take a whole lot to improve upon that situation, but I'm so excited about what we have planned. The charcoal slate floor and white subway tile will stay, but everything else is getting a refresh. We'll be painting the walls white, replacing the pedestal sink with a navy blue vanity that will provide much needed storage, changing out the light and the mirror, and adding lots of black and white finishing touches.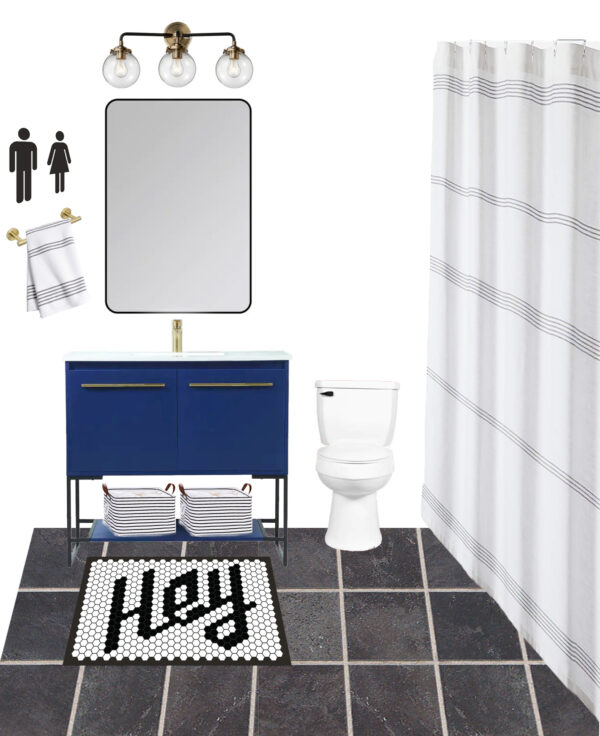 The adjoining family room/game room (which we made over during the last round of the One Room Challenge just a few months back) has grey walls, white bookshelves, and pops of orange and yellow. The game room decor includes lots of nods to our love of theater and NYC. I plan to add some colorful art to this otherwise neutral bathroom to help to tie the two spaces together.
Above the toilet, I'll be framing and hanging this Broadway costume poster: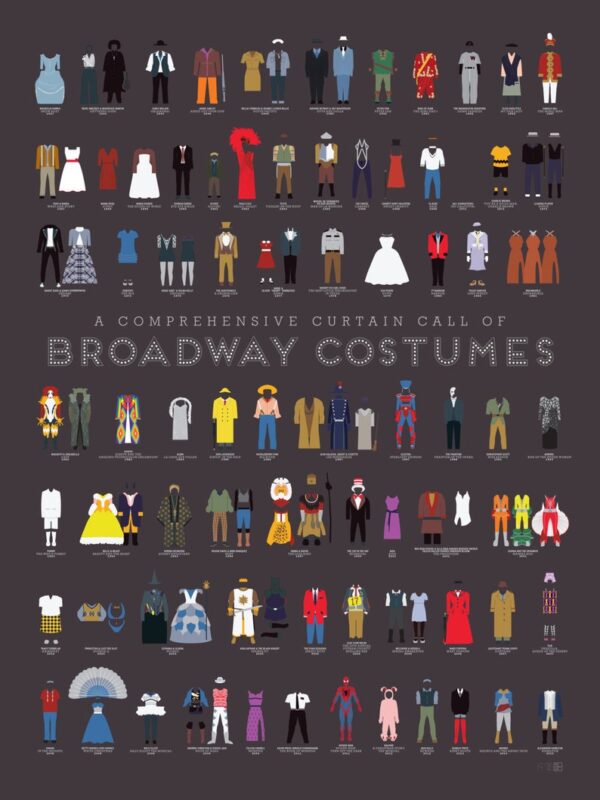 And then on the wall opposite the toilet, I'm going to create custom art inspired by this Pantone theater poster. I'll design three of my own color swatch art prints to showcase the colors of our personal favorite Broadway shows, as well as our favorite spots in NYC, and in our hometown of Denver.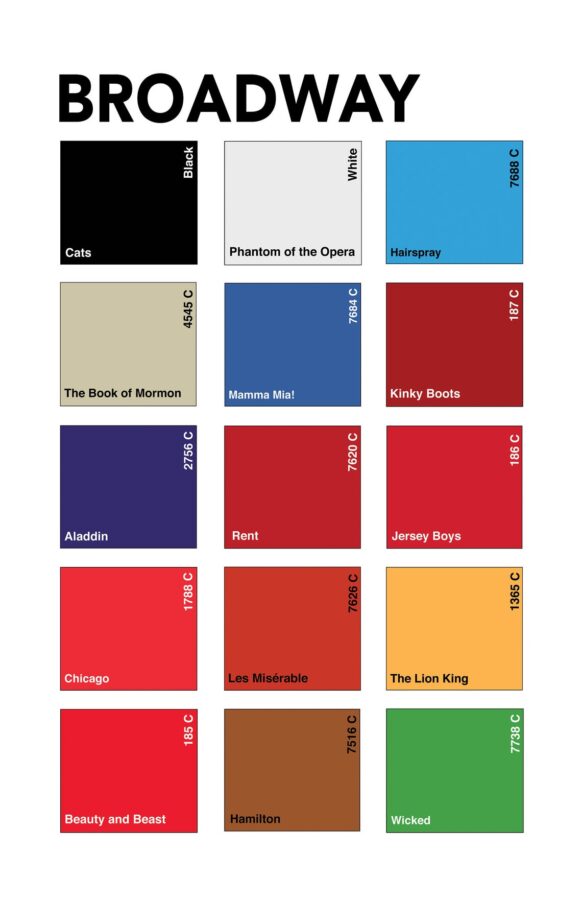 Before I wrap it up for this week, I'll add the links to each of the items that are included in our bathroom plans. Note that these are affiliate links, so if you purchase something I recommend, you'll pay the same price, but I may receive a small commission.