It's a good thing the One Room Challenge has been extended from six weeks to eight, because we accomplished exactly nothing during week 1, and week 2 isn't shaping up to be much more productive on the bathroom makeover front. We've have some family matters that are taking priority right now, but I did want to pop in quickly tonight with a quick update to show you a few inspiration photos. Then next week, I'll share the detailed plans for this space… and hopefully soon after that we'll actually have some progress to share.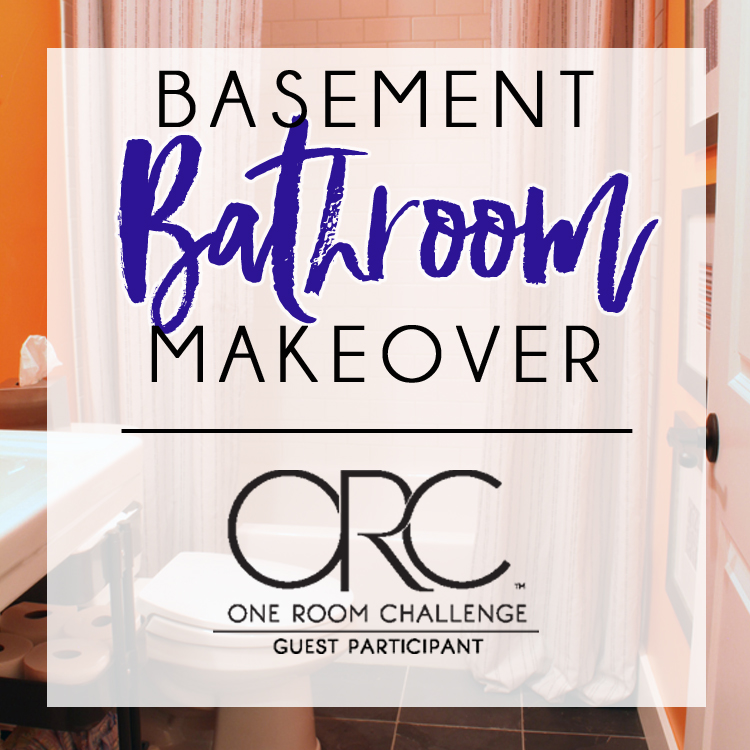 One Room Challenge
Between now and November 18th, we'll be transforming our basement bathroom from bold but boring into a lighter and brighter space with a lot more style, and I'm doing alongside more than 200 other talented designers as guest participants in the One Room Challenge. The ORC was started by Linda Weinstein of Calling It Home, and Better Homes & Gardens is the official media sponsor. If that sounds familiar, it's because this is my ELEVENTH time participating in the ORC, and you'll find a round up of all of my prior One Room Challenge makeovers at the end of last week's post.
Where We're At…
Last week I shared some photos of how the basement bathroom looked when bought the house 13 years ago (basic builder beige). Shortly after we moved it, we painted the bathroom the polar opposite of boring beige … bold orange. It had potential, but I never got around to finish the art and other decor that would have made this orange work. Instead it got stuck at bold but boring. Here's a reminder of where we are staring from.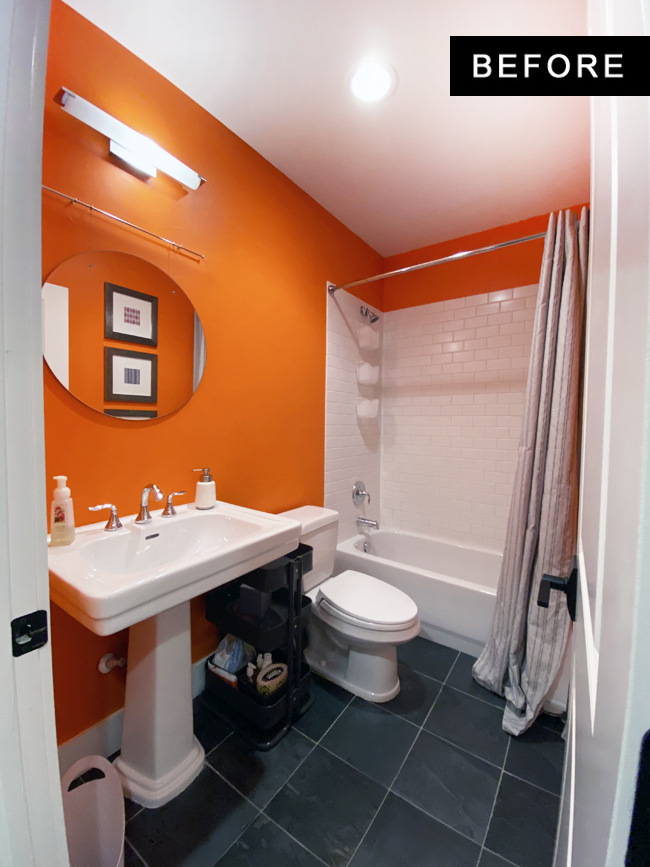 Where We're Going…
Ok, now that I've reminded you where we're at, let's talk about where we are going. We don't plan to change any of the tile in the bathroom, so the white subway tile in the shower and the charcoal slate on the floor both stay. But the orange paint and the pedestal sink are on their way out!
We'll be painting the walls white – but picking a white paint is harder than it sounds because there are so many "white" options. I'll talk more about that later, since, as I said, I haven't made much progress yet.
Then we plan to replace the pedestal sink with a vanity that includes a combo of both open and closed storage. I absolutely love the navy blue vanity trend, and this bathroom seems like the perfect place for it.
The overall vibe of the bathroom is going to be a much more sophisticated style than what we have now. We'll pull some bold color in with some fun art, and there will definitely be a few touches of orange to tie in the with pops of orange in our adjoining game room, but overall the color scheme of the bathroom will primarily be blue, black, and white.
Inspiration Photos
These photos capture the vibe we are going to for in the new space:
One thing that jumps out at me in each of these inspiration photos is that they all have lighter floors which create a nice contrast against the dark blue vanities. Since we are keeping the existing charcoal slate tiles in our bathroom, I'll likely need to rely on a rug to help create this balance.
Another commonality is that they all have very similar rounded corner, rectangular mirrors. I really love this mirror shape, and I've found several similar, affordable options.