We had sub-zero temperatures in Denver all of last week, and while it was too cold to play outside in the snow, I instead had fun decorating with snowflakes inside.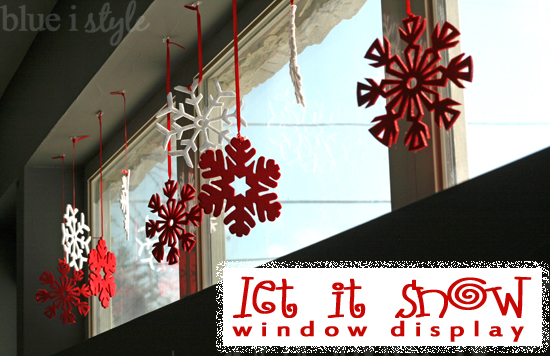 Last year I stocked up on large, felt snowflake ornaments at Target (only $1 each – what a deal!). Many of those snowflakes made their way onto our
beautifully baby-friendly Christmas tree
, and the rest are now part of a fun window display in our kitchen.
We have a lot of long, thin windows throughout our house, which pose a big challenge when it comes to window coverings, but which I've discovered are perfect for holiday decorating. For Halloween this year, I hung three glow-in-the-dark ghosts in our long kitchen window, and now, just in time for Christmas, this window is a flurry of snowflakes!
I created a similar display in our living room windows by using
tension spring tension curtain rods to hang glass ornaments
safely out of the reach of our two little boys. The window in the kitchen is much longer, however, making it difficult to find a long enough tension curtain rod. Instead, I hung the snowflakes from red ribbons tied to small, clear 3M command hooks that are mounted to the top of the window frame with clear adhesive strips.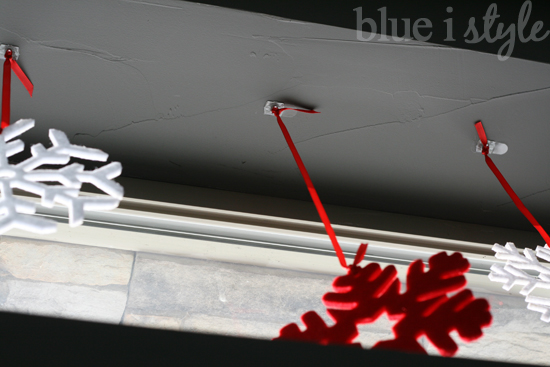 I love seeing these snowflakes floating in the window with snow-covered trees and rooftops in the background.
And with the kitchen light glowing through the window at night, the snowflakes can also be easily seen from outside.
I've had a lot of fun decorating our windows for Christmas this year, and I think next year I might even try adding some artificial snow spray around the edges of the windows. Does anyone have experience with snow spray? I'd love to hear your tips!
Looking for more Christmas inspiration? You might be interested in these projects: