When we moved into our home, the small backyard left a lot to be desired, but over the years we transformed it, little by little, into our very own oasis in the city. One of my very favorite parts of our yard is the planter bench that provides seating on one side of our patio table. But finding the best plants for this garden bench proved more challenging than I originally expected. After weeks of online research, and a trip to just about every nursery in town, we finally stumbled upon the perfect solution. I've talked about the planter bench on the blog before, but I decided this soft and tall plant recommendation for behind a bench really deserves a post all its own.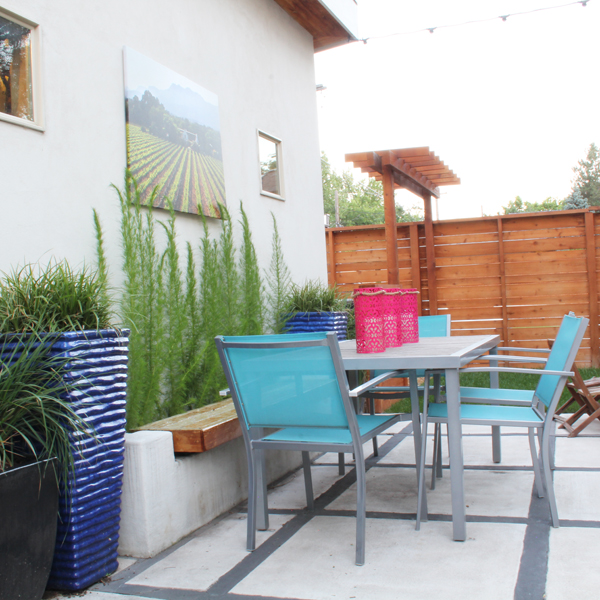 Since we all love a good before and after, let's flash back about eight years to how the yard looked when we first bought the house…
It was small – as most city yards are – but more than that, the space just wasn't well used. The small concrete patio in front of our outdoor fireplace wasn't large enough for comfortable seating and we had no space for a patio table. We knew we wanted to create a much larger patio for entertaining, and we bought furniture on an end of year clearance. We sat the furniture out to get an idea of how we wanted the space to function.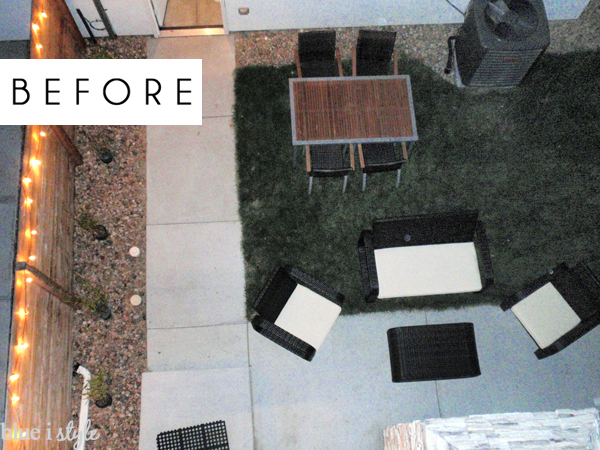 Then I came across this inspiration photo in Sunset Magazine and I immediately loved the idea of adding a planter bench along the stucco wall of our detached garage. It would require relocating the air conditioning unit around the corner of the garage, but I knew it would be worth it!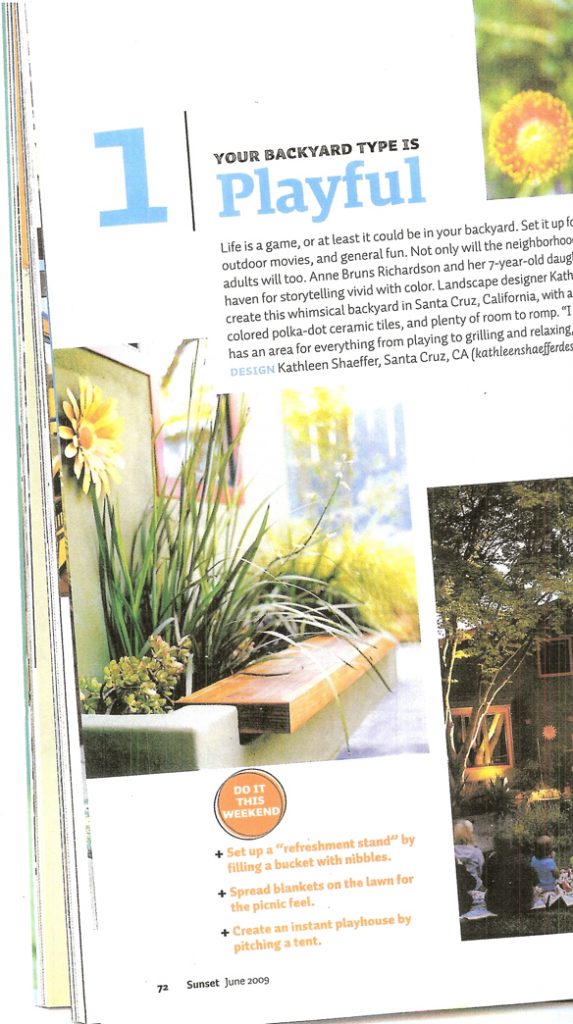 A built-in planter bench would solve two of our backyard challenges: (1) my desire to add some major style the giant white stucco wall of the garage, and (2) our need for additional seating. The bench could serve as seating on one side of the patio table, allowing us to put two chairs on the opposite side, as well as a chair on each end – taking the table from dinner for four to dinner for six (we can even fit 7 or 8 when the kids take the bench seat).
WHAT TO PLANT BEHIND A GARDEN BENCH?
Once the patio hardscaping and bench were complete, I was very eager to get something planted behind the bench right away… but what? From the inspiration photo in Sunset Magazine, I knew that soft grasses would end up flopping over the bench, making it hard to sit there. But when I researched stiffer grasses that grow tall and straight, we found that most are quite spiky and would be very uncomfortable to sit against.
Next I considered a crawling vine, but I learned that any vine that clasps a surface with suction cups or aerial rootlets can damage stucco, wood, and some masonry. Some climbing vines can be lattice-trained, but that wasn't really the look I wanted for our more modern back patio.
I had some pretty specific requirements in mind, and finding something that ticked all the boxes proved challenging. I wanted a plant that would grow tall and straight, and would be soft against your back. I didn't want anything flowering or that would attract bees near the dining table. I wanted something lush and green, and I needed it to do well in direct sunlight and grow well in a planter.
Finally, after lots of research and not much luck, we finally stumbled upon the perfect solutions while wandering the aisles at our local nursery (for about the 5th time).
PLANT RECOMMENDATION: Elegant FeatherElegant Feather (a sterile form of Eupatorium capillifolium), is a perennial in warmer zones, but only grows as an annual in my neck of the woods (Colorado). What makes Elegant Feather so fabulous for a planter bench is that its strong stems grow straight and tall while the vibrant green foliage is incredibly soft. Elegant Feather will grow upwards up 7 feet tall by the fall, and it's soft as a feather. This is one plant that definitely earns its name!
Here's a closer up look at the Elegant Feather – you can tell how gentle and soft the foliage is just by looking at it.
After buying pots of Elegant Feather at our local nursery for many years, last summer they stopped carrying it and we didn't have any luck sourcing it anywhere else in Denver. I turned to the Internet and found an online nursery – 
Romance Gardens
 – that sells pots of Elegant Feather for a great price. I was a bit skeptical about buying plants online, but they arrived in great condition and thrived all summer.
This spring I 
purchased Elegant Feather online
 again, and once again the plants arrived looking good. I snapped this photo a couple of weeks ago when we were getting ready to plant in the garden bench.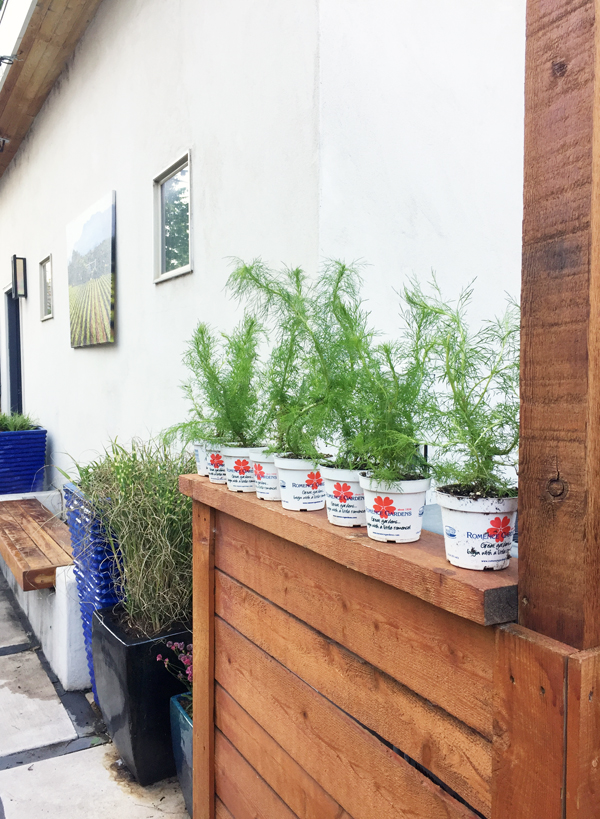 When first planted, the stems are barely visible above the top of the bench…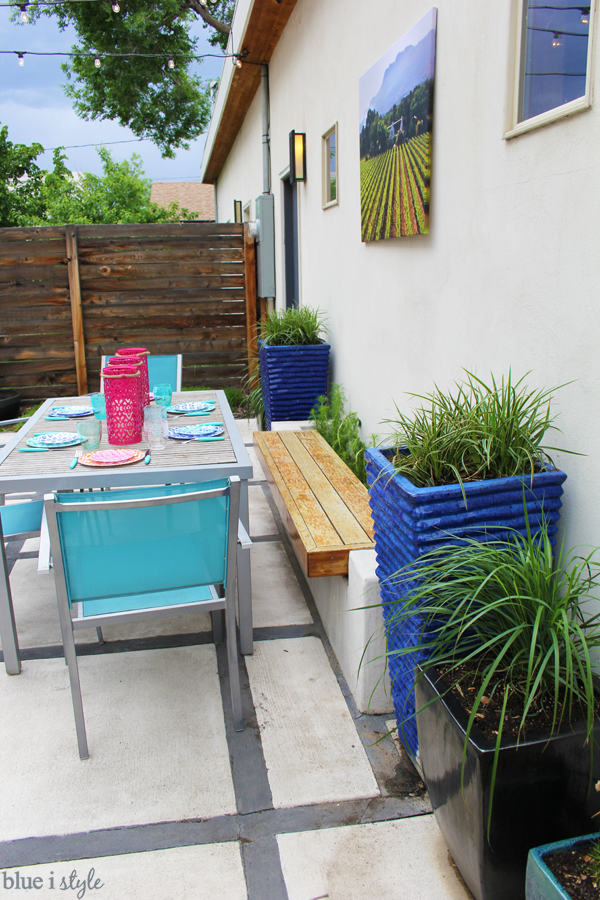 …but before long they'll be standing straight and tall! By mid-summer the Elegant Feather brushes the bottom of the outdoor art that hangs above our bench, and by the end of summer, it's all enough to cover the art completely (at which point I take the canvas art down and just enjoy the foliage).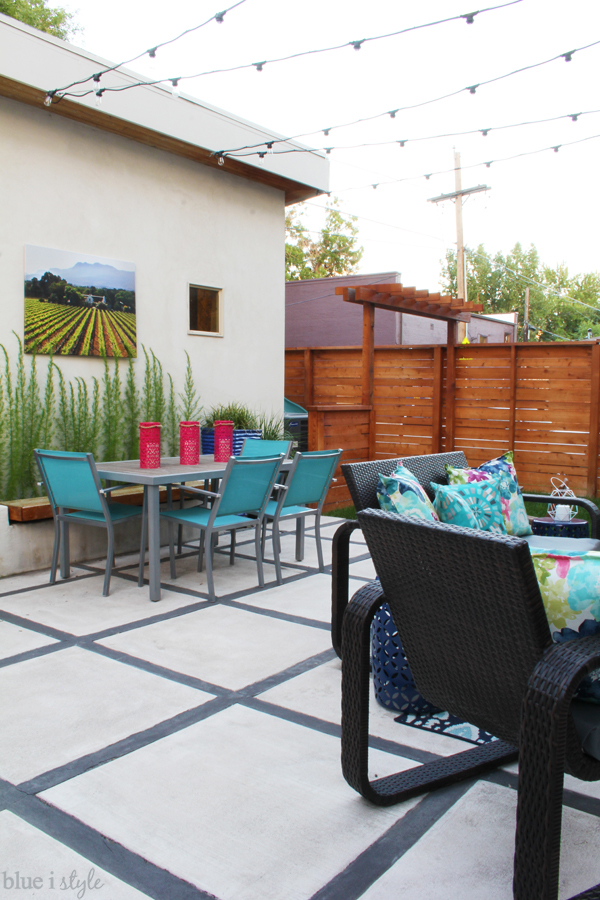 Our planter bench is watered by drip lines that run off of our sprinkler system and the Elegant Feather, which is in direct sun for most of the day, gets watered for 6-8 minutes each day (we increase it a bit as the plants get bigger). You'll be able to tell if the plants need more water, because when the Elegant Feather gets to thirsty the tops will start to droop over. In the fall, the the foliage and stems dry out. We cut them down, and then dig out the roots the next spring when we are ready to plant again.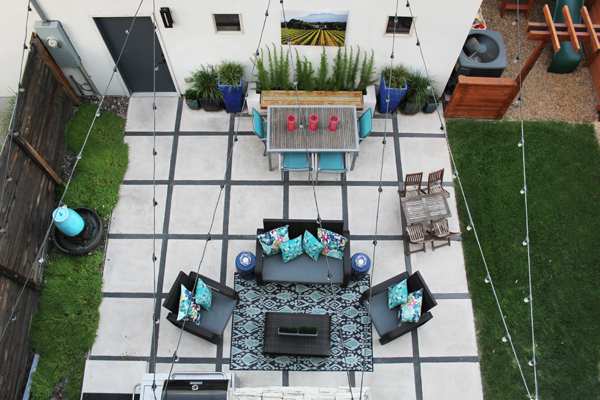 If you've lived in an area where the species form of Eupatorium capillifolium grows as a perennial, you may know that it can be an invasive weed. However, according to Romance Gardens, Elegant Feather is a selected, sterile form of this plant that doesn't produce seed and will not be invasive.
MORE BACKYARD POSTS & TUTORIALS: