I want to tell you all about an easy {and delicious} way to help others this Thanksgiving season! Simply buy your holiday pies through Project Angel Heart's "Pie in the Sky" pie sale. Each pie purchased will allow Project Angel Heart to provide FIVE life-sustaining, nutritious meals to a Coloradan battling cancer, kidney failure, HIV/AIDS or another life-threatening illness. Keep reading for all the details…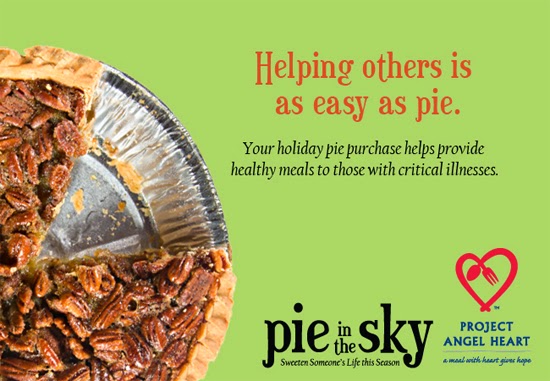 This year I have partnered with Project Angel Heart as a pie seller and I hope you'll join me in making a difference for ailing neighbors by
clicking here
to
order your holiday pies today
directly from my pie seller page!
All of the pies will be baked by Denver's Bluepoint Bakery, and they are available in delicious pumpkin, pecan, apple and cherry flavors. Each pie costs $25, but $20 of the purchase price is a tax-deductible donation. Your pies will be ready on Tuesday, November 26th, and you can choose from one of 18 convenient pie pick-up locations throughout the Denver metro area and Colorado Springs.
Alternatively, if you want to support Project Angel Heart, but don't need any pies for Thanksgiving this year, consider simply making a $25 donation.
Click here
, then follow the "Purchase Pies" link and select the donation option at the bottom of the list.
More About Project Angel Heart…
Ok, now that you know how to buy your pies or make a donation, let me tell you a bit more about Project Angel Heart. I was extremely fortunate to have had the opportunity to spend a year during college volunteer with this great organization on a weekly basis – preparing and delivering meals – and I have been an avid supporter of their efforts since that time. Project Angel Hearts mission and reach has continued to expand and it was recently named the 2013 Top Company of the Year, Nonprofit Category, ColoradoBiz Magazine.
Currently, Project Angel Heart serves over 800 clients each week by providing nutritious meals, free of charge, and specifically prepared to meet the nutritional needs of each individual client. Recognizing that a life-threatening illness can drain a person's energy and finances, threatening their dignity, limiting their independence, and leaving them feeling alone and vulnerable, Project Angel Heart provides the life-saving nutrition necessary for physical, emotional, and financial health.
For those Outside of Colorado…

If you live outside of Colorado and would prefer to support a charity in your neck of the woods, there are many similar organizations across the country conducting Pie in the Sky pie sales this holiday season. Do an internet search for "Pie in the Sky" and your city to find a Thanksgiving pie sale supporting a worthy charity in your area.
The deadline to order your pies through Project Angel Heart's Pie in the Sky sale is Thursday, November 21. But why wait?
Order today
! I thank you, and Project Angel Heart thanks you!