The holidays should be a joyous time, full of family togetherness and fun, but all to often we let ourselves get stressed out by the shopping, decorating, cooking, and other items on our to do list. Today I've got three quick and easy organizing tips that will take the stress out of Christmas shopping!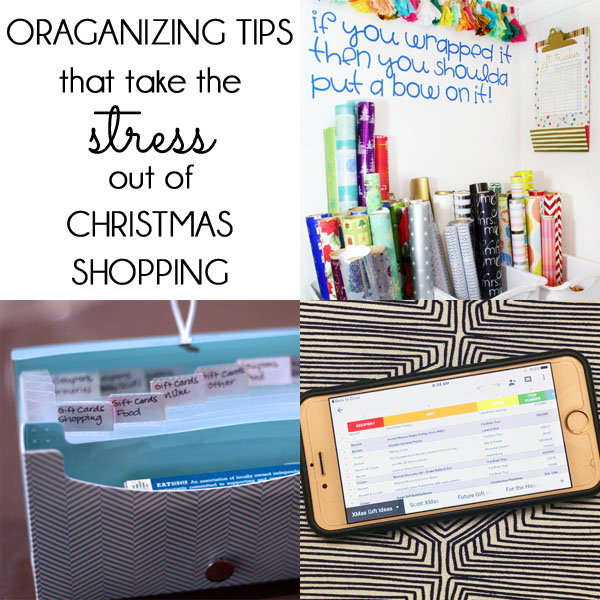 SAVE MONEY BY NEVER FORGETTING YOUR COUPONS
I love this time of year when every retailer is mailing out coupons and my email inbox is bombarded with great deals, but it can get hard to keep track of. I have good intentions of grabbing the coupons I need before leaving the house on a shopping trip, but inevitably I end up making an unexpected stop at another store and I find myself in the check out line realizing that the coupon for that store is still on the kitchen counter.
Finally I came up with a quick and easy system to make sure I always have my coupons with me when I need them so that I can maximize my savings and avoid extra shopping trips! I picked up a cute, expanding receipt organizer that has become the perfect solution to organize my coupons, as well as my gift cards, in a portable manner. Best of all, it's a convenient size to keep in my purse, so I have it with me at all times.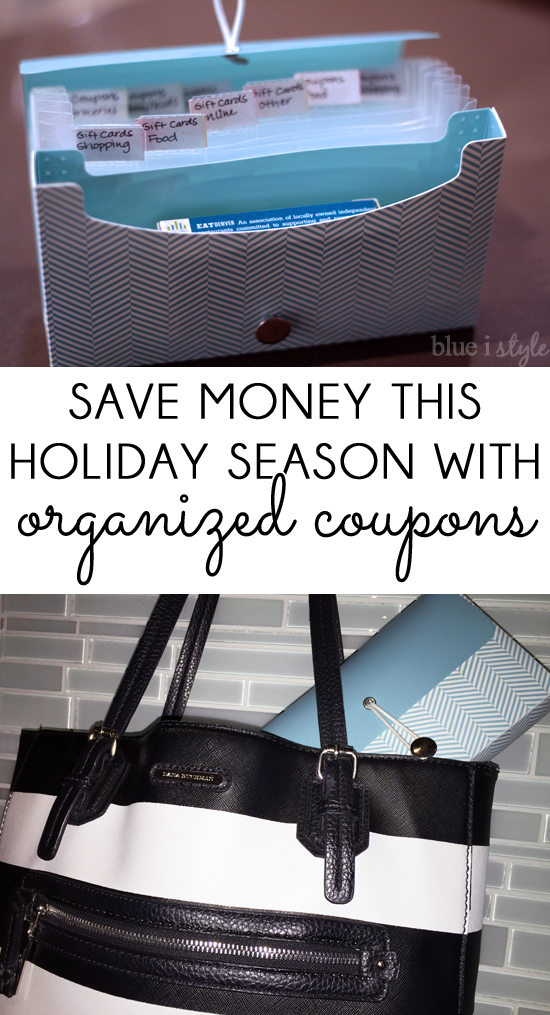 You can read all about this quick coupon organizing system in this post.
I also use this same system to keep track of any gift cards that I receive as Christmas gifts.
CREATE A SHOPPING LIST YOU CAN ACCESS FROM ANYWHERE
I am notorious for jotting down notes on a million different scraps of paper and shoving them all in my pockets or purse as if I'll ever be able to find the one I need when I need it. Obviously this is not the most efficient way to create a Christmas shopping list, so for the past few years I have been slowly forcing myself to switch to digital list making. I love both the Notes and Reminders apps on my iPhone for my to do lists, but when it came to creating a Christmas shopping list, I wanted to find a system where I could keep track of more details… enter Google Drive.
For the past few years, I have turned my shopping list into a spreadsheet using Google Sheets. With one quick download of the free Google Drive app, I can create my shopping list spreadsheet on my computer or tablet while flipping through catalogs, and then I can easily pull it up on my phone to reference it and update it when I am out shopping.
Here's an example of my shopping spreadsheet from a few years ago: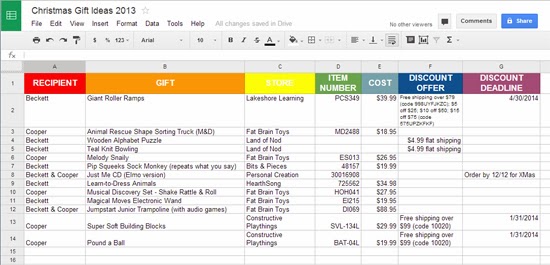 I especially love this system when I'm shopping for the kids, because so many of the same toys and games are available at lost of different stores, but the prices and deals can vary widely! I like to start my sitting down with the stacks of catalogs that arrive in the mail and input the info for the items I'm interested in. And since a lot of those catalogs include discount codes or coupon offers on the cover, I add that info as well. Then if I find a better deal elsewhere, I can update the spreadsheet accordingly.
This is not only a great way to keep track of items that I might want to buy online, it also comes in handy when I'm out shopping. I always love to support local toy stores when possible, but I also need to stay on budget, so when I'm out and about, I pull up this shopping list on my phone so that I can quickly compare the in store sale prices to the online offers to make my purchasing decisions more efficient.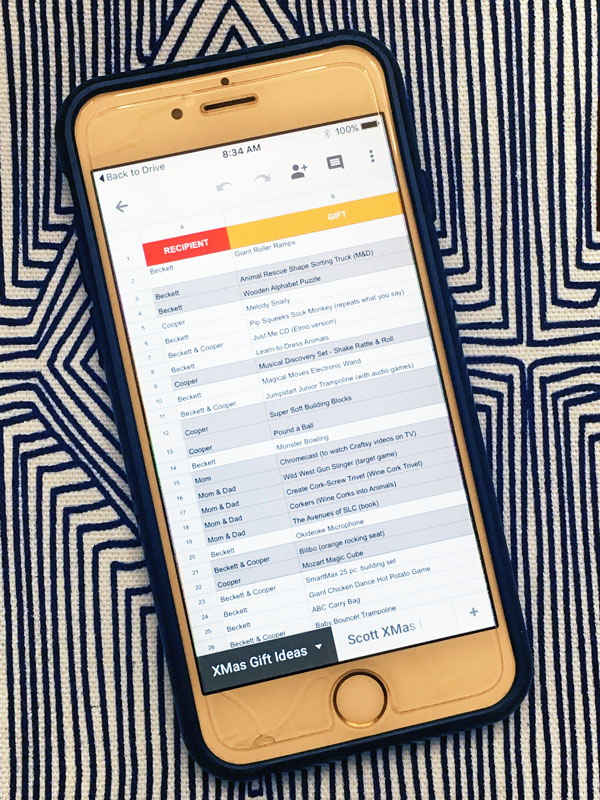 You can read a quick and easy tutorial for setting up a shopping list in Google Sheets in this post.
KEEP TRACK OF THE GIFTS YOU'VE PURCHASED
I always try to get a jump start on my Christmas shopping by picking up cute little items throughout the year that would make good gifts for friends and neighbors. And I frequently purchase items for my boys to put away for their birthdays and Christmas. I stash all of these gifts on the shelves in our guest room closet, along side my gift wrap supplies, but a closet full of gifts is no good if I can't remember what I bought and for whom!
That's why last year, I created a simple gift tracking system that made Christmas shopping and present wrapping so much less stressful!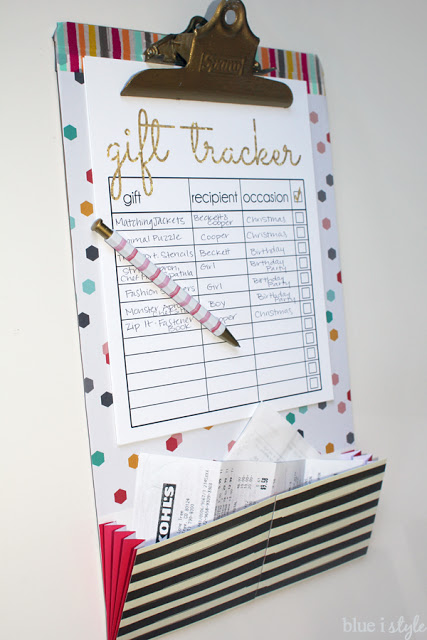 Then I designed a printable checklist to keep track of the gifts I have purchased, the recipient, and the occasion. The "occasion" column comes in particularly handy because we have several family birthdays that fall in the two weeks after Christmas, so I'm always trying to keep track of which gifts I intend to give for Christmas, versus which I'm planning to give as birthday gifts.
You can download my free gift tracking printable here.
The clipboard with my gift tracking list hangs on the wall of my guest room closet, right between my
organized gift wrap supplies
and the shelves where I stash the gifts until I'm ready to wrap them.
Now when I purchase a gift, it gets noted on the my gift tracking sheet as soon as it goes in the closet. Then when it comes time to start wrapping Christmas presents, I can simply consult my list and pull out the gifts that I need to wrap. Once a present has been wrapped, I put a check mark in the final column of my list so that I can easily keep track of what I've already wrapped and what I have left.
It used to be that every year on Christmas morning the boys would finish unwrapping their gifts and I think "where's that other toy?", only to find it still hiding in the closet. But not anymore!
And if it turns out, after all the presents are unwrapped, that they boys ended up with a duplicate toy from a relative, or if something doesn't work, I can always find the receipt I need to make the return since I have tucked them all away in the pocket of my gift wrapping clipboard.