Thank you to Office Depot for sponsoring this post.

When I was a kid, I counted down to the holidays and time seemed to move so slowly it felt like we'd never get to winter break. As an adult, between running a business and parenting, it feels like I blink and the holidays have come and gone.
This year, I'm trying hard to slow down and simplify a bit so that I can really enjoy the season and create lots of memories with my own kids.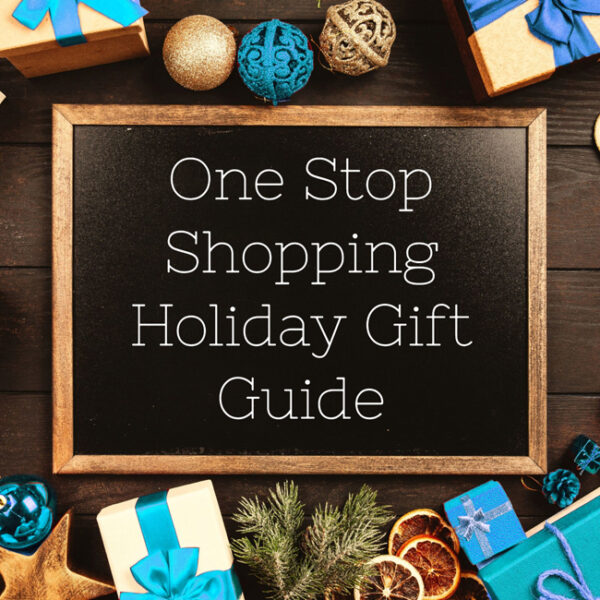 It's easy to get overwhelmed by the holiday to-do list, but this year, I'm cutting down on my errand running madness and shopping smarter.
Last month, I partnered with Office Depot and OfficeMax to share some time management tips for busy momprenuers. As a small business owner, Office Depot and OfficeMax is my one stop shop for all of my business supplies, and during the holidays it's so convenient to also be able to mark my personal to dos off the list at the same time. I really appreciate the convenience of being able to print my holiday cards and ship my gifts from the same place that I'm already shopping for my business needs.
On a recent stop at Office Depot to shop for a 2020 planner and pick up some large scale photo prints for a client decor project, I found myself also filling my basket with wrapping paper and spotting gifts that would be perfect for just about everyone on my holiday shopping list.
My blogging besties … check!
My tech loving husband … check!
My art supply loving six year old … check!
My creative maker sever year old … check!
My kids' teachers … check!
I found so many great gift ideas that I thought it would be fun to create a One-Stop Shopping Holiday Gift Guide with some of my favorite items from Office Depot and OfficeMax. I invite you to join me in cutting down of some of the holiday errand running madness this year, and I think you'll be surprised how many people on your shopping list you can check off in this one convenient stop.
GIFT IDEAS FOR CO-WORKERS AND FELLOW BOSS BABES
My blogging besties are pretty easy to shop for because they love and need most of the same things that I do. We all often work on the go, so I know they'll appreciate the super cute, black and white striped cord organizer case that I've added to the list.
Like me, my fellow boss babes are also major list makers and planners, so I was thrilled when I came across the line of Ivory Ella products at Office Depot and OfficeMax.
Not only are these calendars, planners, and notepads practical and super cute, Ivory Ella works along side Save The Elephants and donates a portion of their profits to support elephant conservation and efforts to sustain elephant populations. I love giving a gift that give back!
GIFT IDEAS FOR TECH LOVERS
This list of gift ideas for tech lovers runs the gamut, with items for work, home, and play:
My favorite item on the list is one I just had to try out for myself after I spotted it in the store… I mean, a girl's got to make sure the gifts she's giving are as good as they look, am I right?!
I'm a sucker for a good notebook, especially one that allows me to rearrange the pages, choose from lined or graph paper, and add colorful divider tabs. But a notebook that also charges my phone?! I'd never even imagined such a thing. But the leather-bound cover of the TUL Wireless Charging Notebook does just that. It has a wireless charging spot on the cover for iPhone and Android smart phones.
I take a lot of photos, so my battery is always low. Now I can charge my phone while I'm sitting in meetings, or even during flights, without a needing to find an outlet or deal with the tangled cord of an external battery charger.
After testing it out for myself, I can't wait to give the TUL Wireless Charging Notebook as a gift to all of my tech loving friends and family members!
GIFT IDEAS FOR KIDS & TEENS
For kids who love drawing and art, like my younger son, the art supply options at Office Depot and OfficeMax are endless. But the gift ideas for kids and teens don't end there. Here are some other unique and creative gifts they will love:
GIFT IDEAS FOR TEACHERS
In my role as PTA President at my boys' school, I've talked to a lot of teachers about what they really want to receive for the holidays, and the consensus seems to be that while teachers appreciate all the gifts they receive from students and their families, what they really need most are practical gifts. There are certain supplies that the teachers at our school seem to run out of the quickest, including all the colors of Sharpies and dry erase markers.
In addition to basic supplies, here are a couple other unique ideas for useful classroom gifts:
I hope this one-stop shopping gift guide gets you started in the right direction and helps you to simplify your holiday season a bit this year. Let's all aim to spend less time running errands and more time enjoying this happiest time of the year.
This is a sponsored post written by me on behalf of Office Depot, but all ideas and opinions are, as always, my own.