*This is not a sponsored post. I just love this store and wanted to spread the word about the holiday season Pop-Up Shops.
I feel like I'm already behind because I haven't yet started my holiday shopping. But when I do, The Land of Nod will be one of my first stops! I've been a fan of the Land of Nod for a long time, so I am constantly surprised at how many people I talk to who have not yet been introduced to this awesome company that specializes in super stylish furniture, decor and toys for babies and kids. The Land of Nod is sometimes fondly referred to as the little brother of Crate and Barrel because it is part of the CB line of companies, along with CB2.
The Land of Nod originally started as a catalog and internet only company. They now have a handful of stores in Illinois, Seattle, Washington, and most recently in Costa Mesa, California. But this still leaves most of us to browse the pages of their colorful catalog or to go online. Don't get me wrong, I do plenty of shopping online, but there's still something about an in store experience that can't be beat.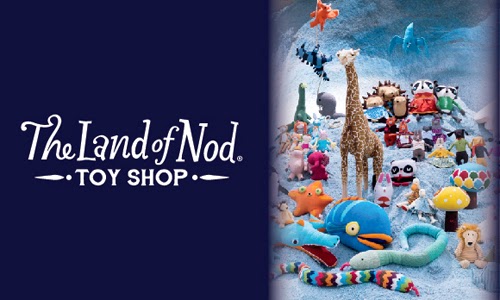 That's why I was so excited to learn that the Land of Nod is opening five "Pop-Up Toy Shops" around the country this holiday season – and one of them just happens to be only 10 minutes from my front door! Welcome to Denver, Land of Nod! Even if you're only here for two months, this mom is happy to have you!
The Land of Nod Pop Up Toy Shop at the Cherry Creek Shopping Center opened on November 1, and if it weren't for this darn cold that keeps getting passed around my house, we'd have been there by now. Other Land of Nod Pop-Up Toy Shops are coming to Boston, Chicago, Houston and Philadelphia. Some are open now, and some open next week, so check out the Land of Nod's location list for the details if you live in or around one of these fair cities. And if you don't live near a Land of Nod store, don't despair. They are currently offering $4.95 "all you can ship" on all of their toys, gifts and holiday decor.
I just love that the Land of Nod has so many high quality wooden toys, as well as so many fun items geared toward imaginative play! Here's a quick look at ten of my very favorite Land of Nod toy finds.
If you have kiddos on your shopping list this season, make sure the Land of Nod is one of your stops – whether in person or online. I know I'll be making more than one visit to their Denver Pop-Up Shop!
Looking for more Christmas inspiration? You might be interested in these projects: