Right after we moved into our house we swapped out the single pull out trash can in the kitchen for a double pull-out system that allows us to have both trash and recycling hidden within a single cabinet.
Recently, Denver began a new compost program and we are excited to be participating, but this mean adding one more trash can. Since we
had no space for an additional can within a cabinet or under the kitchen sink, we opted for a stainless steel flip-top can at the end of our counter.
This can has been working perfectly for our compostable waste because the lid fits tightly and helps contain smells.
When we only had cans for trash and recycling, we would simply tell our guests that they were in the cabinet by the sink, and we would let them know that the front can is for garbage and the back for recycling.
However, having this new can visible at the end of the counter begun causing confusion for guests because they would see it and just assume it was our trash – then we end up with non-compostable trash in the can, and I wind up having to dig through it to sort it. YUCK! I had to find a solution!
I decided that the easiest way to solve the problem was to label the compost can, and while I was at it, I went ahead and labeled our trash and recycling as well.
Since I already had my Cricut cutter out to make
alphabet magnets
for our
magnetic chalkboard wall
, I quickly cut the compost letters out of some left over adhesive vinyl. But this project certainly doesn't require for a Cricut or other die cutting machine. You could instead just purchase some letter stickers from your favorite craft store – easy peasy!
For details on how I cut and applied the vinyl labels, see the 
tutorial
for the similar labels I made for our bathtub toy storage.
Because our trash and recycling cans are hidden in a pull out cabinet, there is no way to visibly label the cans themselves. Instead, I opted for three quarter inch tall letter stickers on the upper edge of the cabinet door.
On the left side, I spelled out "Front Trash."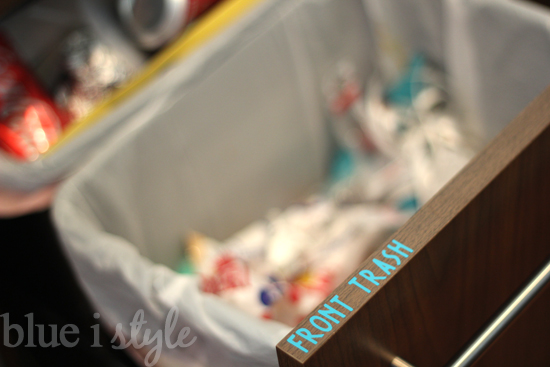 And on the left I spelled out "Back Recycling."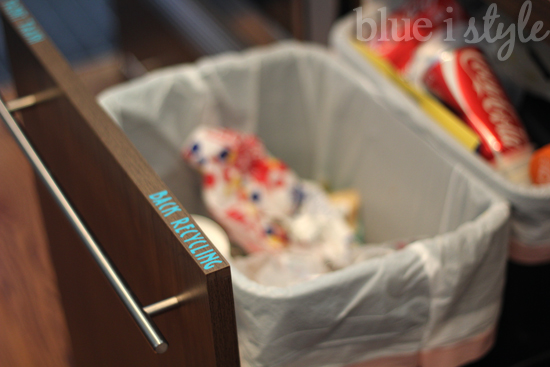 Now when we have family and friends visiting, no one will be
confused by our three separate receptacles.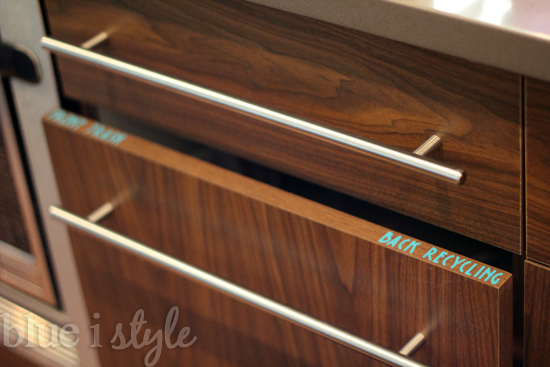 Five minutes to save myself from digging through trash and
food waste to resort…that is five minutes WELL spent!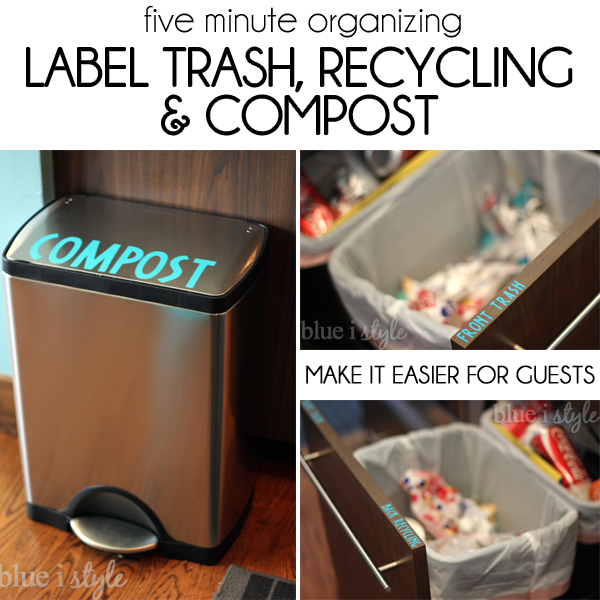 Have a wonderful holiday weekend! If you follow me on Instagram, I'll be sharing lots of pics of our 4th of July fun! You can find my Instagram feed by clicking on the Instagram logo at the top of the sidebar on the right.