I'm sorry it's been so quiet on the blog this week! Things have been really busy around here, which is good news because it means I'll have a lot to share very soon. In the meantime, I thought I'd give you a little sneak peek of one of the projects that has been occupying my time…
Cooper turns one tomorrow!! I really can't believe how fast this year has flown by, but it's so fun to see him turning into a little boy right before our eyes. He's talking more and more, getting closer to walking, and his personality is just as sweet as can be! Of course, a first birthday is a very special occasion, so we are planning a party for next weekend to celebrate.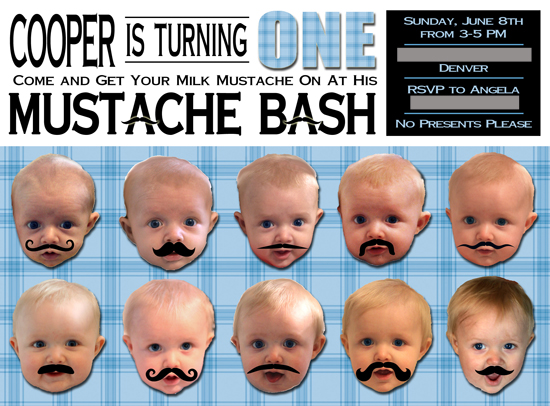 That's right, we are having a mustache bash, and it's going to be SO much fun! I designed the invitation myself, and I just love how it turned out! I used ten of the monthly photos I took of Cooper, so you can see how he's grown and changed over the course of the year.
I'll be sharing lots of party details here on the blog after the big event, so stay tuned!


Are you looking for kids' party ideas? You might be interested in these posts!