I love a bargain, which is why I can't stay away from the dollar sections at my favorite stores. You'll never see me skip over the Target Dollar Spot, and you'll never see me stand in line at Joann Fabric without scouring all those bargain bins along the way. So imagine how excited I was when I found wooden coloring masks for only $1 each! I knew these would be the perfect Halloween craft activity for Beckett and I.
They sold a total of four different Halloween mask options, and I selected the pumpkin and the spider. The other two options – a witch and a vampire – were a bit scarier looking and would be better for slightly older kiddos. There were also a handful of animal mask options, and I picked up two more of those – a lion and a zebra – for Beckett and I to color at a later time.
We normally use crayons in our house since they are less messy, but I knew that markers would show up better than crayons on the wood masks. I grabbed out a white plastic table cloth (left over from a party in the backyard), wrapped it over the top of our play table, and used blue painter's tape to hold the table cloth in place. This set up worked so well that I'm going to keep that table cloth with our art supplies for all of our future art and craft projects.
When Beckett saw the masks and markers on the table he got very excited and repeated what he's been telling me when I pick him up from preschool lately – "Beckett artist"! Although, when he says it, his name comes out closer to "Beck-ish."
Of course, his attention span for coloring is not all that long, but for a short time he was very focused and he did get some good orange and yellow on the pumpkin (and on the table cover – so good thing it was there).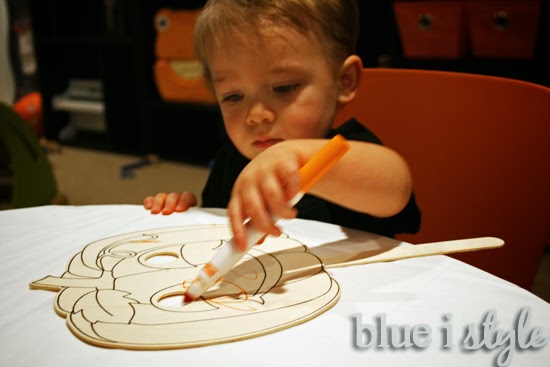 And then he turned his attention to coloring his hands – which is always more fun!
It was a quick and inexpensive project, but now Beckett has his very own mask to play with leading up to Halloween.
His new mask even led to a fun game of peek-a-boo after lunch time.
So if you're looking for an inexpensive Halloween craft project to do with your kids this weekend, pick up a couple of $1 masks at Joann's and get coloring!