Five years ago when we moved out of our downtown loft and into a bigger house, we had more rooms than we knew what to do with. One bedroom became an office, one a guest room, I set up my easel for painting in one room, and still another bedroom we set up as an exercise room. But we knew that sooner or later we'd start a family and that some of these rooms would become bedrooms for our children.
The room where I used to paint was the first to be converted – it became the nursery when we were expecting Beckett. And now that Cooper has arrived, it will soon be time for Beckett to move in to a new "big boy" room so that Cooper can move out of the cradle in our master bedroom and into the nursery. What is currently our exercise room will become Beckett's new room in a matter of months, so I wanted to share with you what it looks like now before the transformation begins.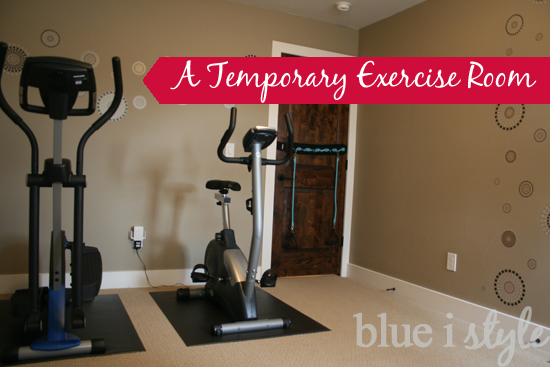 Since we knew that the exercise room would only be only temporary use of the space, we didn't want to spend too much time or energy on decorating in there. Nonetheless, I still wanted to bring a little style to space. Since I wasn't going to paint, I was searching for a way to fill some of the large empty walls and to break up all the beige. That's when I found these great circular wall stickers that came in a variety of sizes.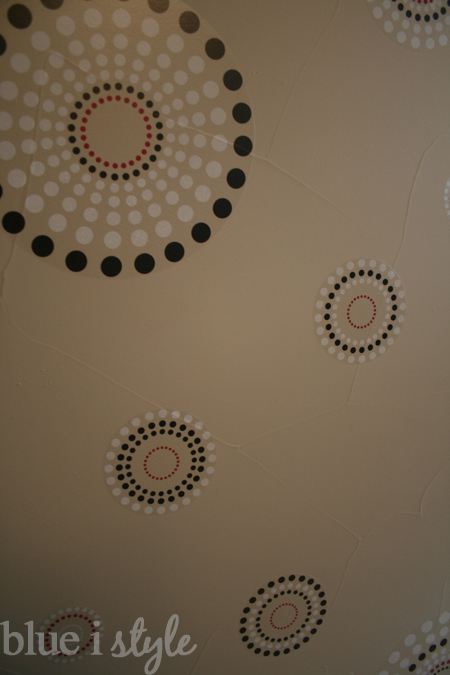 I arranged the stickers to create a horizontal band across the wall above the elliptical machine and stationary bike, and a vertical band down another wall.
Just two package of the wall stickers, at a cost of less than $25, made a huge impact in the space.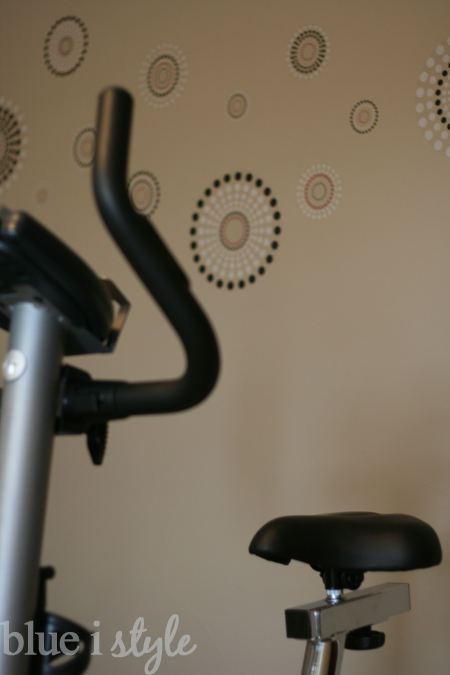 The exercise room also seemed like a perfect place to hang my posters from the two Olympics that I attended.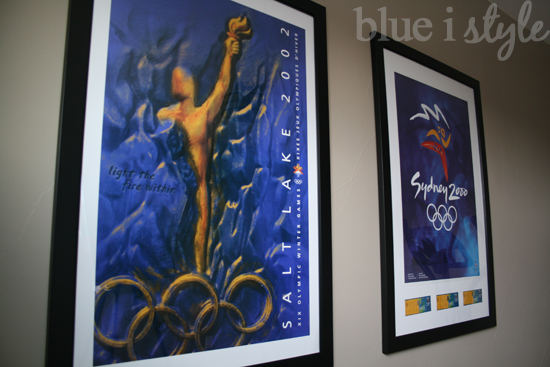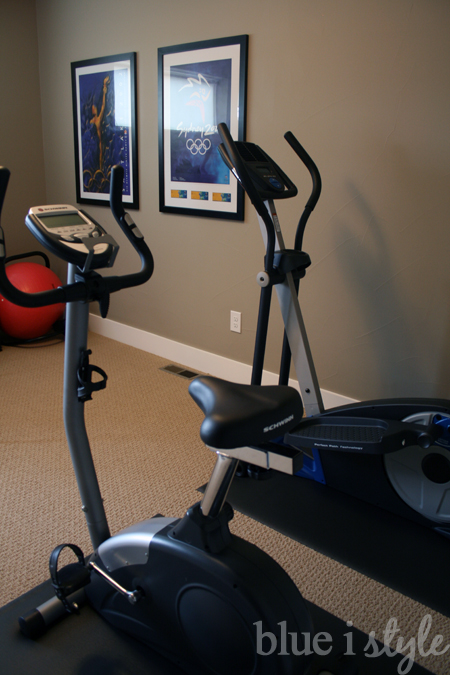 When I studying abroad in Brisbane, Australia during my junior year of college, I had the extremely fortunate opportunity to travel down to Sydney for the first week of the 2000 Summer Olympics.
In both photos above, I am the one on the right (13 years younger)
Then, just two years later, I was able to attend the 2002 Winter Olympics in Salt Lake City. I was born in SLC and lived there until my family moved to Denver when I was nine. Much of my family still live in Utah, so I road tripped to the Olympics with college friends and we were able to stay free with my uncle.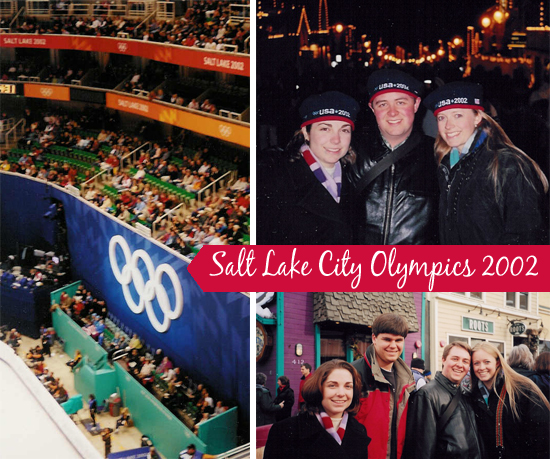 On the right of each photo, that's Scott and I only about a month or two after we started dating.
Anyway, back to the topic at hand… The Olympics posters brought a much needed pop of color to the room.
I wanted to frame the posters, but they are significantly different sizes and I didn't want to spend a lot of money on custom framing. I ended up buying two inexpensive poster frames from Michael's during one of their 50% off framing sales. I simply removed that paper that came in the each frame, turned it over to reveal the blank backside, and then laid the posters on top of this white paper to create the worlds cheapest mats. Since the Sydney poster is considerable smaller, I used the extra space to display the tickets from three of the events that I attended.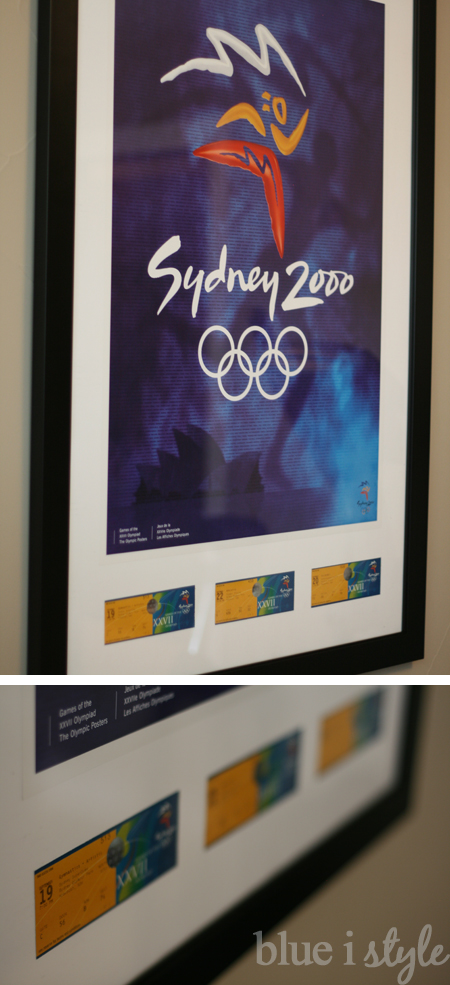 As I mentioned before, my former painting space became the nursery when Beckett was born, so my easel currently resides in the well lit corner of the exercise room.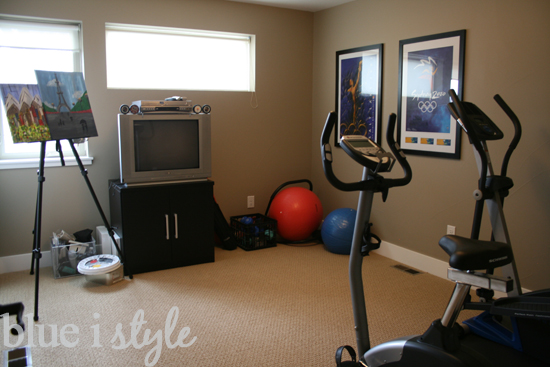 On top of the televisions we have displayed a few commemorative hockey pucks, including one from the SLC Olympics, and another from our alma mater's 2004 NCAA championship win. Go Pios!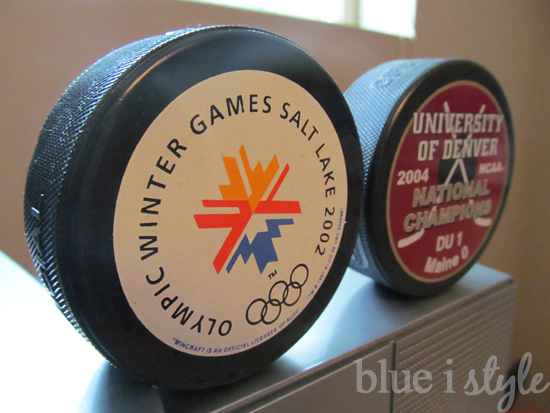 Next to the TV stand (which used to be part of a larger entertainment unit in our downtown loft), a simple milk crate holds some additional exercise equipment, including free weights, medicine balls, and exercise bands.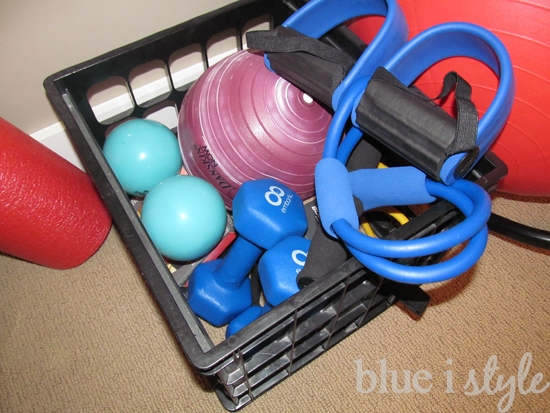 All in all, this room has served its temporary function as an exercise room quite well considering that we spent almost no money to create this space (other than the cost of the exercise equipment of course). And by placing equipment mats below the elliptical and the stationary bike, we have ensured that no damage has been done to the carpet during this room's five year stint as exercise central.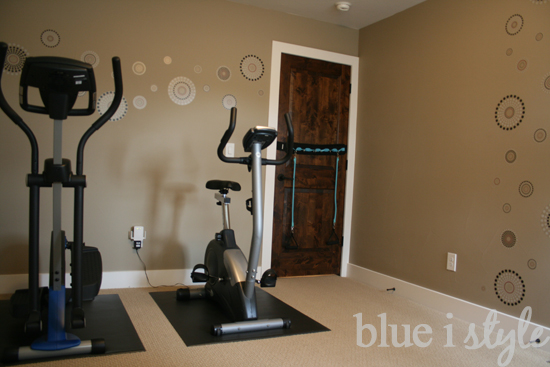 When this space soon becomes Beckett's new room, we will be relocating either the elliptical or the bike into the guest room, and the other will likely find its way to the garage.
Tomorrow I'll be talking about how we plan to incorporate a large piece of exercise equipment into our otherwise chic
guest room
– so check back in and give me your input! And then over the course of the next couple of weeks I'll be kicking into high gear with the plans for Beckett's "big boy" room, starting with some mood boards of potential design concepts. It's going to be soooo much fun!
Do you have any spaces in your home that are serving only temporary functions with style?