A month or so ago, I had a ton of fun putting together three very different room concepts for Beckett's future "big boy room" and I really love them all. Before I tell you which room design we've finally decided on, let's recap the options…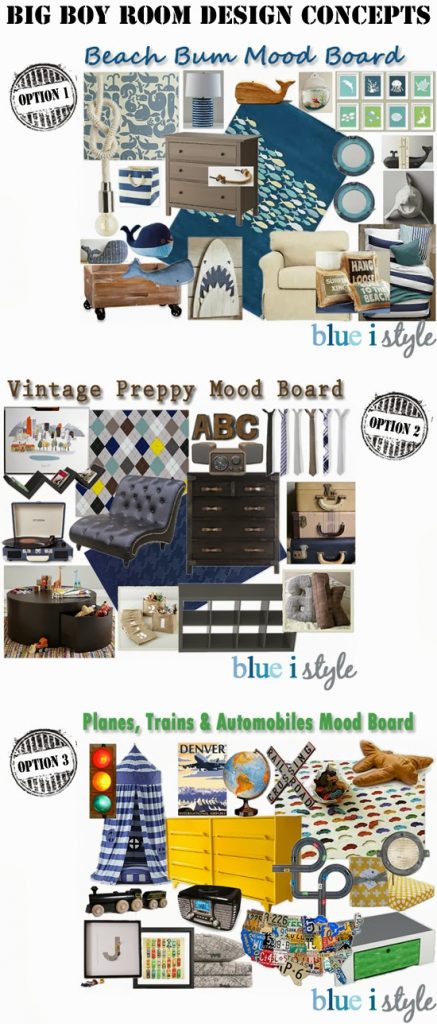 Click here to read all the details about Option 1, the Beach Bum room design concept. Click here to read all the details about Option 2, the Vintage Preppy room design concept. Click here to read all the details about Option 3, the Planes, Trains and Automobiles room design concept.
Keep in mind the three major goals of this room: (1) a room that can grow with Beckett from age two through early elementary school; (2) a fun an engaging space; and (3) a room that can accommodate different zones for sleeping, reading and playing.
I got some great input from readers. You all seemed to favor the design of the Vintage Preppy room, but many thought the certain elements of the Planes, Trains & Automobiles room might be more fun for a little boy. So what did we decide?!
We're going Option 2 – Vintage Preppy, but you'll see a lot of the elements of the transportation room making their way into the final room design! Yay! I am so excited!
We've already started purchasing a few of the key items for the room – including those awesome button-tucked chairs from the mood board, and a blue houndstooth rug from PB Teen that is very similar to the one in the moodboard. Here's an iPhone snapshot of what we have so far…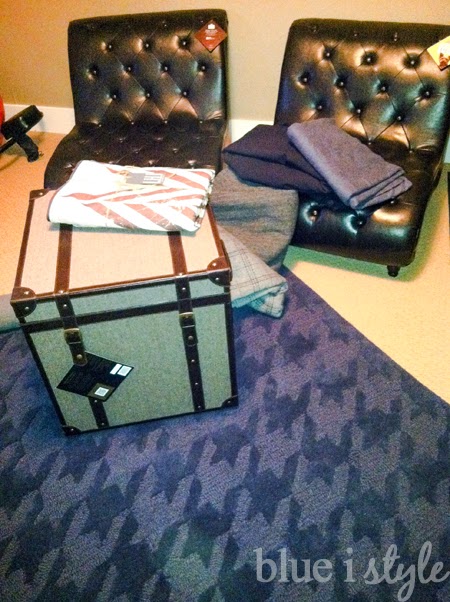 The day the chairs arrived and we unboxed them in the living room, Beckett squealed with delight and immediately grabbed some books and made himself comfortable! Seeing his reaction confirmed for me that we made the right choice! The chairs are just the perfect size and I know he'll be able to enjoy them for years to come.
After a lot of debate, we've finally settled on the room layout, so the major furniture purchases will be coming soon. Check back next week and I'll give you a preview of the floor plan for the room, as well as a few more peeks at what we have planned for the space.
Now that the Vintage Preppy Little Man's Lounge is complete, you'll find links below to the final room reveal and all of the related projects below: