The old adage is true – it's always better to give than to receive! Which is why I was thrilled when I was presented the opportunity to participate in a blogging campaign that would allow me to give a free Christmas tree to an organization of my choice in my community that I would decorate for them to enjoy this holiday season and keep for use year after year!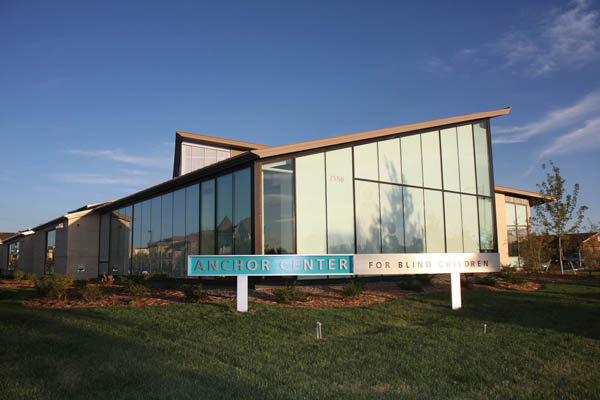 Photo Courtesy of Anchor Center
I met with Dawn, the sweetest Anchor Center staff member, who gave me a tour of their facility and helped me to brainstorm ways in which we could create the perfect Christmas tree for children who see life differently. I will tell you much more about Anchor Center and the plan for the tree … but first, a little ditty about how things don't always go as planned.
Nearly a week after I was told that the Christmas tree would be shipped to Anchor Center, I learned from the online company running the campaign that it was still not on its way. I had promised to have the tree set up in time for the Center's big Christmas party, and was getting very nervous about whether the tree would arrive in time.
At this point, I was devastated! I was not willing to renege on my commitment to Anchor Center, but I was almost certain the tree wouldn't arrive in time. I decided I had no choice but to back out of the campaign and find a way to provide the tree on my own. Since I had already spent my own money to buy all of the ornaments for the tree, it really wasn't in my family's holiday budget to also cover the cost of the Christmas tree.
To my amazement, St. Nicks did me one better and donated a very nice 7.5′ pre-lit Christmas tree! Now there is a company that truly embodies the spirit of the season! I've always enjoyed exploring St. Nicks 22 rooms of jaw dropping Christmas trees, ornaments, and lights… but now I am most certainly a loyal customer for life!
With that crisis averted, I was able to turn my attention back to Anchor Center, since they, and the children they serve, are what this is all about! Anchor Center offers infant, toddler, preschool, home visit, family support and outreach programs to teach blind and visually impaired children life skills such as mobility and pre-literacy, and to prepare them for kindergarten in the public school system. Founded by the local Delta Gamma Alumnae chapter, it is the only private organization in Colorado serving blind and visually impaired children from birth to 5 years-old. Talk about playing an important role in the community!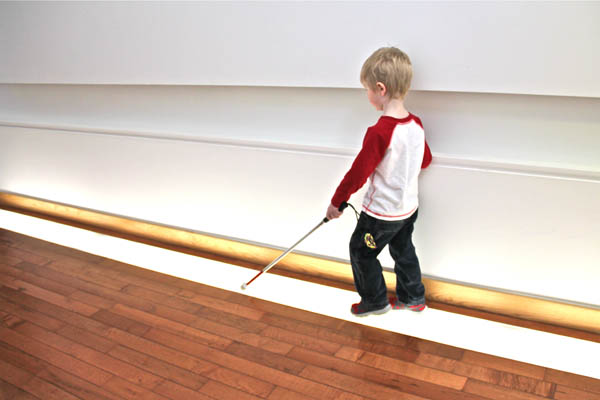 Photo Credit:Susan Grant Raymond
At Anchor Center, a grand hallway leads to all the classrooms with a "light walk" on the floor that simulates natural light. Up above, colored skylights glow in subtle blue, yellow and red to alert children to each of the three classroom pods. Colored lights near the classroom doors also help the children to find their way.
The first classroom pod – blue – focuses on the spirit, and includes a quiet room, infant classroom, and sibling care room. The second classroom pod – yellow – focuses on the mind, and includes spaces for literacy and art.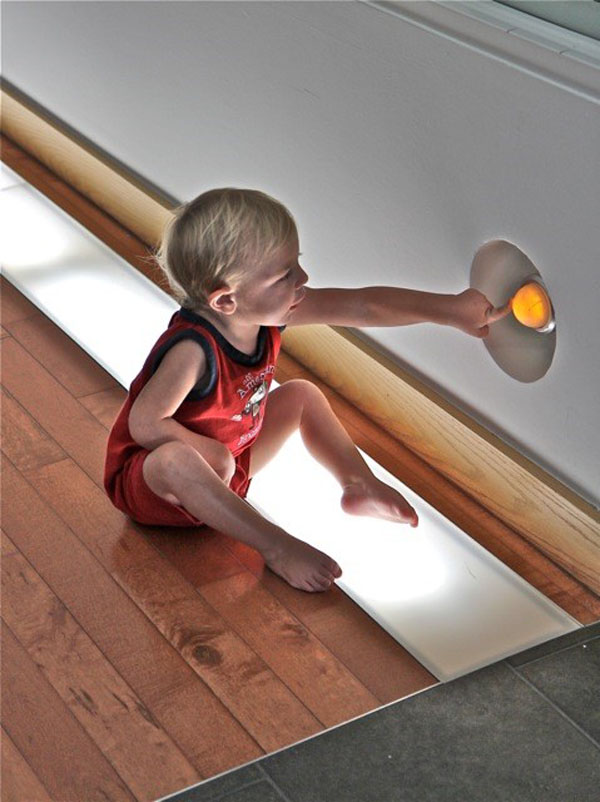 Photo Credit:Susan Grant Raymond
The yellow classroom pod also includes the "Light Room," a favorite of children and their parents! This classroom has optimal lighting sources and high contrast to use vision in play.
Photo courtesy of Anchor Center
The third classroom pod – red – features a large "Motor Room" for running, jumping, scooting, rolling and crawling.
Photo Credit:Susan Grant Raymond
The east wall of the Motor Room – known as the Kaleidoscope Discovery Wall – is covered in colored glass windows and nooks that invite children to explore and learn the concepts of room and space.
After learning about the importance of light, and the red, yellow, and blue colors that help to guide the children throughout the center, I knew that this was exactly how the Christmas tree for Anchor Center should be decorated.
To help bounce around the lights on the tree – and to add a great texture – I started with shiny tinsel in red, gold, and blue. I then wrapped the branches in strings of round plastic beads in the same three colors.
I chose all plastic and shatterproof ornaments because I wanted the parents and teachers to feel free to let the kids explore the tree with their hands. While I used soft felt and knit ornaments on my tree at home to make it kid-friendly, I opted instead for shiny and glittery ornaments for Anchor Center to maximize the amount of light and shine on the Christmas tree.
My mom and I spent hours setting up the tree and tying strings to every ornament so that there would be no hooks on the tree – again, keeping it safe for exploring hands!
And when we were finally finished, I was thrilled to present the tree to Dawn, my new friend and the Special Events Coordinator for Anchor Center!
The day of the big Christmas party, I received a photo of several kids enjoying the tree, and my heart nearly burst!
Photo Credit: Amanda Carr
This is what the holiday season is all about! These kids may not see this tree the same way that you and I do, but they are able to appreciate and experience its beauty in their own special ways!