As information from school districts around the country continues to evolve regarding the return to in-person school versus remote learning for the fall, I've heard from many friends who are struggling to find small, affordable desks for their kids to create a dedicated school-at-home work space.
Just about everyone I know has made IKEA their first stop, which makes sense because you can't beat the price, but from what I'm hearing, desks at IKEA are almost completely out of stock. In fact, it seems that small desks are the new toilet paper, because they are sold out just about everywhere. A quick Google search yields frustrating results, because most of the inexpensive desks that pop up at the top of the search are also out of stock.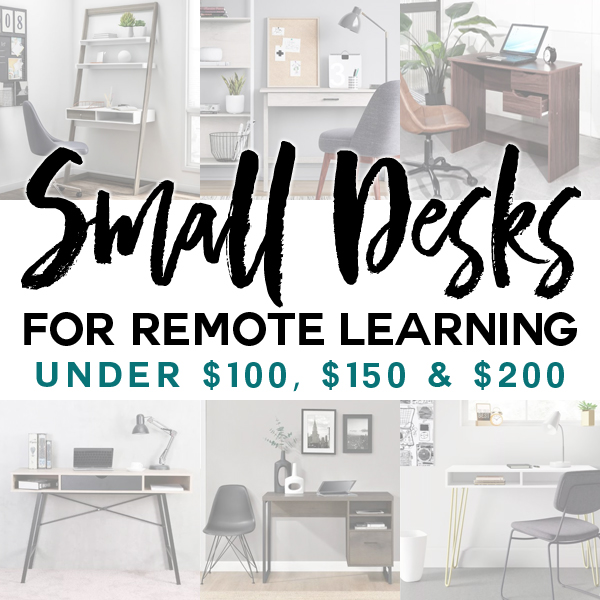 Since I know this is a challenge facing a lot of families right now, I decided to dig a little deeper, and I've come up with more than a dozen options for kids' desks to fit various space, style, and price needs. In the list below, you'll find student desk options broken down by price category, including under $100, under $150, and under $200, and I've included basic size details. Each of these desks are in stock and available as of the publishing of this post, but obviously desks are going fast!
Struggling With How to Fit a Desk Into Your Kid's Room?
If you are struggling to figure out how you'll fit a desk into your kid's room, or even how to create a dedicated work from home space for yourself, consider using a small writing desk in place of a night stand.
In this post about home office ideas for small spaces, I show you how I created a compact but efficient work space for myself in the corner of our guest room, including tips on organizing the desktop to make the most of the small space.
Affordable Small Desk Options for Remote Learning and Homework
This post contains affiliate links. If you purchase something I recommend, you'll pay the same price, but I may receive a small commission.
SMALL DESKS UNDER $100
The open storage on this 40" wide desk provides a convenient space to tuck away laptops, iPads, and school books. It's currently out of stock online, but available in stock in many Target store locations.
At just under 36" wide, this compact desk still offers two drawers for school supplies, and plenty of desktop space for school work.
This L-shaped desk features a built in bookshelf that is perfect for small spaces. At just 36" x 23", this desk is great for a corner and provides students with a lot of storage in a small space.
This simple, Parsons style writing desk is 39" wide with one drawer, and it is currently in stock and available in 4 different color options - white, black, oak, and black oak.
This 40" wide desk has a very spacious drawer with plenty of space for school supplies, and the back panel helps hide cords. This desk is not available online, but is currently in stock at numerous Target store locations.
Small Desks Under $150
Photo Credit: Bed Bath & Beyond
At only 28" wide, this two drawer vanity desk is as mini as they come. If you're extra tight on space, this desk could be a great option!
This 43" inch wide desk has two large drawers for organizing school supplies. It also comes in two other colors, but at present, only this color is in stock and ready to ship.
This 42" wide writing desk comes in 6 colors, but currently only the white wash finish is available for shipping. However, other colors may still be available for pick up at your local Target store. If you need additional storage, the matching bookshelf is also available for under $100.
This 45" wide desk has a deep storage drawer, as well as open storage spaces ideal for a laptop and books.
This 39" wide desk is currently available in both white and a fun bright blue color. The X-shaped base adds a little style, and the unique open storage on the end provides a spot to tuck away laptops and books at the end of the day.
This desk is larger than some of the others on the list, at 47" wide, but it boasts both a large drawer as well as open storage compartments ideal for books and laptops.
Small Desks Under $200
This wall mounted, folding desk is perfect for anyone who is very limited on space. This desk is just under 24" wide, and only 6" deep when folded up, making it the perfect compact solution in a bedroom, or even in a corner of the living room. The shallow drawer and shelves add additional storage to this very compact work space. The only downside is that the reviews indicate the assembly is a bit more challenging.
The detailed legs and gold pulls give this desk a little extra style, white the two drawers provide plenty of storage space in this 44" wide writing desk.
At under 34" wide, this two-toned leaning desk with built in bookshelves above provides lots of storage in a small amount of space!
Search Tips If None of These Small Desks Fit Your Needs
If none of the desks listed above fit your needs, try using the search terms "writing desk," "laptop desk," and "mini desk" as you shop online. Also keep in mind that many websites will allow you to filter your search results to just those desks that are currently in stock, as well as filtering by those under a certain price or size requirement. Using these tools can speed up your search for the perfect home schooling desk and let you get back to the business of enjoying your summer!