We've rounded up some of our favorite bathroom organization ideas, and we hope you'll be inspired!
The bathroom between our boys' bedrooms doesn't have a tub, so we instead bathe them in the bathroom attached to our guest room. The boys have lots of bathtub toys that used to wind up piled on the edge of the tub, and by the time they were finally dry enough to put away, it was bath time again. I finally came up with a simple but stylish solution by hanging cute, labeled buckets from a long rail. Holes drilled in the bottom of the buckets allow the toys to be put away wet and still dry properly. And when we have guests in town, we can simply swap out the buckets for more grown-up options that give the bathroom a spa-like feel.
Melissa is fortunate to have a closet right in her bathroom – but sometimes the larger the storage space, the more disorganized it can become. After becoming frustrated that the closet had become a cluttered mess, Melissa took control and put some simple organizing systems in place that have stood the test of time. Photo boxes are the perfect inexpensive organizing container. In the bathroom, they are great for non-daily items, like extra razors and travel size bottles you are saving for your next trip.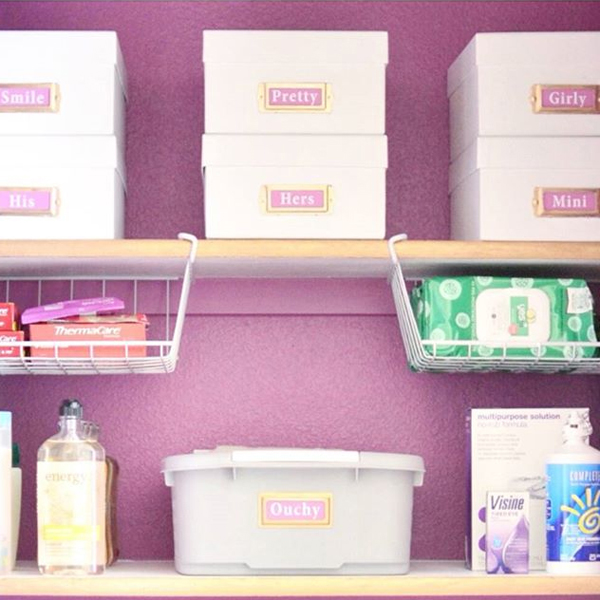 Photo source: APrudentLife on Instagram | Read about this closet organization here
Wash clothes never seem to stay neatly piled, so in the lower half of that same closet, Melissa has used a drawer to keep them tidy. As a bonus, the plastic storage drawer works as a divider for stacks of towels, which prevents them from tipping over.
A tray is always a great way to keep items contained and to make the counter look organized rather than cluttered. Quarters on Conservatory found that paper towels are a better solution for her boys, because hand towels were getting filthy fast! By putting the paper towel holder on the tray, it all has a cohesive look.
Photo source: BlueIStyle on Instagram | Read about this cabinet door storage here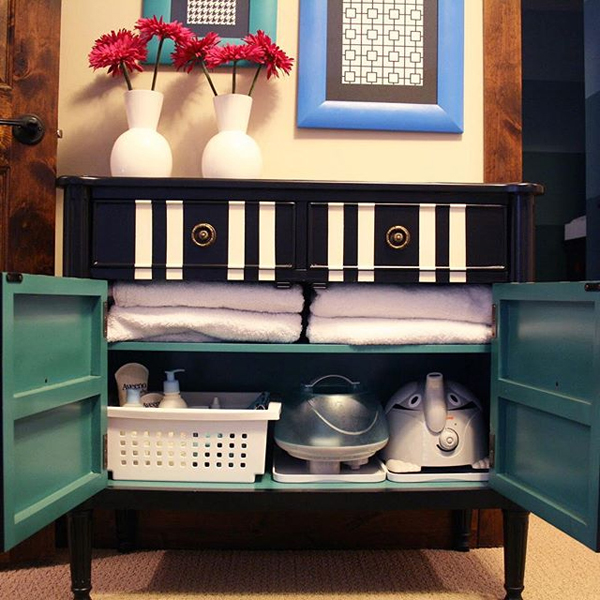 Photo source: BlueIStyle on Instagram | Read about this storage outside the bathroom here
Photo source: APrudentLife on Instagram | Details of the cabinet door storage here
The cabinet under Melissa's sink is just as organized as the back of her cabinet door! She notes that hair and beauty products can quickly overtake a bathroom countertop, but shoving them all under the sink often means you forget what you have. To combat this problem, she used a tiered spice rack to keeps everything visible. This system also gives here a limit – if the rack is full, something has to go before she makes another purchase!
Photo source: APrudentLife on Instagram | Details of the cabinet organization here
Finally, who doesn't love to the chance to peek inside someones drawers?! Here's a glimpse inside mine… We are fortunate to have quite a few drawers in our bathroom, so I was initially tempted to divide them up – his and hers, if you will. But I instead decided to group like items together and to organize them by frequency of use. This top drawer includes many of the basic items that we both use daily, like toothbrushes, deodorant, contacts, and glasses. Plastic bins make it easy to quickly put everything back in place. Lining the drawers with a fun, adhesive shelf paper and adding pretty silver labels to the bins add punches of style that motivate me to keep the drawer organized. Peek inside all six of my bathroom drawers and get my top 4 bathroom drawer organization tips.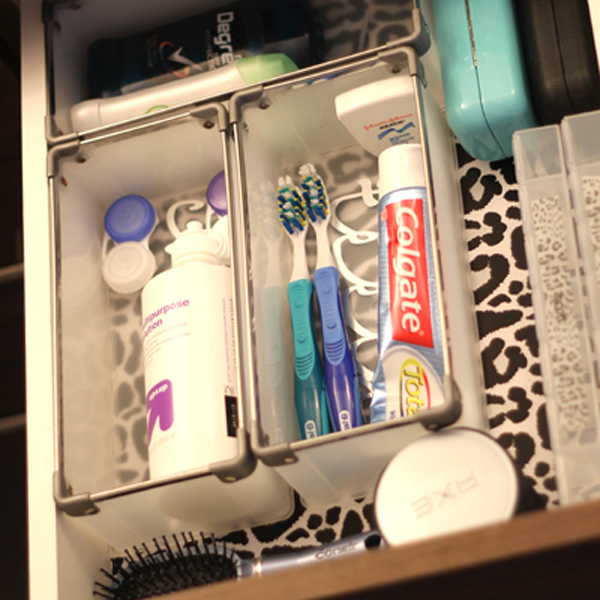 Photo source: Blue i Style | More drawer organization tips here
I hope you've enjoyed these Organizing with Style round-ups the last three weeks. That concludes our hashtag challenge for this season, but keep an eye out because this challenge will be making a comeback in the new year, and we'll be taking on some of the major problem spots in your house, like the kitchen, garage, office, and more!