Over the years, we've updated nearly every room of the house, but the two spaces that have received the least attention are two that we spend most of our family time in – our living room and family room.
Since the start of the new year, we've been working on a major refresh of our main floor living room. If you've been following my Instagram Stories, then you've seen a few previews of those updates, including the newly painted walls. I've got a lot more to share with you soon.
In the meantime, I've also been working on plans to refresh of our basement family room – or more accurately I've finally committed to finishing the plans we've had for years and just never got around to finishing. Let me show you what we'll be working on this spring…
This post contains some affiliate links. If you purchase something I recommend, you'll pay the same price, but I may receive a small commission.
Since I rarely share photos of our basement family room on the blog or on Instagram, let me remind you what you what it looks like. For maximum effect, let's start with a couple of photos of how the family room looked when we first moved in.
This space started as a typical new build beige box. Early on, we painted the walls gray (before gray was even in), with a few orange accents. We initially painted the lower half of the fireplace charcoal gray, but later added a dark grey metallic tile.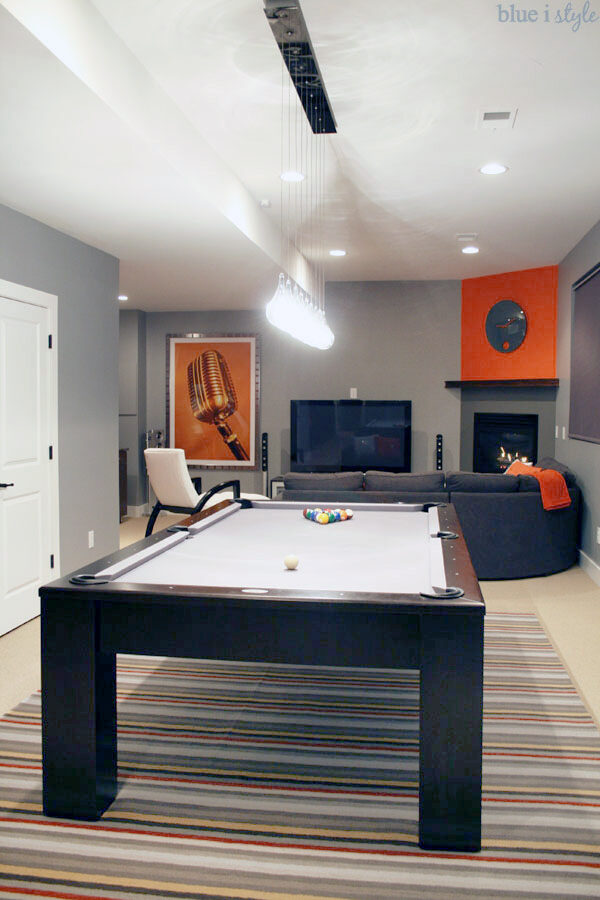 The goal for the basement was always to give it a entertainment vibe – with elements of music, theater, and movies. I love the giant photo of the microphone in orange light, and we have some black and white framed photos on another wall featuring close ups of theater lights, theater seats, dressing rooms, etc.
I wanted to be careful not to go overboard on the theme, but somehow we stopped so short of overboard that we ended up with a space that never quite felt finished. So now I'm ready to give the family room more personality!
As you can see in this mock up – I plan to add a framed "stage door" photo above the fireplace, and a large, lighted marquee R above the TV. The Thomas train has since been retired, but otherwise this photo is a pretty good representation of the design plan for end of the basement.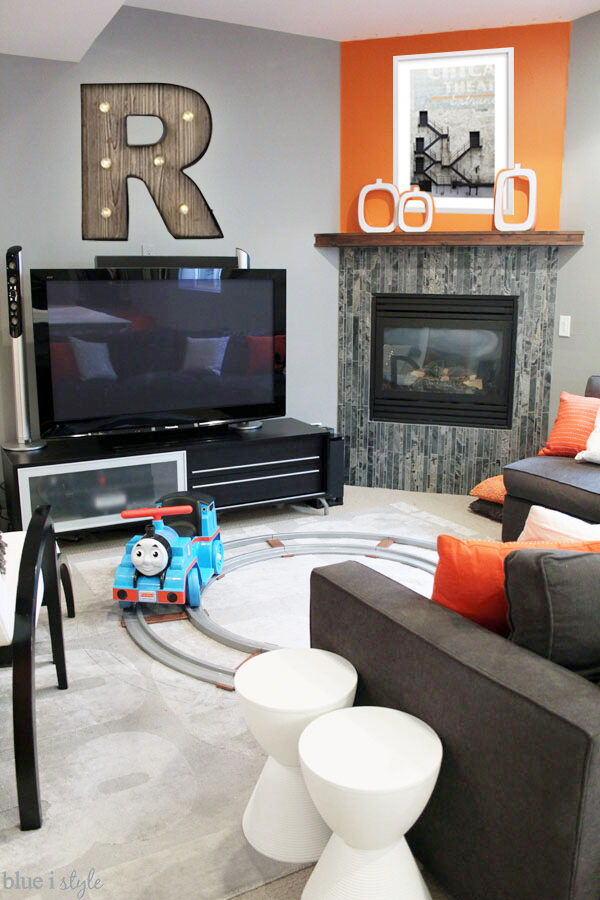 Here's a closer look at the framed photo I have picked out for above the fireplace. I love that it's light and bright with just a subtle touch of orange to tie in with the fireplace wall and other orange accents in the room. It also fits the theater "theme" of the room, without being overly theme-y, which is just the way I like it.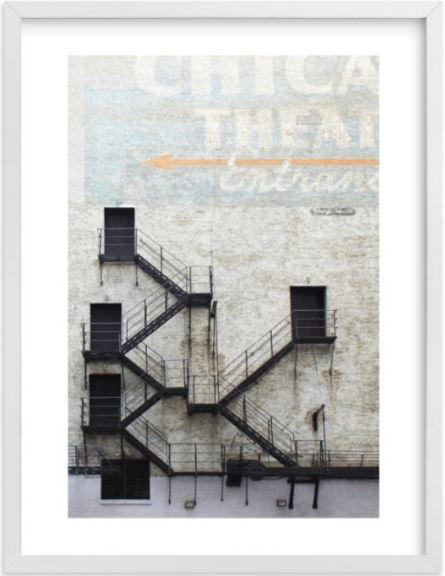 Looking left from this fireplace and tv, we have a small basement bar. Years ago we added a white penny tile backsplash and a cool wine back above the sink. If the budget allows, I would really like to extend the penny tile to cover the entire back wall – making the bar even more of a feature.
We got a popcorn machine as a family Christmas present a few years ago, and I bought the Porter rolling bar cart at CB2 to put it on. I don't have any pictures of our popcorn cart set up – but the photo mock up gives you a pretty good idea.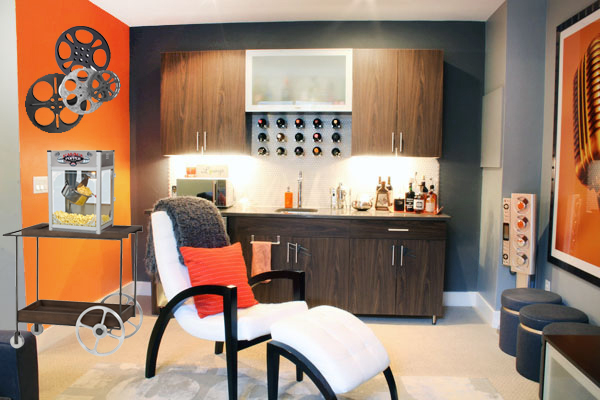 Over the years, I've been collecting vintage film reels in a variety of sizes. I plan to paint them charcoal gray, silver, and high gloss white, and hang them all above the popcorn machine.
On the wall adjacent to our pool table – on either side of the utility room door – I want to frame all of the Playbills from the Broadway shows we've seen. Above the door I plan to hang the metal subway sign that I bought for Scott a few years ago. It will look something like this mock up, but with an equal number of frames on each side of the door…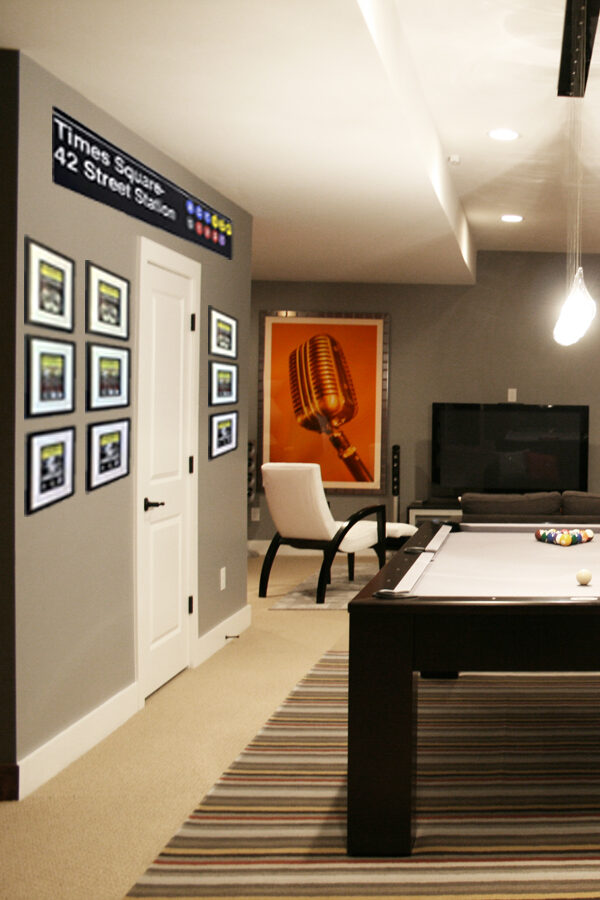 The other end of our basement serves as the boys playroom. They currently have a small play table, and a low cabinet that holds some of their toys. Eventually we want to add banquette seating in this corner with a larger table for family game nights. But in the meantime, I plan to add a large piece of art to the wall above the boys dollhouse.
I finally found the perfect canvas art print for a great price, and brought it home a couple of weeks ago. I haven't had a chance to hang it up yet, but I mocked up the photo below to show you what it will look like. I love the pops of orange, and the other colors help to tie in all of the colorful toys in this end of the basement.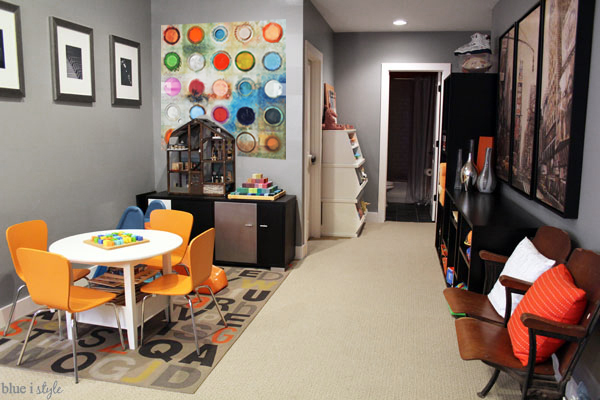 Before we had kids, the bookshelves on this end of the basement were once just filled with books and decor…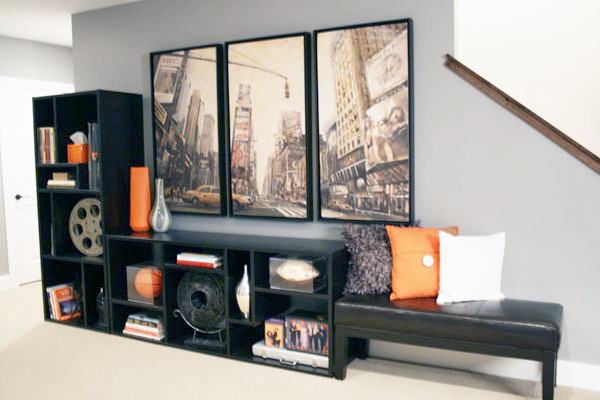 Once we had kids, these bookshelves became additional toys storage. The toys on the shelves change every year or two as they grow, but the large shelf openings always give us a great place to stash over-sized toys.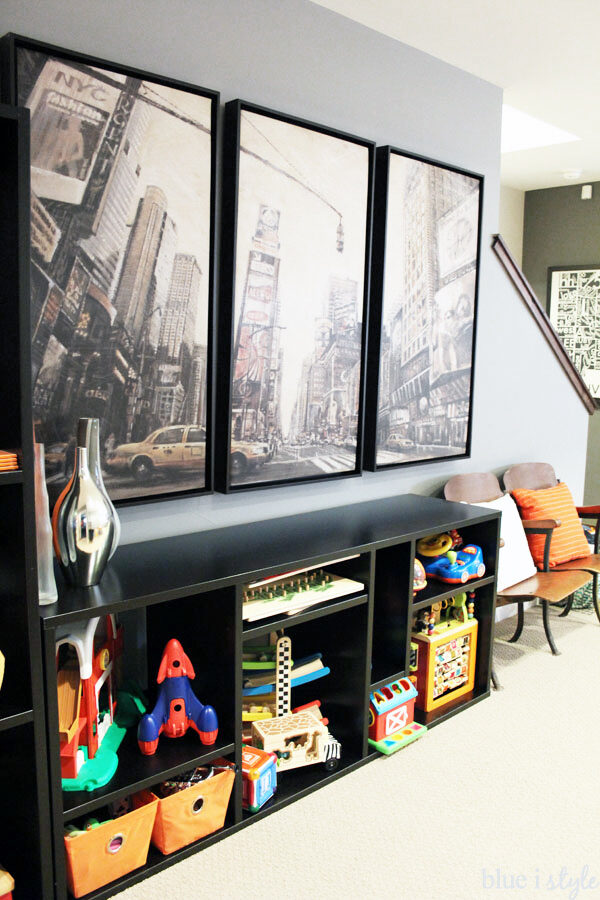 A few years ago, we bought a set of vintage theater seats that replaced the old bench next to the shelves. Then last year, by parents gave the boys each a kid-sized stand up video game. The theater chairs got relocated to another spot in the family room to make room for the video games, but because the games are taller, they overlapped the triptych art – which was always a bit to wide for the space to start with. We took the three paintings down last fall, and I've been looking for a replacement for a while.
Finally I found the perfect art for above the bookshelf – still Time Square, because our love of NYC and theater runs deep (did you know I'm married to a musical theater actor?!) – but this time the art is black and white with yellow taxis , which is a modern improvement compared to the too-beige color of the prior art.
The new Time Square art was gifted to me by Photowall, and I can't wait to get it hung in our basement. In the meantime – here's one more photo mock up to show you roughly how it's going to look.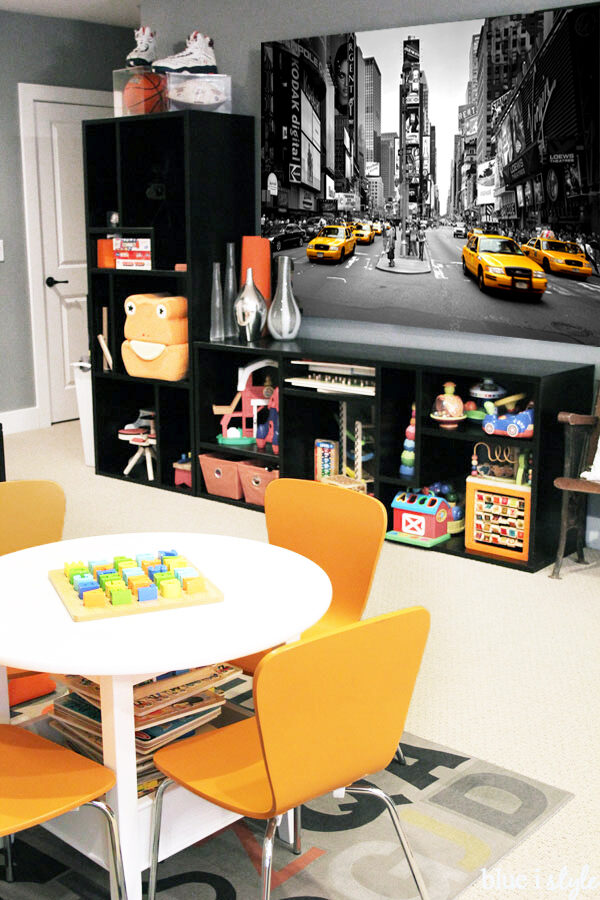 Photowall has a great selection of photos that can be printed as canvas art in any size you want – all the way up to 60″ x 40″ – or as a wall mural. Photowall also has some amazing wallpaper options that have me dreaming up projects for other spots in the house. Photowall has generously offered my readers a 25% discount on all orders before March 25, 2020 when you use code blueistyleblog2021.
I've got some travel coming up, so it may be a few weeks before we get started on all of the updates we have planned, but I'm excited to tackle each of these little projects, and I'll share our progress on my Instagram stories.
When all of these updates are complete, I think the basement family room will finally feel finished – and only a decade after we started!